Suspect in Ky. officer's death killed by authorities in Tenn.
Police said James K. Decoursey "had a brief encounter with law enforcement" in Tennessee where he was fatally shot
---
Associated Press
HOPKINSVILLE, Ky. — A man wanted in the fatal shooting an off-duty police officer in a small Kentucky city was found and killed Friday by law enforcement officials in Tennessee.
James K. Decoursey, 35, of Hopkinsville, Kentucky, was shot and killed after "a brief encounter with law enforcement" in Clarksville, Tennessee, according to Kentucky State Police. The department said Decoursey fatally shot 38-year-old Hopkinsville officer Phillip Meacham on Thursday, then fled the area on foot.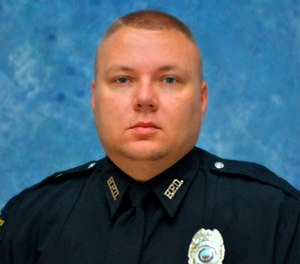 The suspect was found after law enforcement officers tracked him down in Tennessee. According to the Tennessee Bureau of Investigation, authorities determined that Decoursey had likely fled in a stolen vehicle to the Clarksville area. Law enforcement officers located the vehicle in the parking lot of a restaurant. At about the same time, authorities received a tip from a hotel across the street, reporting that a man matching Decoursey's description was there asking for a cigarette.
Montgomery County sheriff's deputies and a U.S. marshal then confronted Decoursey as he walked back toward the restaurant. The TBI said Decoursey appears to have ignored repeated commands and the situation escalated, resulting in the law enforcement officers firing upon Decoursey, killing him. No law enforcement officers were injured.
Authorities haven't described Decoursey's motive. Hopkinsville Police Chief Clayton said DeCoursey had a prior arrest record, was known to police, and that while he wasn't positive the two men knew each other personally, "considering they're both from here, it's very likely."
Meacham, married and with two school-age children, had been with the Hopkinsville department since last May. Meacham had more than 14 years of experience of law enforcement in Christian County.
Gov. Matt Bevin announced the officer's death on Twitter.
In Frankfort, lawmakers in the House stood for a moment of silence after Rep. Walker Wood Thomas of Hopkinsville announced that an officer had been shot.
Hopkinsville is about 73 miles (117 kilometers) northwest of Nashville, Tennessee.