2012 in Review: The '12 Knights of Christmas' 2012
We take a look back at the year's most outstanding heroes in uniform
---
There are many enjoying Christmas this year because of the decisive actions of police officers. Here are just a few examples. As I have for the past couple of years here on Police1, I give to you the 12 Knights of Christmas.
Ewing, New Jersey
On January 18, 80 year old Marvin Kaplan was driving his wife Frances, 81, and their 54-year-old son Harris to the grocery store, when the glare of the sun blinded him. In an instant, Marvin's van careened off the road, slamming into a power pole.
Luckily moments after the crash three officers from the Ewing Police Department arrived on the scene and immediately recognized the plight of the Kaplan family. The van was entangled in electrical wires, while its engine was smoking.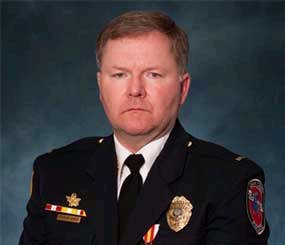 Officers Fred Dow, Jeffrey Caldwell and Detective Michael Pellegrino wasted no time pondering what to do. They risked all to pull the injured Frances and Harris Kaplan from the van. Marvin, who had been able to extricate himself from the van, watched as his family was rescued. Moments after the officers freed the Kaplan's, their van burst into flames.
Caldwell, who is a former apprentice lineman, knew the dangers, when they jumped over power lines to reach the Kaplans. He later explained why they did what they did in spite of the risk saying, "She [Frances] would have burned to death. He [Harris] would have burned to death too."
Because of the courageous actions of this tremendous trio the Kaplans live and here's more...
Woodbridge, New Jersey
In March Sgt. Edward Barrett of the Woodbridge Township NJ Police Department was off duty, but in uniform working a detail inside the Woodbridge Mall. Security inside Sears attempted to apprehend Andrew Garcia for shoplifting, but he broke away. Garcia pulled a knife, grabbed a female hostage by the hair, and put his knife to her throat.
Sgt. Barrett confronted the suspect, calling for him to drop the knife repeatedly. When Garcia refused to lower the knife from the woman's throat Barrett ended the threat with a single, very well placed head shot. 
Instead of thanking Barrett, the hostage, Ellen Shane, sued the Township of Woodbridge for $5,000,000 because the incident " caused her stress."
God, please bless Sgt. Barrett and his family this Christmas and grant Ms. Shane the inspiration, wisdom, or the measure of shame needed to convince her to do the right thing and drop her law suit. Amen.
St. Paul, Minnesota
April 25, Officer Mark Grundhauser heard screaming coming from the High Bridge in St. Paul (Minn.). Upon investigating he discovered a distraught girlfriend trying to convince her combat-veteran-boyfriend not to leap from the bridge to end his emotional pain.
Grundhauser approached and told the vet he knew what he was going through.
The vet said, "No you don't, how could you?"
Officer Grundhauser showed the troubled man the U.S. Army pin on his uniform and established a dialog from combat vet to combat vet. This empathetic response resulted in the saving of a very valuable, but emotionally fragile life.
Oak Creek, Wisconsin
On August 4, Lt. Brian Murphy and Officer Sam Lenda were first responders to an in progress active shooter, who was killing innocents at a Sikh temple in Oak Creek, Wisconsin. Murphy advanced, but was immediately ambushed and seriously wounded by the shooter.
Lenda later said, that when he arrived he met evil in that parking lot and was determined that evil would not leave that lot. Lenda engaged Wade Michael Page and Page was felled with a bullet to the stomach. Realizing his fate was sealed, Page shot himself. 
Lt. Murphy was hit a dozen times, but the indomitable warrior survived.
Lubbock, Texas
At 0100 hours on September 17, Lubbock Texas Officer Philip Standefer was talking to 19- year-old Sarah Beaty about a minor accident she witnessed, when an intoxicated driver in a van hit a parked squad car at highway speeds driving the squad car in a direct path toward the unaware Beaty.
Standefer disregarded his own safety, while body-blocking Beaty from the path of the careening vehicles. Officer Standefer received minor injuries and the enduring gratitude of Sarah Beaty. 
San Diego, California
On September 26, Sgt. Craig Johnson and Detective Ali Perez of the San Diego Sheriff's Department were attempting to arrest a child molester, when the suspect opened fire with a high powered rifle. Both officers went down with life threatening wounds and a fifteen minute gun battle ensued.
Officer "Wishes to Remain Anonymous" of the San Diego Police Department just happened to be driving by as the gun battle began.
The SWAT officer donned his tactical vest and entered the fray. Anonymous formulated a rescue plan and helped rescue the downed officers. After reaching cover the SWAT officer removed his tactical medical kit from his vest and saved the officers by, applying a tourniquet to one officer's wound and pressure to the wound of the other officer.
New York, New York
On October 25, Officer Ivan Marcano of the New York Police Department was off duty with his girlfriend.
Marcano witnessed three men robbing a cabbie at gun point, so he drew his weapon and badge and verbally challenged them. Marcano was immediately shot. The robbers fled, but crashed their car. The irrepressible Marcano held pressure on his own wound, while he engaged the suspects in a gun battle, killing one suspect with a head shot.
Commissioner Ray Kelly promoted Marcano to detective, as he lay in his hospital bed after Cabbie Mario Abarca made it clear that he would be dead if not for Officer Ivan Marcano. There is nothing else to say but, right cops at the right place at the right time.
From Police1 to all of you modern knights still wearing armor and carrying a shield, have a Merry Christmas and a safe and Happy New Year.
In the words of Tiny Tim, "God Bless us, Everyone."