Chicago defends list of suspects, victims for crime fighting
In addition to using the list to identify possible victims or suspects, the department uses it to warn those with the highest scores that they are at risk of being involved in gun violence
---
Associated Press
CHICAGO — A list kept by the Chicago Police Department of people deemed most likely to commit gun crimes or be a victim of gun violence includes many people who have never been charged with a violent crimes or possession of a gun, according to a newspaper analysis.
The Chicago Sun-Times analyzed a version of what is called the "Strategic Subject List" that it obtained after a lengthy legal fight with the police department and found that the list is far more extensive than the department has suggested.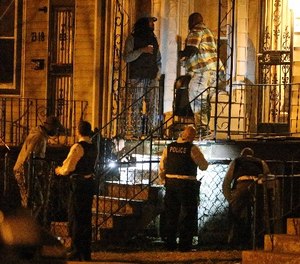 While Police Superintendent Eddie Johnson has said that about 1,400 people drive the gun violence in Chicago, the list obtained by the newspaper has nearly 400,000 entries, including everyone who has been arrested and fingerprinted in the city since 2013.
About half of the people at the top of the list — those with the department suggests are most likely to be involved in gun violence — have never been arrested for illegal gun possession. The paper also found that 20 of the 153 people deemed most at risk to be involved in a violent crime, as victim or shooter, have never been arrested for a gun crime or a violent crime.
The police department defends the list as an effective crime-fighting tool. It says other factors can contribute to high scores, including whether or not police have identified a person as a gang member and whether they have been arrested for any crime, including nonviolent offenses.
"Like a credit score, the SSL is simply a tool that calculates risk," said department spokesman Anthony Guglielmi. In addition to using the list to identify possible victims or suspects, the department uses it to warn those with the highest scores that they are at risk of being involved in gun violence.
The department won't say how much weight is given to each of the eight factors that go into the scores, which are determined by an algorithm. This has led to calls for more transparency from the department.
"If the government is going to outsource decision-making to a computer, the public should be able to examine how the decisions are made and whether it's fair and effective," said Karen Sheley, the director of police practices for the American Civil Liberties Union of Illinois.