Electric bicycles can enhance the effectiveness of your agency's bike patrol
Use of electric bicycles by law enforcement continues to increase. However, there's more to consider than you think
---
Across the United States, an increasing number of law enforcement and other public safety agencies are using electric bicycles (e-bikes) to enhance the effectiveness of their bike patrol and better serve their communities.
This is the first article in a series that will review the many considerations around using e-bikes. This article focuses on the pros and cons, and what an e-bike is and isn't. Part two will focus on how to select a duty e-bike, and part three will focus on training and use considerations.
Hopefully, this series will help your agency make an informed decision on whether to use e-bikes.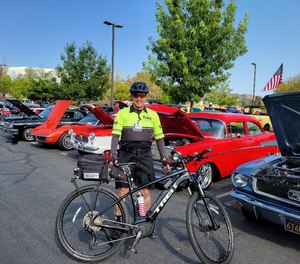 THE PROS AND CONS OF E-BIKES
One of the first questions when considering the use of e-bikes is, "Why?" A better question and response may be, "Why not?" These types of questions or responses are not new to policing. In the 1980s, we questioned whether to transition from revolvers to semi-autos. Recently, we have questioned the value of sedans versus SUVs. As with other potential tools at the disposal of law enforcement agencies and their personnel, there are pros, cons and other factors to consider when deciding whether to use e-bikes.
Pros
Faster response times
Shortened pursuits (at least when pursuing e-bikes, e-Scooters and other electric devices)
Reduced fatigue (during responses, a shift and workweek)
Expanded patrol range
Increased carrying capacity
Enhanced community engagement and customer service
More officers are interested in bike patrol as there is the ability to better mix and match bike partners – one slower/less fit rider on an e-bike and one faster/more fit rider on a conventional bike
Removes the "too barriers" (too hard, too far, too hilly)
Cons
Higher purchase cost (depending on brand and model, can be three times as much as its "conventional" counterpart)
Increased weight (a concern for bicycle response team or crowd control deployments)
Additional maintenance and parts replacement costs
Potentially more complicated technology failures
Over-extending the capabilities of bike patrol use
Other factors
Effect on riding techniques, including slow-speed handling and obstacle-clearing skills
Effects of increased speed on cycling in traffic and/or during group rides
Technology-related factors, such as battery life and riding range
Training and tactical considerations
Legalities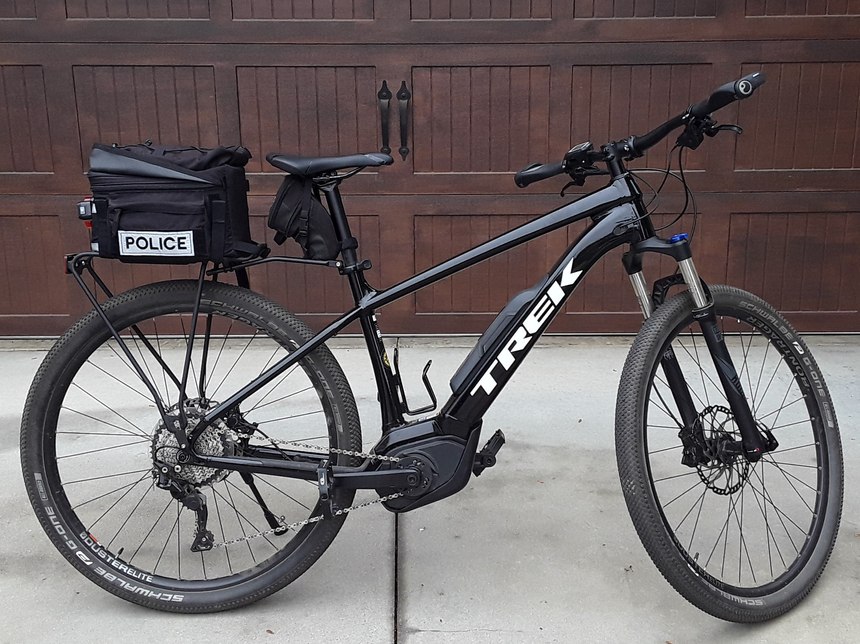 WHAT IS AN E-BIKE?
There continues to be some confusion among consumers, policymakers and law enforcement professionals as to what comprises a legal e-bike and its use.
Per federal law 319.pdf:
For the purpose of this section, the term 'low-speed electric bicycle' means a two- or three-wheeled vehicle with fully operable pedals and an electric motor of less than 750 watts (1 h.p.), whose maximum speed on a paved level surface, when powered solely by such a motor while ridden by an operator who weighs 170 pounds, is less than 20 mph."
To keep it simple, it's a "bike with a boost" according to Morgan Lommele of PeopleForBikes.
E-bikes, or low-speed electric bicycles (LSEBs), are regulated by the Consumer Products Safety Commission (CPSC) as consumer products. More specifically, they are subject to the same regulations that govern conventional, human-powered bicycles and NOT motor vehicles, which are regulated by the National Highway Traffic Safety Administration (NHTSA).
This is where things can get confusing. Federal law DOES NOT preempt any state traffic laws or vehicle codes that regulate the use of e-bikes. Most states now regulate them as "bicycles," while a few still do so as "mopeds" or other types of vehicles.
To alleviate this confusion and with the goal of establishing a nationally recognized and standardized definition, PeopleForBikes refined the federal definition as follows:
An electric bicycle is a bicycle equipped with fully operable pedals and an electric motor of less than 750 watts."
Within its Model Electric Bicycle Law with Classes document, PeopleForBikes created the following three-class system:
Class 1: An electric bicycle equipped with a motor that provides assistance only when the rider is pedaling, to a maximum of 20 miles per hour. This e-bike is also known as a pedelec (derived from pedal electric cycle).
Class 2: An electric bicycle equipped with a motor that may be used exclusively to propel the bicycle, to a maximum of 20 miles per hour. This is an e-bike with a throttle, but also required operable pedals.
Class 3: An electric bicycle equipped with a motor that provides assistance only when the rider is pedaling, to a maximum of 28 miles per hour. These Class 3 e-bikes are also known as speed-pedelecs.
Generally, there are NO user and access differences between a "conventional bicycle" and a low-speed Class 1 and Class 2 e-bike. Class 3 e-bikes normally have additional user, access and equipment requirements. A current list of e-bike laws, including a list of states that have adopted the model legislation is linked here.
What isn't an e-Bike
As noted in the International Police Mountain Bike Association's (IPMBA) Use of e-Bikes by Public Safety Cyclists Position Paper - August 2020 - IPMBA:
Electric vehicles which do not meet the definition of one of the three classes are referred to as Out of Class Electric Vehicles (OCEVs). E-bikes that are designed or illegally modified to exceed the maximum speeds in each classification are not LSEBs and are subject to different regulatory standards for equipment and use. Some OCEVs can reach top assisted speeds of 50 mph/80 kph and weigh more than 150 pounds/68 kg, not including accessories and duty gear. These OCEVs may be defined as mopeds, motorized bicycles, scooters, motorcycles, or motor vehicles, depending on the applicable vehicle code and may be marketed, sold, and used in compliance with the law. However, while OCEVs may have a place within a department's vehicle fleet, agencies are advised not to treat them in the same manner as conventional bicycles or low-speed electric bicycles."
Additional information on OCEVs can be found here.
Before making any decision whether to purchase e-bikes (or not), stay tuned for the remaining articles in this series!
Additional resources
Visit the IPMBA blog at https://ipmba.org/blog and type in "electric bicycle" in the search box to access numerous articles.