Selecting a duty electric bicycle isn't as easy as it sounds
From drive unit selection to the class of e-bike, there are multiple considerations to take into account
---
In my previous article, I focused on the pros and cons of electric bicycles and defined what an e-bike is and isn't. This article reviews how to select a duty electric bicycle and the final article will focus on training and use (deployment and tactical) considerations. Hopefully, this series will help your agency make an informed decision on whether to use e-bikes.
Selecting an e-bike type
There are many makes and models available for each type of e-bike (mountain, road, fat tire, cargo, etc.), but any e-bike considered for duty use must be high-quality, from a reputable manufacturer, and, preferably, designed and built to meet the specific needs of law enforcement.
As is the case when selecting any other type of vehicle, there are several factors to consider as part of a needs assessment:
Riding surface(s)/environment(s)
Frequency and duration of rides
Type of riding/patrolling (mission-specific – police, EMS, security; special events only or regular patrol; night/stealth/crowd ops)
Weather and other environmental factors.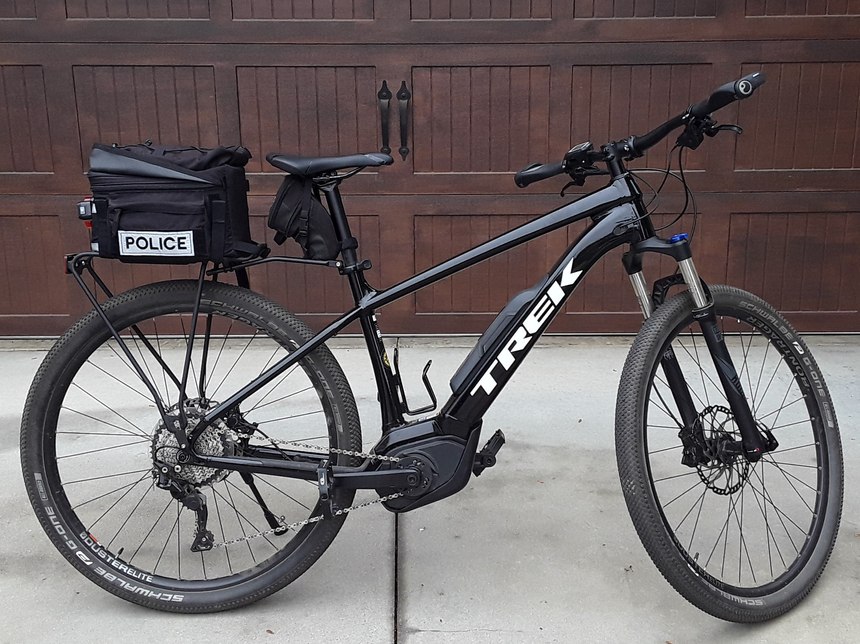 Selecting a drive unit and class
After you select the type of e-bike, the next step is to decide which type of drive unit (motor) and class of e-bike to use.
The three common types of drive units are mid/center drive (most common in electric mountain bikes), hub drive (rear or front hubs), and aftermarket bolt-on/conversion kits. There are advantages and disadvantages to each type of drive unit system. Here is a short, non-inclusive list.
Drive units
Mid/center-drive units (exclusively "pedal-assist" only): Rides and acts as a conventional bicycle. The added weight is centered, there is better climbing efficiency, it promotes fitness and tire changes are simple. More maintenance (chain and other drive train components) than hub-drive motors, and typically more expensive than hub drive units.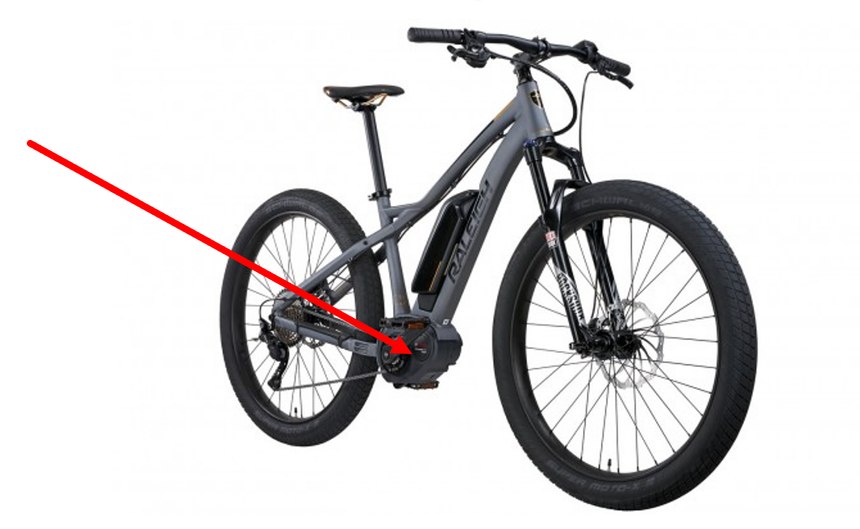 Hub drive units (rear and front): Better start-up speed, chains do not wear out as quickly, less maintenance than mid-drive motors, and the drive system is independent (if the chain and/or drivetrain is damaged, the e-bike can still be powered). Does not ride like a conventional bike, does not climb as efficiently as mid-drive motors and lurching can be more of a concern.
Rear hubs drive units: More weight in the rear can negatively affect power/hook slides, and rear tire changes are more complicated due to the motor connections.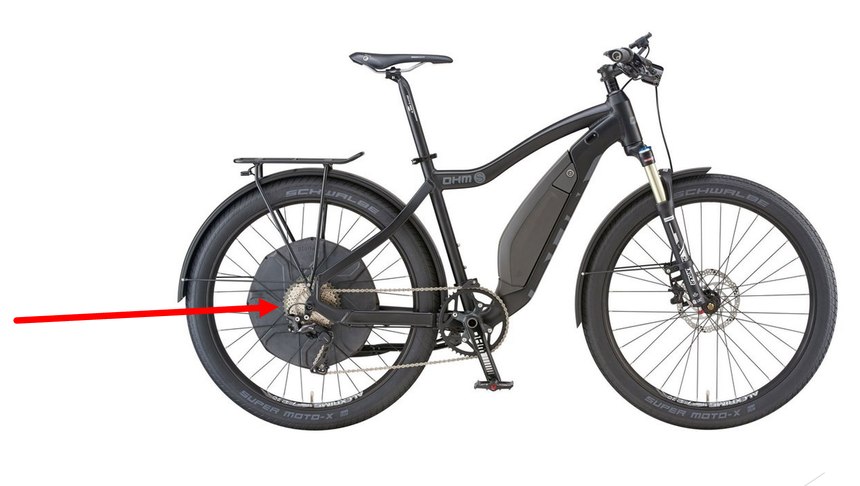 Front hub drive units: More weight at the front of the bike affects steering and handling, making lofting and slow speed techniques more difficult.
Bolt-on motors (conversion kits): Bolt-on motors and after-market front-wheel motor units are cost-effective ways to turn a conventional bike into an e-bike, but conventional bikes might lack sturdier frames, rims, hydraulic braking systems, etc., necessary to support safe and effective e-bike operations. Bolt-on motors may not be compliant with federal and state laws.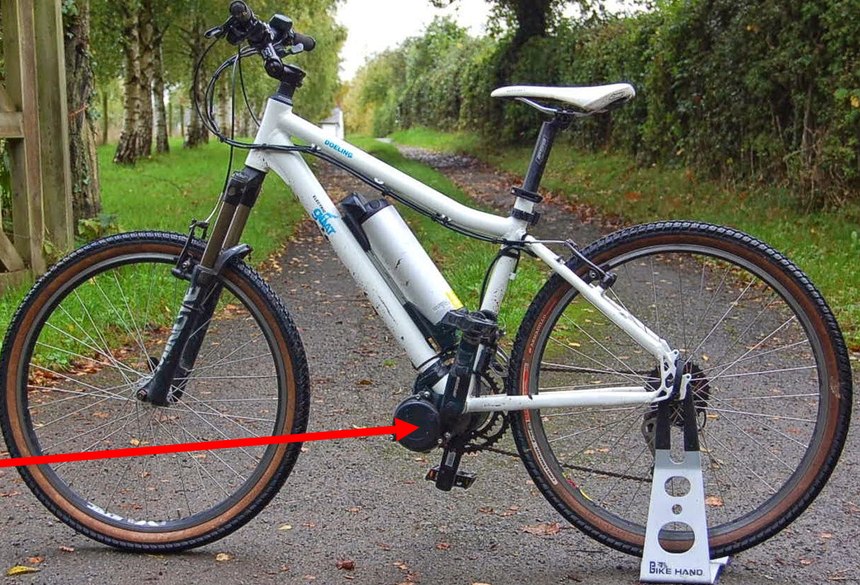 Class of e-bike
For most law enforcement agencies, the best choice is a Class 3 mid-drive electric mountain bike (eMTB). Having an extra eight miles per hour for "speed on demand" could make a difference in getting out of a "kill zone" or responding to an "officer needs immediate assistance" call, making the additional $1000+ money well spent.
However, Class 3 e-bikes can/do face more restrictions with respect to access to certain transportation facilities (shared-use paths and multi-use trails), so the patrol environment must also be considered.
You may need to request your local and even state jurisdiction amend the e-bike access law or ordinance to include an exemption for law enforcement in certain restricted-use areas.
The final assessment phase
The above assessments will help narrow down the options to the technology that will best serve your agency. The next phase should include a more thorough program assessment and intelligence-gathering phase. This phase should include:
Seeking input from various sources, such as other agencies, organizations like the International Police Mountain Bike Association (IPMBA), authorized e-bike dealers, online resources and subject matter experts.
Testing and evaluating various makes and models, preferably for an extended period under various types of typical patrol conditions. Initial demonstration rides can be conducted at cycling events, with retailers, at events like the IPMBA conference, and by borrowing or renting one. Longer-term demonstrations might be arranged with manufacturers, retailers and distributors.
Final considerations
The brand and model of the drive unit and e-bike are important factors in respect to quality, longevity, customer service, availability and reliability of parts and service, and warranty (bike frame, motor, and battery). Don't forget about a duty e-bike's ease of use, ability to add accessories, aesthetics, ease of transport, security and storage.
Before making any decision whether to purchase e-bikes (or not), stay tuned for the final article in this series!