8 investments worth every penny for bike officers
From quality and appropriate cycling shoes to upgrading your ballistic vest, here are some simple and essential items to add to your safety and comfort
---
During police bike patrol courses, instructors often say that if bike officers are not comfortable while riding their duty bicycles, especially in hot or inclement conditions, they probably won't want to ride or ride as much. Other factors that impact a cop's desire to ride include functionality, safety and even fashion. Here are some essential items to add to your gear bag if you are a bike cop. Add your suggestions in the box below.
1. Quality helmet (you only have one brain)
A common question we ask kids when conducting a bicycle rodeo or other youth bicycle safety education program is "What is the most important thing you need to wear when riding your bicycle?" The answer, "Yes, a helmet!"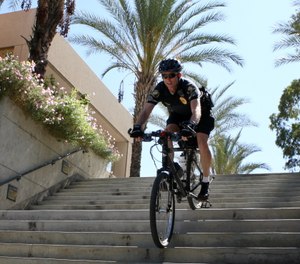 When cyclists do go down – and everyone does at some point – we want the best protection and latest technology can offer. Helmets must meet the latest safety and impact standards (CPSC is the U.S. standard) and be comfortable too. The non-profit Bicycle Helmet Safety Institute is a wonderful resource to start your helmet search.
2. eyewear
Have you ever had an object fly into your eyes while riding? It sucks and can potentially be damaging. Quality and appropriate protection for your eyes from the sun/UV rays, flying objects and wind is a MUST.
Lenses should meet high-velocity impact resistance and optical clarify (ANSI Z-87.1 or standard or military specifications STD-662) standards. Lenses should filter UV-A, UV-B, UV-C rays, IR and blue light; tinted gray is best for daytime use, clear or amber lens for nighttime. Purchasing interchangeable lenses will offer big cost savings. Frames should be wrap-around and made of either nylon or high-tech plastic.
3. Cycling gloves
I occasionally see bike officers out in the field not wearing cycling gloves. Quality and appropriate cycling gloves provide many benefits. They offer some hand protection during a fall; absorb sweat; reduce pressure on the ulnar nerve and help prevent wrists/hands from going numb/sore; and act as shock absorption to help relieve tension in the arms, shoulders, and neck area to keep the rider relaxed and better able to respond to the environment.
Selecting the appropriate amount of padding in the glove is critical for trigger control while shooting. Too much padding could adversely affect your grip on the gun and trigger control. Officers assigned to bike patrol should ALWAYS practice shooting with the gear wear!
4. Cycling shoes
Perhaps the most important item a bike officer should carefully consider after PPE (helmets, eyewear, gloves and ballistic protection) is footwear. Footwear needs to be high quality, functional, comfortable and meet the needs of a bike officer. We all need to keep our feet happy and protected, especially as we get older or when working long shifts. And yes, there are bike patrol-specific shoes. Linked here is an article on the best bike shoes I've worn on patrol.
5. personalize your bicycle saddle (seat)
If you are lucky, you do not have to share a duty bicycle with another officer. Either way, having a saddle that meets your needs, comfort and health is important.
Saddles come in many styles, including models for both men and women. Most now have cut-out features to reduce perineal pressure – especially important for us older types. My rule of thumb is to select a saddle with the least amount of padding you can handle and stay away from wide saddles and gel-filled seat covers. These wider saddles and covers can hinder you during dismounts and mounts and cause you to never find a consistent riding position on the saddle.
Lastly, if you do share a duty bicycle with another officer, attach your personalized saddle to a compatible seat post so you can quickly install your saddle onto the shared duty bicycle.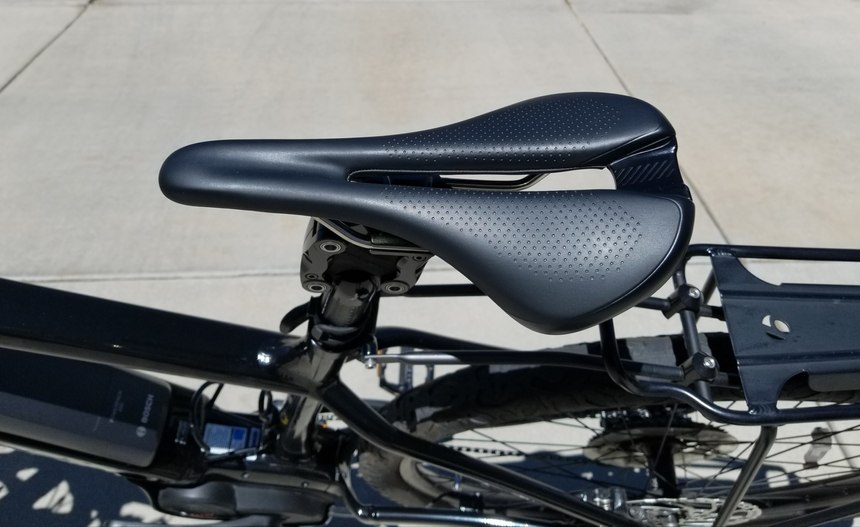 6. upgrade your BALLISTIC protection
If your agency's budget is limited, especially for specialty units, simply upgrade items yourself (with supervision's approval). Ballistic protection is a great example of this. As bike officers, we are not surrounded by 4,000 to 5,000 pounds of metal and do not have 0-60 mph in under 10 seconds. Therefore, we need more ballistic protection than on normal patrol.
When I was working, my department would only provide me with a Level II vest. So, when I went to our local Galls store to order my new duty vest, Galls routinely let me pay the difference to upgrade to a Level IIIA. If not included with the Level IIIA purchase, make sure to upgrade to a breathable fabric carrier. Money well spent for both! I would also suggest wearing an anti-microbial and moisture-wicking undershirt for even more comfort.
7. sunscreen
Are you new to bike patrol and/or just rotated off swing or graveyard shift? If so, you may not have given much thought to protecting yourself from the sun and its UV rays. Years ago, one of my fellow bike instructors was diagnosed with a pre-cancerous lesion on his face. Thankfully, it was removed with no further issues. After that, we all took using sunscreen and other UV protection to heart.
I am not a dermatologist, but I occasionally go to one. Use at least SPF 15 on your legs and an SPF 30 on your face, ears, neck and arms. SPF 15 blocks 94% and SPF 30 blocks 97% of the sun's damaging ultraviolet rays. Select a sunscreen that does not clog pores (sweating helps regulate your body's temperature), which is especially important in hot temperatures or if you sweat a lot.
Don't forget to protect the top of your head, especially for you with short hair or a shaved head! A moisture-wicking skull cap with UPF 50+ (Ultraviolet Protection Factor) is an excellent option, as UPF 50+ fabrics block 98 percent of the sun's rays.
8. buy yourself a quality bicycle for off-duty use
We all know the importance of being physically fit as police officers, as well as for retirement! Obviously, this is even more important for officers assigned to bike patrol. If you cannot get there in time to that close-by "officer needs immediate assistance" call or when you do you are gassed; terrible!
Buy yourself (and your family too) some quality bicycles to ride off-duty as you simply do not get any real aerobic fitness improvement while riding on-duty.
one final note
For more information on police bike patrol, I encourage you to read the IACP National Law Enforcement Policy Center's Model Policy on Bicycle Patrol document produced in cooperation with the International Police Mountain Bike Association (IPMBA) and the American College of Sports Medicine (ACSM). For more information on IPMBA, its training courses, networking and resources, click here.
Police1 reader suggestions
A super lightweight kevlar-lined bicycle helmet and kevlar run-flat tires. Also a tracking location device and silent alarm. I've seen police bicycles with 27 speeds now, Fuji has them. They're awesome.

Tires on police bikes are often ignored by police purchasing agents, and even bike salespeople, thinking that the tires that come with the bike will work fine. Many police bikes arrive with knobby tires that are great for off-road use. Unfortunately, most police officers patrol on paved streets, alleys and trails. Knobby tires on smooth, paved surfaces can be very noisy, especially with speed, and the whining sound can cause an officer to lose their tactical stealth advantage. Knobby tires have LESS traction on paved surfaces, especially when they are wet. Braking and sudden turns can be affected. Police bikes are best when equipped with a smoother tire, sometimes called a cross tire or a hybrid tire. They offer more surface contact on smooth paved surfaces, and they roll smoother and quieter than knobby tires. Most hybrid-type tires function fine on the sorts of off-road environments urban police might find themselves patrolling. Only if you are working a large portion of your shift on non-paved, off-road areas would knobby tires be considered beneficial for police bike use.

Buy some quality cycling shorts – chamois 8-paneled is BEST – your butt deserves it! Cycling shorts provide extra padding, prevent inner thighs from chaffing against "patrol" shorts/pants, channel moisture away from the body, and help keep muscles warm and firm (tight). Like underwear, wash after EACH use!

Use of chamois (butt) cream to prevent saddle sores.

If police bikes are to be used at night, high-quality lighting is essential. New LED headlights are lightweight, rechargeable and incredibly bright. Many can be quickly and easily removed during the day when they aren't needed to protect them from theft or damage. They don't only show the cyclist the roadway surface ahead of them, they help them stand out and be seen by motorists. They also light up the area and provide a view of suspects and potential weapons they may be holding, much like the spotlight on patrol vehicles. Some systems come with flashing red/blue lights, but before investing in those, ask yourself if you really think you will be acting like an emergency vehicle and needing them. The majority of bike officers neither have or need colored lights to do the job. Bike patrol officers have much more in common with a foot beat officer than a motorized one!

Good taillights, flashing or steady, are important. Be aware of the back flash that may be present when it is on. If a bike officer is trying to observe a location while standing in a dark area, they may not realize their flashing taillight is backlighting them. The ability to quickly turn that taillight off is important too. 

Clothing! It is extremely important to have the proper cycling clothing for the environment that you are working in. Mocean is my favorite company that makes bicycle patrol-specific clothing for all environments (hot, cold, rainy, etc.). In addition, this company and several others reflective tape and eye-catching colors that help the deputy/officer be seen while on bicycle patrol.
Complete the form below to list the gear investment you think is worth every penny for bike officers.
What gear-related investments are worth every penny for bike officers?