Fudge factor: Cooking the books on crime stats
What do police report writing and fudge have in common?
---
Editor's Note: It gives me great pleasure to introduce the newest addition to the PoliceOne roster of writers — the incomparable Val Van Brocklin. I first met Val (via phone) about two weeks into my time here at PoliceOne, and over the years since then we've been intermittently in touch on a variety of shared interests and ideas. At ILEETA this year, Val and I reached the near-simultaneous conclusion that we needed to work in closer collaboration. Val's monthly column will appear — baring some scheduling snafu — on the third Wednesday of every month. Welcome to the PoliceOne family Val. Let's do some good!
— Doug Wyllie, PoliceOne Editor in Chief
Earlier this year, Lt. Col. Dave Grossman told me that he believes the biggest problem facing law enforcement today is altered crime stats. He encouraged me to write about it. What I discovered was alarming. Maybe some of you are already well aware of the matter.
Crime data collection, analysis, and pinpointed response help law enforcement agencies fight crime. CompStat is one of the best known such tools for police.
First implemented in New York City in the 1990s, it was intended to map crime and identify problems. NYPD execs would meet with local precinct commanders to discuss the problems and devise strategies and tactics to reduce crime in their assigned area. Resources were then deployed as planned. The regular meetings guaranteed fierce follow-up.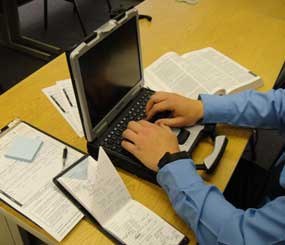 Accountability Sounds Great
In an effort to demonstrate greater accountability to the citizens CompStat was adopted by many police agencies (although sometimes under a different name, such as ComStat, Citistat, StateStat, Powertrac, FastTrack). According to Weisburd, Mastrofski, McNally, Greenspan, & Willis, by the year 2000, more than a third of agencies with 100 or more swern officers reported implementing a "CompStat-like" program.
What CompStat didn't anticipate is what Robert Zink, Recording Secretary for NYPD's police union, called the 'fudge factor' — the manipulation of Compstat data to make it falsely appear that crime rates have been reduced. Here's just a sampling:
1.) In 1996, there was a concerted effort to conceal the magnitude of crime in Atlanta during the Summer Olympics selection process. An audit in 2003 revealed that 22,000 crimes were left out of reports for the previous year.
2.) In 1998, Philadelphia PD was the subject of a DOJ investigation into under-reporting crime. The practice endured, top commanders said, because favorable statistics made higher-ups happy and helped careers.
3.) In April 2000 U.S. News and World Report stated that "facing political heat to cut crime in the city, investigators in the [Philadelphia] PD Sex Crime Unit sat on (thousands of) reports of rapes and other sexual assaults." Captain Rich Costello, President of the FOP said, "The way crime was solved was with an eraser."
4.) In 2003, four New Orleans officers and a district commander were fired for downgrading hundreds of serious crimes to "miscellaneous incidents." The department had been giving quarterly and annual "crime reduction awards" to districts that posted the greatest declines in major crime. The fired district commander had won the award for the entire previous year and the first quarter of 2003. The investigation began with anonymous tips from officers frustrated with the aggressive use of statistics as a performance measure.
5.) In 2004, the NYPD police unions publicly charged that the department had cooked the books to lower crime stats and called on its members to share evidence of crimes being downgraded. Management countered that the unions advanced the charge to gain advantage in contract negotiations.
6.) In 2005, four Broward County Deputy Sheriffs were fired for fudging crime stats. Denying any knowledge, the Sheriff used the false stats to convince municipalities to scrap their own police departments and contract with the BSO. He also used the stats in his political rise. An investigation revealed cover ups by BSO supervisors as well as pressures on front line officers to down-grade crimes or only charge one crime to a suspect who had admitted dozens.
7.) In 2010, more than half of 309 retired NYPD officers admitted to fudging crime stats in a survey conducted by two academicians from Molloy and John Jay Colleges. Most of the respondents served as precinct commanders after CompStat was implemented. They reported heavy pressure from higher-ups to reduce felonies to misdemeanors or to not report crimes at all to make the numbers look prettier.
8.) Fudged crime stats hit pop culture status with HBO's acclaimed series The Wire. Based on the Baltimore PD, one of the shows central themes was the pressure politicians put on police brass, who pass it on to the department's middle management, to generate PR-friendly statistics about lowering crime and increasing arrests.
Fudging Recipes
In a newsletter to union members calling for them to share evidence of stat fudging, Robert Zink listed some of the simpler ways to fudge.
• Don't file reports
• Misclassify crimes from felonies to misdemeanors
• Undervalue the property lost to crime so it's not a felony
• Report a series of crimes as a single event
An admittedly-insidious recipe for fudging the numbers is to make it hard (or impossible) for people to report crimes. Specific recipes include:
• Logging rapes as "inconclusive incidents"
• Attempted murder in a drive-by gang shooting where the victim is missed might be reclassified as "criminal mischief"
• LAPD reported a 28 percent drop in violent crime the same year it downgraded DV assaults in which the victim suffered minor or no injuries — this reduced the FBI's NIBRS counts which don't include a non-serious city charge
• Reclassifying burglaries as less serious thefts
Nor are the FBI's stats immune from manipulation, irrespective of intent. In her article How the FBI and DOJ Minimize Child Sexual Abuse Reporting Dr. Judith Reisman demonstrates how changes in data category definitions can result in misleading data.
Fudge Still on the Menu?
All the fudge recipes we've tasted so far involve underreporting crime. Just this year a local Phoenix TV station broke a story about the Phoenix PD overstating kidnapping statistics. The federal OIG spent 15 months reviewing the department's 2008 kidnapping stats and concluded only 54 percent of the reports should have been counted.
The Phoenix police union also openly questioned the PD's kidnapping statistics, especially the number of kidnappings for ransom.
Context is everything. In 2008, the Phoenix PD reported 358 kidnappings. The brass said it was a border crime wave that would sweep the nation.
Testifying before Congress, the then Mayor and Public Safety manager reported there was a kidnapping for ransom in the city "every night." They said they'd need federal money to fight the problem and they got $2.4 million in grants. Phoenix got dubbed the "Kidnapping Capitol of the U.S."
While it did not find evidence of intentional inflation, the OIG concluded that the Department did not follow its own reporting requirements. Through public records requests, the TV station found internal emails and records that showed police leaders internally counted far fewer kidnappings for ransom.
Just last month in the Wisconsin gubernatorial recall election, fudged crime stats reared its head when a newspaper's investigation revealed that Milwaukee police record clerks routinely changed computer codes by hand in a way that removed serious assaults from the city's violent crime rate. This was done even when the department's computer system flagged the incidents as cases where an aggravated assault classification was warranted because a dangerous weapon was used.
That allowed Mayor Tom Barrett and Police Chief Edward Flynn to tout reducing serious assaults four consecutive years. The reduced crime claim became a much bigger matter when Barrett ran against incumbent Scott Walker in the recall election watched by the nation.
Getting Fat on Fudge?
The only winners seem to be chiefs, sheriffs, and politicians. Professor James Ponzi spent 35 years with the Denver Police Department during which he began tackling CompStat corruption. He is an invited presenter on the topic to audiences ranging from Harvard Law School to The Canadian Police Association. In all of Prof. Ponzi's research he didn't find any city where a chief was removed when the "fudging" came to light.
I asked a colleague who serves on the IACP Ethics Committee, Dr. Patricia Robinson, whether the problem of fudged crime stats has ever been addressed at an IACP Conference or by the Ethics Committee. She said it hasn't in the last 10 years that she's been involved.
I found two articles online in Police Chief magazine by then Nashville Chief Ronal Serpas, one in 2004 and one in 2008 which addressed how police leaders could make CompStat accountable. Neither directly discussed fudged numbers.
In an interesting twist, while Chief Serpas was claiming to the Nashville Metro Council that his department had won of the best crime solving records in the country, in May 2010 a local TV station's investigation included an outside expert's analysis that the department appeared to be "fudging" the stats and statements from officers that they were just doing what their commanders told them, playing a numbers game to make their precincts look good to the chief.
Serpas went on to become Chief of the New Orleans Police Department where, in January 2011, his tenure in Nashville came under scrutiny amid revelations that the department downgraded hundreds of sexual assault reports. A Nashville news station also reported that while Serpas told citizens that burglaries were flat in 2008 and assaults, rapes, and larcenies were down, tallies by the FBI and state police agency showed jumps in those crimes in Nashville.
Who's Getting Skinny?
Certainly the public is being robbed by fudged crime stats. Within police agencies, the fudge flows downhill — Professor Ponzi found demotions for detectives and sergeants, firings of department and bureau heads, and sanctioning of street officers.
Just this year, NYPD Sergeant Robert Borrelli was transferred to the graveyard shift at Bronx Central Booking after telling IA that cops in his old Queens precinct routinely downgraded crimes to keep the crime rate artificially low. Borelli even produced the paperwork as proof. The department's Quality Assurance Division upgraded some of the crimes from misdemeanors to felonies which Borrelli said earned him his "highway therapy."  
Sgt. Borrelli has company. NYPD Officer Adrian Schoolcraft claims he was forcibly taken from his home and involuntarily put in a mental hospital where he spent six days — in retaliation for complaining his supervisors were cooking the books to make the crime rate seem lower. A 95-page internal report produced seven months later founded some of Schoolcraft's fears. Schoolcraft also released secret audiotapes in which he recorded precinct brass urging cops to cook the books. He remains suspended without pay.
Now, You Weigh In
What do you think? Is fudging crime stats a significant problem or are inaccuracies largely computer errors or the claims of disgruntled or crazy officers? And if it is one of the most serious problems facing law enforcement, what can we do to solve it?