NYPD sending Asian cops undercover to stop hate crimes
"The next person you target may be a plainclothes New York City police officer, so think twice," police officials warned
---
By Rocco Parascandola
New York Daily News
NEW YORK — The NYPD is deploying Asian police officers undercover to reverse the surge of hate crimes against the Asian community, police brass said Thursday.
"The next person you target... may be a plainclothes New York City police officer, so think twice," Police Commissioner Dermot Shea warned. "We will never tolerate hate or violence of any kind in our great city."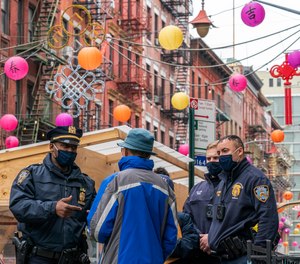 Asians have been victimized in 28 hate crimes this year, from racial slurs and suggestions they return to China to unprovoked assaults, including one with a pipe. Arrests have been made in only six incidents.
By this time last year, there were seven, according to NYPD data collected through Thursday.
Police believe Asians are being targeted because COVID-19 originated in China. But cops aren't ruling out copcat crimes for the increase.
The NYPD is also adding two detectives to its year-old Asian Hate Crime Task Force, headed by Inspector Tommy Ng, who is replacing retiring Deputy Inspector Stewart Loo.
Ng, who previously ran the 72nd Precinct in Sunset Park and the 5th Precinct in Chinatown immigrated here from Hong Kong when he was 16.
He was robbed twice as a restaurant delivery worker. The first time he didn't report what happened and even after he reported the second robbery he realized how difficult it is for people from another country, often where they fear authority, to go to the police.
"A lot of them blame themselves," he said. "I should have done this or that. I shouldn't have gone on the subway."
But he said by hiring more cops from different backgrounds the NYPD is trying to break down those barriers to improve crime reporting and eventually cut down on hate crimes.
[NEXT: Maintaining a low profile: Undercover and everyday carry products at SHOT Show 2020]
(c)2021 New York Daily News
McClatchy-Tribune News Service