NYPD to use undercover cops to catch anti-Asian crimes
Commissioner Dermot Shea says he plans to put undercover officers out as decoys
---
By Thomas Tracy
New York Daily News
NEW YORK — The NYPD will be using undercover officers to ensnare bigots committing Asian hate crimes, the city's top cop said Tuesday.
Commissioner Dermot Shea told NY1 he plans to increase patrols in Chinatown; Flushing, Queens and other Asian communities in Lower Manhattan and Brooklyn.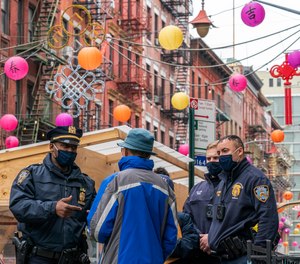 He also plans to put undercover officers out as decoys, he said.
"We're going to redeploy some of our undercover officers, if you will, to be out there and to make sure that people aren't going to be unfairly targeted," Shea said.
The increased patrols and undercover officers aim to tamp down a spike in anti-Asian hate crimes plaguing the city.
As of Sunday, cops have investigated 22 bias attacks on Asians in the city this year compared with none by this time last year, cops said. During all of 2020, there were 29 anti-Asian bias attacks, according to NYPD statistics.
Over the weekend, five Asian hate crimes were committed, including one on Sunday where an Asian woman was assaulted at a rally denouncing hate crimes as she held up a sign reading "Hate has no peace."
On Monday, police arrested Erick Deolivera, 27, charging him with assault and criminal mischief as a hate time for that cruel attack.
Shea on Tuesday encouraged residents to report hate crimes if they witness them and, if possible, "safely step in and protect your fellow New Yorkers."
"The key here is all New Yorkers have to come together," Shea said. "It's really sickening when you read these cases one after the other and see what people are being subjected to. It's really important to come together and denounce it."
[NEXT: Why foot patrol matters (and how to do it well)]
(c)2021 New York Daily News
McClatchy-Tribune News Service