Parents, teachers outraged after NYPD officers pulled from public schools
The move was planned before the deadly Feb. 14 Parkland school shooting
---
By Police1 Staff
NEW YORK — Parents and teachers are outraged after NYPD officers were recently pulled from public schools across New York City.
The Epoch Times reports that Mayor Bill de Blasio removed the officers because new community policing units will go into schools part time instead. The move was planned before the Feb. 14 Parkland school shooting that left 17 people dead.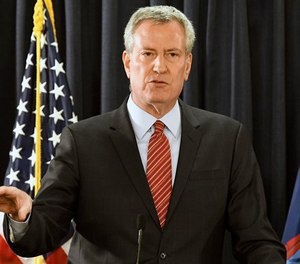 The Parents-Teacher Association has called for the NYPD to restore full-time officer positions across the city's schools. Leaders of the association have collected more than 1,000 signatures.
"It's ridiculous. All over the country they are telling you 'arm the teachers, get an officer in your school.' New York City had a designated officer and they are actually cutting the program . . . they are making us less secure," co-president Linda Lovett said. "You are talking about 5,000 people in a one-block radius, and you're telling me you can't designate one officer?"
Armed officers have been gradually eliminated across city schools since the 1990s, according to NBC New York. All schools have safety agents, but they are unarmed.
Councilmen Steven Matteo and Joe Borello have asked the mayor to place armed officers in the city's 1,700 schools. The New York State Sheriff's Association has also called for funding at the state level to place armed SROs at every grade and high school in the state.
In February, de Blasio said putting just one armed officer in every school would cost $1.2 billion, according to the New York Post. The mayor has also dismissed the idea of arming teachers in the city's schools, WPIX reports.
"There's nothing more terrifying than putting more guns in our kids' schools," de Blasio said.