Poem: A Christmas greeting from a Santa named Steve
Blessed are the peacekeepers who ensure Christmas Peace from inside their squad cars
---
Calling all police poets! PoliceOne's poetry column highlights some of the inspirational, moving and funny poems authored by our readers.
"A Christmas greeting from a Santa named Steve" is by Lt. Dan Marcou. Email your submissions for consideration to editor@policeone.com.
A Christmas greeting from a Santa named Steve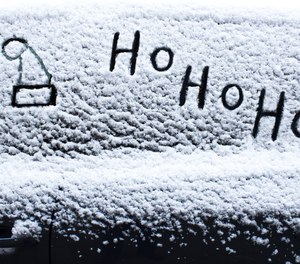 As he cleared from the jail on this Christmas Eve,
He smiled at the arrest of the Santa named Steve.
Steve was driving on the wrong side of the street
Then the lights of the squad allowed them to meet.
As Steve was arrested for his 5th DUI
He proclaimed, "I had to drive, I was too drunk to fly."
Steve blew into the machine and shouted with glee
"That's a record for me!" after blowing "three three."
The mood suddenly changed on the jolly old elf,
Who proclaimed, "Forget Christmas Goose. Go stuff yourself!"
The cop laughed to himself as he thought of the drunk,
With the dirty Santa suit and some dope in his trunk.
Then the cop snuck home for an unscheduled break,
He snuck quietly in, no noise did he make.
The stockings were hung on the staircase with care,
In hopes that "real Santa" soon would be there.
With the cop in his Kevlar and his Glock at his side
Into the kid's room he did quietly glide.
He planned on just taking a quick Christmas peek,
But they looked like two angels and he kissed each one's cheek.
One more for his spouse, who he did not awake
Then back out in the squad, in time for the first flake.
Billions came down floating gently like magic,
On this Christmas Eve shift that was devoid of the tragic.
This Christmas while cops patrol from Orlando to Nome
While others sleep snugly with their families at home.
May you all know how blessed you peacekeepers are,
As you ensure Christmas Peace from inside your squad car.
Originally published 12/23/2009, this article has been updated.