UC Berkeley police efforts led to kidnap arrest
---
By Terence Chea
Associated Press
BERKELEY, Calif. — Two quick-thinking police employees at the University of California, Berkeley described Friday how they set in motion Jaycee Lee Dugard's release after nearly two decades of captivity when they encountered her alleged captor on campus.
Phillip Garrido, who was distributing bizarre religious material with two girls in tow, seemed incoherent and mentally unstable, Lisa Campbell said. The girls wore drab-colored dresses, were unusually subdued, had unnaturally pale complexions and appeared robotic and rehearsed when they spoke, she said.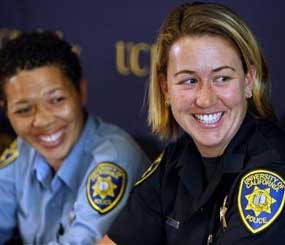 Campbell also wondered why the girls weren't in school.
"There were some things about him and the kids that were really alarming, that just didn't settle right with me," said Campbell, who previously worked as a police officer in Chicago and a background investigator for the Los Angeles Police Department.
So she and colleague Ally Jacobs notified Garrido's parole officer, who was surprised to hear the parolee had two young daughters and ordered the suspect to report to his office.
On Wednesday, Garrido arrived to see the parole officer with his wife, the two girls and a woman who initially identified herself as Allissa. She turned out to be Dugard and investigators said Garrido confessed to kidnapping her from her South Lake Tahoe neighborhood in 1991 when she was 11.
Campbell, who manages special events for Berkeley campus police, said the 58-year-old Garrido and the two girls - ages 11 and 15 with blond hair and blue eyes - first came to her office Monday because he wanted to hold an event related to a group called God's Desire, saying it involved the government and was going to be "really big."
Campbell scheduled a Tuesday meeting with Garrido and notified Ally Jacobs, a campus police officer. Jacobs ran a record check on Garrido and discovered he was a registered sex offender who had been convicted of rape and kidnapping more than 30 years ago.
Jacobs, who sat in on Tuesday's meeting, said she was also increasingly suspicious when she met Garrido and his daughters.
Garrido gave them copies of a book he had written called "Origin of Schizophrenia Revealed." He told them about his rape and kidnapping convictions but said he had turned his life around.
When Jacobs asked the girls about school, she said they responded "like robots" that they were in 4th and 9th grades, were home-schooled by their mother and had a 29-year-old sister at home. When Jacobs asked the younger girl about a bump on her eye, "she immediately replied with this very rehearsed response, 'It's a birth defect.'"
"They seemed a little out of touch with reality and robotic," said Jacobs, 33. "I just got a weird uneasy feeling."
When the younger daughter stared at her, Jacobs said, "It was almost like she was looking into my soul. That's how her eyes were so penetrating. And she had this smile on her face."
Jacobs said she let Garrido and the girls leave after their roughly 15-minute meeting on Tuesday because she couldn't find any reason to detain him, but she called his parole officer to express her concerns.
Jacobs recalled that before Garrido left, he grabbed his older daughter and said, "'I'm so proud of my girls. They don't know any curse words. We raised them right. They don't know anything bad about the world.'"
Copyright Associated Press. All rights reserved. This material may not be published, broadcast, rewritten, or redistributed.