Buffalo police no longer required to show names on uniforms
The change went into effect September 18 amid ongoing protests and reports of some officers having been "doxed"
---
By Maki Becker
The Buffalo News, N.Y.
BUFFALO, N.Y. — Buffalo police officers are no longer required to display their names on their uniforms, police and police union officials said Thursday.
"The rule now is they have to have their badge number visible on their outermost garment," said Buffalo Police Capt. Jeff Rinaldo.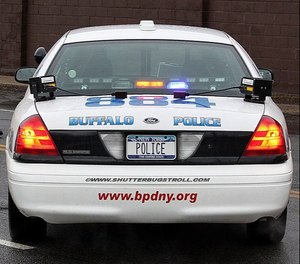 The change, which came at the direction of Buffalo Police Commissioner Byron Lockwood, went into effect on Sept. 18.
Until now, police were required under department policy to display their names and could be brought up on internal charges for failing to do so.
But since Black Lives Matter protests broke out in late May in the wake of the death of George Floyd in Minneapolis, some Buffalo police officers assigned to protest duty have covered up their name tags with tape. Protesters at a demonstration Wednesday night in Niagara Square where a woman was hit by a pickup truck said several police officers who responded to the scene had their names covered up.
That's no longer against the rules. The development was first reported by Channel 7 News in a Twitter post.
Police officers say some of them have been "doxed," with their names, addresses and other contact information being circulated on social media. They say they have received threats and their families have too.
"More than a dozen police officers have reported being doxed," Rinaldo said.
Police officers are in the process of having their badge numbers embroidered into their uniforms.
"We are encouraged that the administration is looking out for the officers," said John Evans, president of the Buffalo Police Benevolent Association.
©2020 The Buffalo News (Buffalo, N.Y.)
McClatchy-Tribune News Service