Sheriff: Jail will no longer accept mentally ill arrestees
Wants people to be first evaluated at medical facility
---
By Rick Armon
Dayton Daily News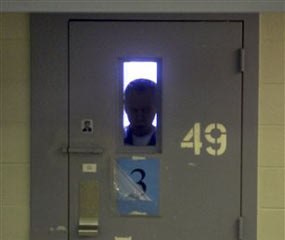 DAYTON, Ohio 
— 
Summit County Sheriff Drew Alexander plans to announce today that the county jail no longer will accept violent mentally ill and mentally disabled people arrested by area police - perhaps becoming the first facility in the country with such a policy.
"We're not going to be a dumping ground anymore for these people," he said.
The sheriff has long complained that housing the mentally ill and disabled in jail is inhumane, and they belong in a mental hospital where they can be better treated.
For years, he has threatened to stop taking such people if they are violent and until they have been treated first. He is following through now after a federally funded review of mental health programming at the jail.
A consultant working through the National Institute of Corrections recommended this month that those people "be referred to the hospital emergency room or the psychiatric crisis center for evaluation prior to being accepted into the jail."
Alexander, who is active in the National Sheriffs' Association, said he's unaware of any other county with that policy. The association and the National Institute of Corrections couldn't be reached for comment.
Nationwide problem
Mentally ill inmates have been a serious problem for jails across the country and there have been nationwide calls for reform. A 2010 report by the Treatment Advocacy Center and National Sheriffs' Association concluded that mentally ill Ohioans are four times more likely to end up in jail or prison instead of a mental hospital.
Local leaders estimated that about 130 inmates - out of more than 600 - are taking psychotropic drugs for mental illness.
The issue erupted publicly here after the 2006 death of inmate Mark D. McCullaugh Jr. after a violent struggle with deputies in his cell in the jail's mental-health unit.
Five deputies were indicted. One deputy was found not guilty of a single count of murder after an eight-day trial. Charges against the others, all facing lesser felonies, were dismissed after the not-guilty verdict.
The new county policy extends only to those who are violent, Alexander said. And the county is not refusing to house them, officials added, just requiring that they be treated before they are booked into the jail.
The policy, designed to improve safety for other inmates and staff, is similar to one in place that requires people with medical emergencies to be treated at an area hospital first.
"Our intention is not to turn away each and every mentally ill person who commits some kind of crime, especially misdemeanors, and are brought to our jail," jail administrator Gary James said. "The majority get along fine."
The new policy may affect two or three people a week, he estimated.
The change is expected to put pressure on local police departments and create an additional financial burden on communities because they could be responsible for any hospital or treatment bills.
Copyright 2012 Dayton Daily News