Police aid a 'blessing' for departments receiving COPS grant
---
By MaryClaire Dale and Devlin Barrett
Associated Press
PHILADELPHIA — A $1 billion stimulus program to keep cops on the streets was praised Tuesday as a heavenly blessing in places like tiny Anguilla, Miss. - while New York City and other places that got nothing cursed their luck.
Vice President Joe Biden and Attorney General Eric Holder said the money from the Community Oriented Policing Services program, called COPS, was sent to places with the highest crime rates and the biggest budgetary problems.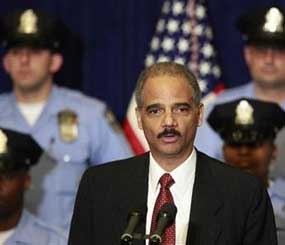 "These officers will go to where they are needed most," Holder said.
The high demand for aid - from more than 7,000 agencies - is indicative of the tough economic times they are facing, the attorney general said.
That was little comfort to those who didn't get COPS money, like New York, Pittsburgh, Houston, Seattle and Phoenix. Those cities were among the roughly 6,000 applications rejected.
For every $1 to be delivered, another $7 in requests will go unanswered under the stimulus package grant program.
Biden called paying cops' salaries "a moral obligation," and said cities left out of funding now will get other money from a different federal grant program.
New York City had asked for almost $650 million from the COPS program. It got zero. Local lawmakers of both parties called the decision a disgrace and an outrage.
Mayor Michael Bloomberg, an independent, said the federal government has a "perverse" inclination to send money to failing programs, instead of ones that work.
Trying to put the best face on the brush-off from the federal government, Bloomberg called the lack of COPS money a "compliment" because the Obama administration recognized the city's low crime rate and balanced budget.
In Pittsburgh, police chief Nate Harper said he was disappointed but proud of the reasons he's not getting help.
"I'd rather have a safe city than have to depend on stimulus money," Harper said. "It is a good thing that the city crime stats are down," but he called it a "sour note" that lower crime means less money from Washington.
For the three-person police squad in Anguilla, Miss., the extra money is a godsend.
"This is a blessing from the sky," Assistant Police Chief Roy Sias said. The grant will help them hire one full-time and one part-time officer, he said.
Governors and mayors who are getting the help were grateful.
"Thank goodness, thank goodness, that we are doing something not only to save jobs but to protect communities across America," said Jon Corzine, the Democratic governor of New Jersey at the announcement in Philadelphia.
Philadelphia's mayor, Michael Nutter, also a Democrat, called the $10.9 million his city will get "an incredible opportunity and a full demonstration that the federal government has a role to play, can do something to make our cities safe and enjoyable for all of us."
Each state is entitled to at least $5 million in COPS money.
Other places getting COPS aid include: Mobile, Ala.; Mesa, Ariz.; Tulare County, Calif.; Monroe County, Fla.; the Seminole Tribe of Florida; Baltimore; Kalamazoo, Mich.; Rochester, N.Y.; Providence, R.I.; Salt Lake City, and Huntington, W.Va.
As local governments bleed red ink and officials look to plug budget gaps, they have swamped the government with a record number of requests for aid under the program.
Seeking to quiet the chorus of complaints even before the announcement was official, the Justice Department said Tuesday that New York City will get $7 million from another grant program. New York City was almost certain to get those funds anyway, since that program delivers money based mostly on a pre-set population-based formula.
The Big Apple also has a touchy history with Washington when it comes to federal aid for police costs. In 2006, the Bush administration sparked an uproar when it slashed homeland security money for New York City.
The Justice Department estimates the grant awards will help hire 3,818 new officers, and retain 881 positions that would otherwise be lost to budgetary belt-tightening.
That makes a total of 4,699 officers - still short of the program's announced goal of hiring 5,000 officers.
Under the COPS program, the federal government pays the officers' salary and benefits for three years, after which the local government is responsible for the costs.
Local police chiefs have been waiting anxiously for months to learn what they will receive, and understood even before the decisions were announced that many would be disappointed.
List of grants: http://www.cops.usdoj.gov/pdf/chrp_report.pdf