10 amazing photos that'll make you proud to be a cop
Many of the good deeds of officers, day in and day out across the country go unnoticed
---
It's sadly the case that most images of cops used by the media have a negative spin — and that the good deeds of officers, day in and day out  across the country go unnoticed.
But occasionally, those small acts of kindness and compassion that go hand in hand with being a cop are caught on camera, often without the officer's knowledge.  
When a North Carolina cop became an "internet hero" after a man snapped a shot of the officer offering a woman and her child a ride in the rain, it got us digging through police blogs, department homepages, and photography portfolios to bring you a collection of photos that'll make you proud to be a cop.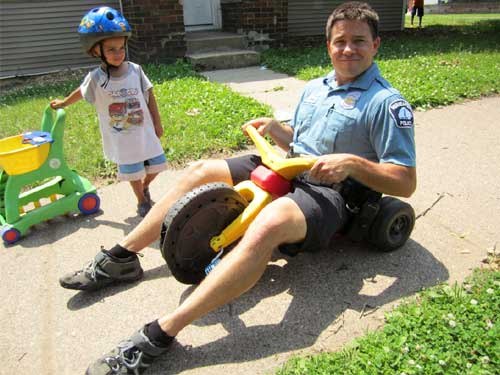 Officer Mark Klukow of the Minneapolis police testing out his concerned-looking friend's tricycle. (Photo courtesy of Officer Mike Kirchen, BikeCopsforKids).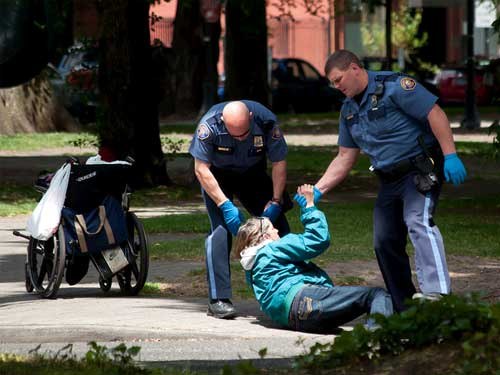 Portland police pull over in their cruiser to help a woman who fell out of her wheelchair. (Photo courtesy of Tom Becker)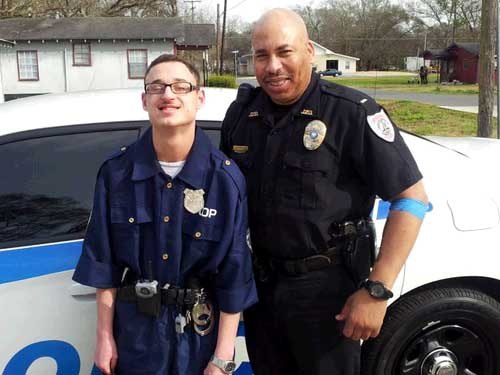 Officer Mike Hill of the Jennings, La. Police Department  with his favorite 'back-up' Blaize Richards, who was given a uniform for his 18th birthday. Blaize, who is menatally disabled, has always aspired to be an officer, so Hill did everything to make that dream a reality, even bringing him by the department and visiting to show off his new squad.  (Facebook Image) Full Story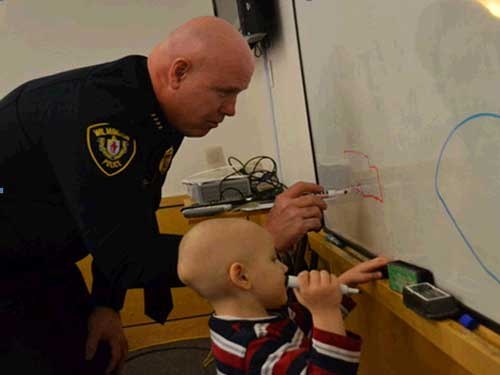 Police Chief Michael Begonis draws with David Maselli, a 3-year-old leukemia patient who spent the day at the police station. He met the K-9 unit, sat in a firetruck, and colored with Chief Begonis. (Courtesy Matt Schooley, Wilmington.patch.com) Full Story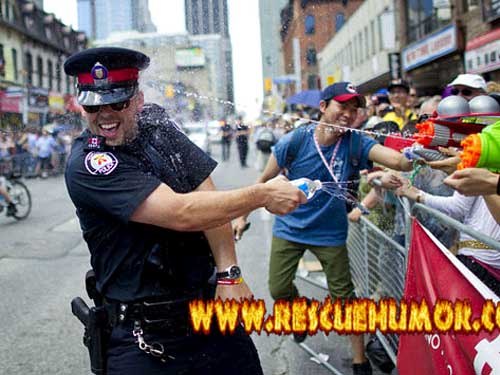 An officer joins in on the water war fun during what appears to be an event big enough to close down a street. (Photo courtesy of RescueHumor.com)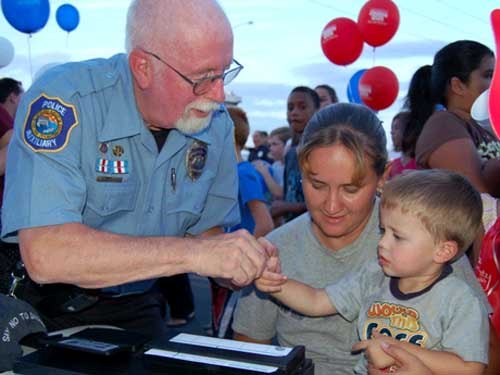 Bullhead City Police Auxiliary Member and Booking Officer Robert Sheridan (left) fingerprints children during the 26th Annual National Night Out at Mohave Electric Cooperative. (Bullhead City Police Image)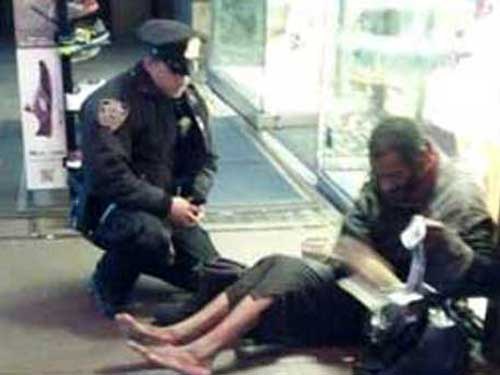 An NYC tourist was at the right place at the right time when she spotted Officer Larry DePrimo kneeling down and helping a barefoot, homeless man to put on boots he'd purchased for the man on a cold winter night. (NYPD Image) Full Story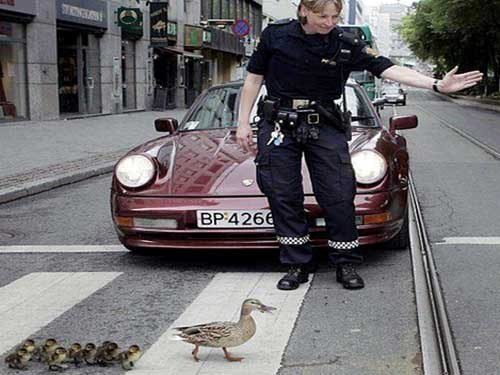 An officer in Norway stops traffic to let a duck and her family safely cross.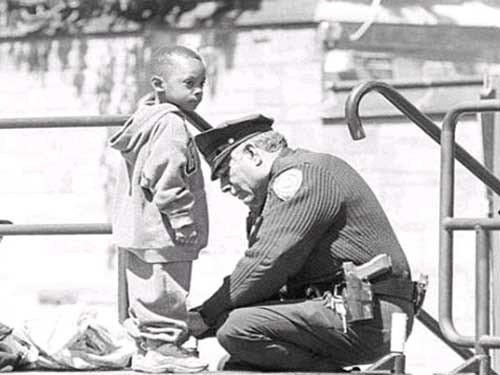 A boy asked this officer, who was taking a routine vandalism report at an elementary school, if he was a cop, because his mother told him a cop would always help him when he needed it.  When the cop replied, yes, I am a cop, the boy asked him to help tie his shoe.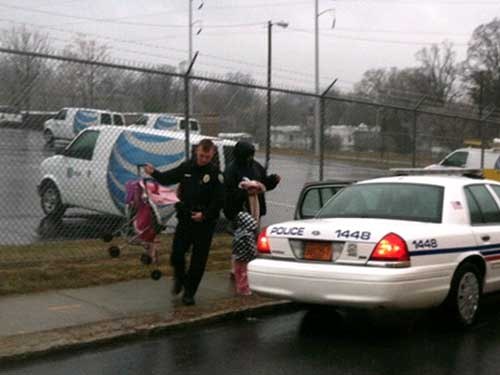 Officer Charles Ziegler of the Winston-Salem, N.C. police pulled his cruiser over when he saw a woman walking in the freezing rain with her child in a stroller, and offered them a lift. A witness caught the good deed and posted the photo to the town's Twitter page. Full Story