Behind a viral news story: What a waitress' kind gesture to cops meant to me
She is the face of the majority of America — let's not forget that
---
On April 10, 2016, Officer Steven M. Smith was shot while on a SWAT call in Columbus, Ohio. His family granted his last act of service to the public when they allowed others to benefit from his passing by allowing his organs to be donated. To hear the accolades, spirit and dedication of Officer Steven M. Smith underscores why his friend and boss, Sergeant Podolski, stated in a moving eulogy, "My badge, it shines brighter because of Steve Smith, so do all of yours."
Having left that funeral service, several officers and I stopped for a bite to eat at a local Red Robin restaurant. We were seated and approached by a young woman named Jessica Dunbar — our server for the meal. She asked how everyone was doing. I responded that it is always a bad day when you have to bury a brother officer. She stated that she was sorry, explained that her father was a retired officer and then took our orders.
Another group of officers I knew sat down a table away. We greeted each other, caught up, and Jessica also took their order. Jessica tended to our needs in a friendly and energetic way.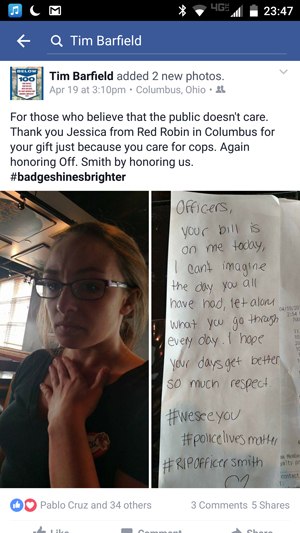 After we ate, only one check was delivered to the table instead of the several we had requested. As we prepared to divvy up the check, we noticed writing over top of the bill. It read:
Officers, your bill is on me today, I can't imagine the day you all have had, let alone what you go through every day. I hope your days get better. So much respect. #weseeyou #policelivesmatter #RIPOfficerSmith
The other officers and I were moved by the kind act. I hugged and thanked her. I and another officer took a photo of the bill and I took a photo of Jessica — tears in her eyes. Everyone left a good tip and we left, impressed by the act of kindness on a bad day.
Kindness Goes Viral
Two of us posted to our Facebook pages in order to express our appreciation to Jessica and embrace a little warmth in the midst of the media attacks against the police over the last couple of years. As a cop, it can feel lately like the whole world is against you. Jessica's kind act was a reminder that it's not.
My post was reposted to the department Facebook page. Then it went viral. The responses, shares, phone calls and "likes" were crazy. Calls came in from the media for comments or interviews, the public offered support, people wanted the department to share with Jessica their thoughts and some wanted to share theirs.
I have been a police officer a long time. I have had people drop off baked goods, sandwiches, and gifts at the police department on many occasions. I have had more than one meal paid for anonymously and have often stopped to thank those who, after a thorough investigation, were found to be the "anonymous" donor of a meal.
When Jessica committed that act of kindness, she was just trying to do her part, but I think she speaks for the "silent majority" of Americans who love and support the police. What causes something to go viral has been the study of several people and organizations. Acts that stir intense emotion — especially joyful emotions and those that anger people — are more likely to be shared. The post about Jessica did both.
Seeing this waitress — who is probably not particularly well-to-do — pay for the meal of nine cops who were attending a funeral showed her incredible compassion. Probably more important are the emotions brought on by those who support the police because they see them as professional, honest servants who are under attack in the public sphere. A quick survey of the comments to the numerous shared posts showed the support of Jessica for her support of the police.
Two Takeaways
Here is the takeaway for the public: don't be the silent majority. Speak up and say something so that the thin blue line will continue to know they serve people who support the sometimes thankless job they do. You don't have to buy dinner, but just walking up to an officer and saying "thank you," "good job" or "we got your back" will go a long way in encouragingr those who are willing to give their all for you.
Here is the takeaway, officers: the public does support you. It's not just a few — the vast majority of the public has your back. The media has created a lie that the police are not trusted and are hated. It is easy to get caught up in the lies being spread, but this viral post and others like it should encourage you to go out and continue to do the great job you do.
Two of us met up with Jessica again for an interview with Fox and Friends. My concern for her was the backlash I thought would take place. She assured me that Red Robin had been great and supportive of her publicity and the random act of kindness (something they teach their employees). She also has received calls from across the country and Canada in support of her act and compassion. She feels "proud to be the face who is sharing this positive outlook on law enforcement."
She is the face of the majority of America. Let's not forget that.