Loved ones of slain police officers describe meaning of 'thin blue line'
"It saddens me to see the blue line being redefined and misrepresented," said a retired trooper whose brother died in the line of duty
---
By Ron Chimelis
masslive.com
SPRINGFIELD, Mass. — More than 36 years have passed since Springfield Police Officers Michael Schiavina and Alain Beauregard gave their lives in the line of duty, but their loved ones are convinced their stories are more pertinent and important than ever.
Maura Schiavina and Doris Beauregard-Shecrallah spoke Wednesday at an annual memorial ceremony for officers who lost their lives while serving the police force and the community. The event took place during National Police Week at the Fallen Officer Memorial in front of Springfield Police Department headquarters on Pearl Street.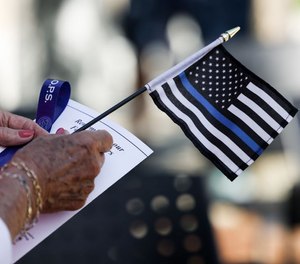 In particular, they explained the meaning behind a term they feel has been misunderstood and misused: the "thin blue line."
"The term represents the concept of our police as the front line keeping society from descending into violence and chaos," said Schiavina, a retired state trooper and sister of the Springfield police officer who, along with Beauregard, was killed during a traffic stop in 1985.
"If you or someone you love is a police officer, then you understand this sentiment all too well," she said.
In agreement was Beauregard-Shecrallah, the widow of Alain Beauregard. The two women are forever linked by the tragedy, the memory of which they are determined to keep alive for future generations.
The department counts 17 fallen officers, the first of which was Constable Thomas Miller in 1675. The most recent was 36-year department veteran Kevin Ambrose, who was shot and killed while responding to a domestic disturbance June 4, 2012.
Maura Schiavina said the "thin blue line" flag, designed in the format of an American flag but with a blue line crossing its midsection, symbolizes the line on which police officers figuratively stand to guard the law-abiding public from criminal elements.
"It saddens me to see the blue line being redefined and misrepresented. It is the very core of what law enforcement officers represent to their communities," Schiavina said.
[RELATED: Readers respond: Should thin blue line imagery be banned?]
Beauregard-Shecrallah said the sacrifices made by officers and their families are not limited to those who lose their lives.
"Sometimes the injuries to police officers are not just to their bodies but to their emotional well-being and even their souls," she said.
Beauregard-Shecrallah said she was deeply bothered by the politicizing of the term "thin blue line," which she said has been used to unfairly or cruelly discredit police officers for ideological purposes.
The two women have been passing out commemorative blue ribbons since 1990.
Absent from the memorial ceremony were Police Superintendent Cheryl C. Clapprood and Mayor Domenic J. Sarno, each of whom has tested positive for COVID-19.
Clapprood sent a statement of support that was read at the ceremony.
"My fear is that as the department gets younger, the memories of these officers (who died) will fade away. We cannot allow that to happen," Clapprood's statement read.
Chief of Staff Thomas M. Ashe read a statement from the mayor.
"When everyone else is running away from trouble, police officers are running toward trouble," Sarno's statement read.
In 1962, President John F. Kennedy signed a proclamation designating May 15 as Peace Officers Memorial Day, and the week in which that date falls as Police Week.
Beauregard-Shecrallah and Schiavina have maintained their presence to keep alive the respective memories of their late husband and brother. In October of 2019 — nearly 34 years after their deaths — the slain officers were honored with the naming of Beauregard and Schiavina Memorial Park on North Branch Parkway.
Clapprood has often noted that the 1985 shootings took place at a traffic stop, a sobering reminder that even apparently routine police duties carry danger.
Beaurgard-Shecrallah urged citizens to appreciate not just the meaning of the "thin blue line," but also the "empathy, compassion and patience" of law enforcement officers around the country. Her dedication to passing on that message has never wavered, she said, even nearly four decades after her husband's passing.
"It's an honor to be here with all those dedicated to law enforcement," she said.
While Miller's death in 1675 represents Springfield's earliest loss of life in the line of police duty, most of the 17 fallen officers died in the mid-20th century. Twelve Springfield police officers perished between 1934 and 1973.
The deadliest year was 1973, when William R. Berte, Richard D. Vigneault and Paul Mawaka died over a 10-month period. In the 49 subsequent years, the deaths of Schiavina, Beauregard and Ambrose are the only additions to the list commemorated by plaques on the Fallen Officer Memorial.
©2022 Advance Local Media LLC. Visit masslive.com. Distributed by Tribune Content Agency, LLC.
McClatchy-Tribune News Service