Slain Atlanta officer had a passion for basketball, helping kids
"Officer Lawrence figured out his passions, which led him to his purpose. He was honorable and compassionate"
---
Alexis Stevens
Atlanta Journal-Constitution
ATLANTA — He didn't lead his team in scoring. And Stanley Lawrence was never named to the all-conference team while playing for the University of Tennessee at Chattanooga basketball team. 
But at 6-feet-8, Lawrence stood out. His defensive skills led his team to three conference titles and a 74-17 record in the early 1980s. Later as a city of Atlanta police officer, Lawrence coached children to play the game he loved, sharing stories of his college days.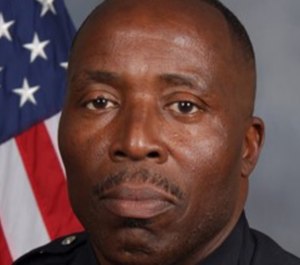 "He would tell them and he had the news clippings to show them," Deputy Chief Terrell Griffin told The Atlanta Journal-Constitution. 
On Thursday, Griffin and other officers struggled with news of Lawrence's death. Lawrence was shot and killed early Wednesday in his Clayton County home, and his wife was charged with murder. He was 58. 
"We're heartbroken. We're devastated. We're in a state of disbelief. We can't believe he's gone," Griffin said. "You do 30 years working as a police officer, and then you lose your life suddenly like that."
Riverdale police Chief Todd Spivey said the investigation continued Thursday and no motive has been determined. But detectives had enough evidence to charge Tammare Lawrence with murder and aggravated assault. The 48-year-old was being held without bond Thursday at the Clayton jail. 
Lawrence was from Jesup, a southeast Georgia town about 50 miles from the coast. When he arrived at UTC, he was given the nickname the "Jesup Giant," according to a college basketball spokesman.
The Chattanooga Mocs had joined the Southern Conference in 1978, according to Jim Horten, UTC basketball's communications director. The following season was Lawrence's freshman year. 
"Stanley was a vital part of some of the best Southern Conference squads in league history," Horten said in an email to the AJC. "There is a popular saying now about players being 'glue guys.' He didn't win all-conference honors, but he was certainly a 'glue guy' helping the program establish itself in what has become the SoCon's dominant program ... and making a name for itself nationally."
Lawrence graduated with what was then the school's all-time block record of 132, a record he held for 33 years.
In 1990, Lawrence became an Atlanta police officer. And again, he stood out among the other new hires, Officer Kim Jones said. 
"The first time I saw him, I was like, 'He can't fit in a police car,'" Jones said. 
Lawrence had a deep voice to go along with his big presence, Jones said. When he was assigned to work with children in the Police Athletic League, it combined two of his loves: basketball and kids.
Created in 1980, PAL continues to offer children a safe place to play sports after school and during the summer. Lawrence was firm with the children, but they adored him, his colleagues said. And he loved them back. 
"He was a giving person. He was a gentle giant," Jones said. "You never saw him angry. You never saw him mad. He always had a smile on his face."
His teams were well-coached, winning several championships playing against other city rec teams, Griffin said. But Lawrence's lessons weren't just about hoops. 
"Not only was he a coach on the basketball court to these kids, but he coached them off the court as well," Griffin said. "He would instill in them the importance of being on time, being well-groomed, leaving a place cleaner than how you found out."
Lawrence taught the children life lessons, serving as a father figure to many who came through the program. 
Milton Miller met Lawrence about a year ago at Heavenly Delights Bakery in Southwest Atlanta. The two men struck up several conversations over their love of sweets, Miller said. Recently, Miller had purchased raffle tickets from Lawrence to benefit PAL. 
"Officer Lawrence figured out his passions, which led him to his purpose," Miller said. "He was honorable, compassionate, and made a difference in the lives of so many that he encountered. I think so many are better people after having known him. We have to remember to enjoy life while we still have it — and eat the cake."
McClatchy-Tribune News Service