Oakley's new eyewear expands marksman's field of view
Billed as the company's 'first competitive shooting eyeshield,' Tombstone is the product of research conducted in part with the U.S. Army Marksmanship Unit
---
The centerpiece of Oakley's booth at this year's SHOT Show was eyewear intended to address issues with field of view.
Billed as the company's 'first competitive shooting eyeshield,' Tombstone is the product of research conducted in part with the U.S. Army Marksmanship Unit.
"These guys [AMU] shoot thousands of rounds. Their input is needed," Oakley representative Erick Poston said.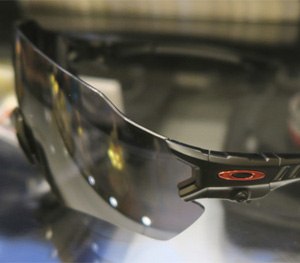 The company used a 60Hz eye tracking system with over 100,000 test participants to monitor eye position and movement in shooting environments. Through this, Oakley found the upper periphery of the lens was critical in the visual field for acquiring and zeroing in on a target accurately. In turn, Oakley expanded the frameless lens zone to give the Tombstone a 120-degree view.
Smudge prevention
The Tombstone also features a trigger system that minimizes getting smudges or other marks on the lenses while swapping them out.  The company compares it to inserting a magazine into a firearm – a release trigger located on the stem unlocks the lens, allowing you to snap in a new one.
PRIZM Integration
Oakley designed the Tombstone around their previously-released Prizm lens technology, which is intended to aid a shooter's ability in target recognition.
The lenses are made to emphasize certain parts of the color spectrum, with different models for bright and low light conditions, to create a contrast between the environment and your targets. They're also made to reduce eye strain and improve a shooter's ability to see a scope's reticle pattern.
The lenses block 100% of UVA/UVB and harmful blue light up to 400 nm wavelength, have anti-fog and scratch-resistant coating, and come in two sizes.
Tombstone is scheduled to be released April 1, and will have an MSRP of $180-285, depending on the combination of lenses purchased. For more information, visit OakleySI.com