PRESS RELEASE
Atlanta Police Department Deploys TRIKKE Positron to Enhance Fight Against Crime
---
The vehicle bridges the gap between patrol vehicles and citizens by facilitating better community engagement.

ATLANTA — TRIKKE, manufacturer of professional mobility vehicles, is happy to announce the Atlanta Police Department has recently added the TRIKKE Positron to its fleet of vehicles to assist with crime-fighting and community engagement.
The Positron is TRIKKE'S police-specific version of its rugged professional-grade personal patrol vehicles, complete with top-notch performance for heavy-duty work cycles.
The Positron comes loaded with all of the essential features needed by law enforcement, including:
All-wheel drive
All-wheel disc brakes
Full suspension
Dual headlights
High beam spotlight
Turn signals
Dual-color emergency lights 
Horn
Siren
Rearview mirrors
Phone holder with USB charger
Reflective police graphics  
The stealth, emission-free vehicles can be used indoors, outdoors, and in all types of weather. They're an excellent tool to help police navigate large crowds and interact with the community. What's more, since the Positron is compact and can be driven on and off-road, on sidewalks, and between narrow alleys, it allows for faster response times in congested areas while hitting speeds of nearly 40 mph.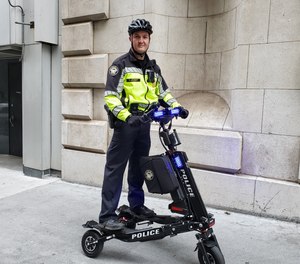 As gas prices continue to rise, the Positron comes with the added benefit of filling the need for green options to help Atlanta PD save on fuel costs, and energy emissions, while allowing patrol officers to cover more ground faster than on foot.
The TRIKKE Positron is a great community policing tool that empowers officers to maximize their approachability, visibility, and responsiveness.
 "You can easily navigate through crowds to respond to an incident. Your imagination is the only limit to what these vehicles can do," Rodney Bryant, Chief of Police at the Atlanta Police Department, said.
To learn more about TRIKKE Mobility's vehicles, click here.
 About Trikke Professional Mobility
TRIKKE Professional Mobility is a US-based manufacturer and distributor of rugged professional-grade personal patrol vehicles with all-wheel-drive and a proprietary cambering design for efficiently moving around large campuses, congested areas, and public events. TRIKKE vehicles are quiet and ergonomic, with high-torque electric motors and heavy-duty construction. The frame folds flat for easy deployment and storage in a small footprint, and the lithium-ion battery can be swapped out for quick recharging. These vehicles are designed for around-the-clock operations and are currently in use by many police departments around the US. TRIKKE leads the law enforcement industry in reliable alternative transportation.
For media inquiries, please contact:
Cheyne Jetton 
Marketing & Sales

Request more info from Trikke Professional Mobility
Thank You!