Digital Edition: Police1's 2022 guide to body-worn cameras
Download this guide to stay up to date on the procurement process and the evolving applications of bodycam technology
---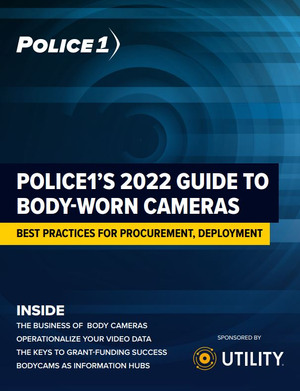 While body cameras have been a fixture in many departments for close to a decade, the 2020s will likely be remembered as the era when body-worn cameras became essentially universal. Not only does a whopping 93% of the public favor their use by police officers according to a Pew Research Center survey, but in last year's Police1 State of the Industry Survey, 82% of officers likewise want to wear them on the job.
But it isn't just legislation that's constantly evolving. The technology itself is continually adapting, giving departments capabilities they never even knew to dream of. Yet with greater choice also comes greater due diligence responsibilities.
To help agencies stay up to date on the procurement process and the evolving applications of bodycam technology, this digital edition, sponsored by Utility, highlights what agencies need to know about body-worn cameras in 2022 and beyond.
Fill out the form below to download the free digital edition.
Police1's 2022 guide to body-worn cameras