Digital Edition: What cops want in 2021
4,000 officers speak up about police reform, recruitment and more in Police1's State of the Industry survey
---
2020 was a year of unprecedented change and uncertainty for law enforcement agencies. Calls for police reform and defunding dominated headlines in the mainstream media, but the future of the criminal justice system is being dictated and decided by everyone except police officers.
To provide officers a voice in setting the future of policing, Police1 conducted our first State of the Industry survey to understand how the law enforcement profession wants to evolve. More than 4,300 LEOs responded from agencies large and small serving urban, suburban and rural areas. Just over half of the respondents have more than two decades in law enforcement, 30% have 10-20 years under their duty belt and 17% have fewer than 10 years.
Included in this digital edition, sponsored by Getac, are answers to key questions we asked respondents, as well as expert analysis on the path forward.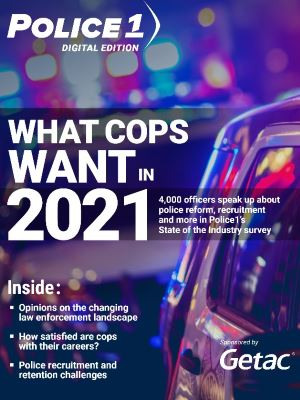 For a PDF of the complete guide, fill out the form below.
"By leveraging the data from this survey to target public information outlets, the truth about who the police are, what they believe, what they are doing and what they hope for the future can serve as a means to advocate for the profession while producing one of many positive, intended consequences: successful recruitment and retention of quality police officers," observes criminal justice professor and former police officer Janay Casparini, Ph.D.
Some highlights from this issue include:
What LEOs want for the future of policing
How satisfied cops are with their careers
Duties that are of most importance to officers
Officer optimism about the future of law enforcement 
Responsibilities officers think should be handled by other government agencies
Predictions on the future of police recruitment and retention
To download your free copy of the "What cops want in 2021" Digital Edition from Police1, fill out the form below.