Grant-funding considerations for body-worn cameras
How to put together a successful application, whether your agency is expanding a current program or starting from scratch
---
By Police1 Staff
Millions of dollars in competitive and matching grants are allocated to support new and expanding BWC programs. But how do you create a winning application either this year or in the future? 
During a recent Lexipol webinar, a panel of experts shared top tips for bodycam funding success.
EXPERT PANEL
Samantha Dorm, Senior Grant Consultant, PoliceGrantsHelp
Rudolph Hall Jr., EdD, Assistant Chief of Special Investigations, New York State Office of the Attorney General Adjunct Lecturer, John Jay College 
Sarah Wilson Handler, Vice President, Grants, Lexipol
Bill McAuliffe, Director, Professional Services, Lexipol 
ABOUT THE FUNDING
The FY 2022 Body-worn Camera Policy and Implementation Program to Support Law Enforcement Agencies program provides funding to law enforcement agencies seeking to purchase body-worn cameras to establish or expand comprehensive body-worn camera programs with a specific and demonstrated plan to implement this technology to maximize the benefits of BWCs.
BWCs are eligible for funding under the Byrne Memorial Justice Assistance Grant (Byrne JAG), which provides $360M in discretionary funding. In addition, JAG provides a $35M competitive matching grant program just for BWC grants. Additional funding may be available under the American Rescue Plan.
The grants open annually in the spring. Access PoliceGrantsHelp for more information.
"The great thing about BWCs is that they help departments be able to achieve several items, particularly when it comes to training and review of things happening out in the fields," said Samantha Dorm. "This is especially important as the Byrne Justice Assistance BWC-specific grant is no longer a straight equipment grant but must be built around programs where policy and training are a large part."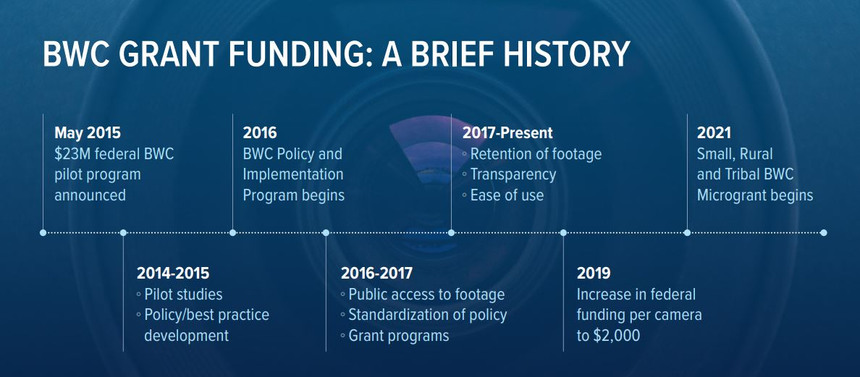 Whether you are on the first day of your body-worn camera journey or refining your program after a few years, the panelists offered key considerations in four areas to achieve funding success:
1. ACCOUNTABILITY
Accountability is a huge issue for jurisdictions when a police agency starts a BWC program and funders are increasingly looking at how programs will support accountability.
"Accountability is not just at a personal officer level, but in today's day and age there is an expectation that people are holding the entire agency accountable," noted Bill McAuliffe.
Bodycams allow supervisors insight into what officers do when supervisors are not on scene.
"It is a tremendous tool," said Dr. Hall. "When NYPD implemented its program, one of the things we incorporated was supervisory performance measures that required sergeants and lieutenants to watch a certain number of videos of their officers every month. The department would randomly select videos for each patrol sergeant and that sergeant would have to watch each video and go through a checklist: Was the officer professional? Was the officer tactically sound? Was the officer discourteous? And then the lieutenants would review the same video to see whether they concurred with the sergeant's findings."
2. IMPLEMENTATION
The panelists outlined several areas for agencies to consider regarding the implementation of their body-worn camera program:
Storage: No matter the size of the agency, you will collect a lot of data. Where will you store it? Will storage be cloud-based or server-based?
Retention: Civilian oversight boards often review BWC footage, so consider the parameters under which the review board operates when it comes to setting retention requirements.
"In NYC, through the civilian review board, citizens have up to 18 months to file a complaint, so one consideration when NYPD rolling out its bodycam program was how long to keep the video," said Hall, who oversaw the agency's program. "We set retention at 18 months to address any civilian complaints after the interaction."
It is also important to check within your state to see if there are any mandates or guidelines around retention, noted Dorm.
Collaboration: Working with your prosecutor should be part of your implementation process.
"If you are going after state or federal grants, the prosecutor's office is required to be part of your program," said Dorm. There is a certification form that is included, so all the more reason for departments to start early so they have time to work collaboratively with the prosecutor's office."
And if you are a small agency in a large county, work with other agencies that surround you. "Think holistically and collaborate with all the partners you can think of in your region," said McAuliffe.
3. POLICY
When it comes to policy development, one of the first steps is to assign a coordinator who will manage the project and work to vet policies so they are applicable, practical and functional, notes McAuliffe.
Here are just a few questions to consider when beginning the policy-writing process:
Privacy issues: How will you handle privacy issues when officers are recording while in private homes?
Camera activation: In what situations will officers be required to start recording?
Video release: When and in what situations would video be released to the public?
Footage review: Will you allow officers to view bodycam footage before writing their report?
Policies must also be in step with the equipment you are purchasing. For example, if your bodycam vendor has an equipment upgrade that offers new features, your policy should address that. 
"Vendors are offering more and more features such as officers being able to mute the camera in public or automatic activation, so as equipment is upgraded, agencies need to adjust policy as the tech evolves," notes Hall.
4. TRAINING
Historically, when we talk about training and bodycams, agencies focused on where the officer wears the camera, how to turn the camera on and off, how to upload video, etc., but lately agencies and vendors are using cameras for training purposes.
"The amount of video we have allows officers to learn from both good and bad interactions without recreating the same event," said Hall. "Most police training is lecture or scenario-based so it can be hard to replicate adverse encounters with the public but watching bodycam video allows you to be in that situation and learn what went well during an encounter both in terms of communication and tactics. It is a treasure trove of information that can be used for training."
Funders always want to see specific information related to training in your grant application. "First and foremost, in most of these grants, training is an eligible expense, so it allows you to use cameras for training," said Dorm. "This will also help with your program's sustainability, as from a training standpoint you are using that video to raise performance levels and accountability, so your department is in good standing."
CLOSING THOUGHTS
If there is one lesson to take away it is to start now! It is always advisable to start way in advance of any grant program openings, as the process can take more time than anticipated.
Watch the full webinar here.

Request product info from top Police Body Cameras companies
Thank You!