Justifiably Honor your Finest with Liberty Art Works Law Enforcement Presentation Baton
Justifiably Honor your Finest with this Traditional Baton and Presentation Case. The Baton has been a long standing tradition and symbol of the "Thin Blue Line."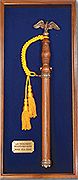 The Baton is presented in Solid Walnut and is accented with a bronze sculpted Eagle, Collar and End cap. Each piece is cast in solid bronze, handtooled, and polished to a high luster.

The distinguished cord is hand braided and salutes the same high quality that Liberty Art Works is renowed for.
The Walnut Presentation Case embraces the baton with a solid brass fastener and includes a brass plate with your personal engraving.
This remarkable Baton commands its presence in any law enforcement collection and is truly worthy to honor your finest.
Contact
Liberty Art Works, Inc.
1-888-411-7744
www.libertyartworks.com