Handheld X-ray screening system safe for everyday LEO use
The Backscatter Z is about 9 pounds and requires little training to use
---
American Science and Engineering, Inc. demonstrated their new MINI Z™ handheld Z Backscatter® screening system at IACP in Orlando.
The handheld X-ray imaging system is ideal for fast, portable, real-time detection of concealed organic threats such explosives, composite guns, narcotics, and even people in hard-to-reach locations.
Border Patrol has been a big customer for AS&E, who offer safe drive-through portals to detect organic threats in vehicles crossing the border. The company has expanded to law enforcement and corrections applications with the release of the handheld imaging system.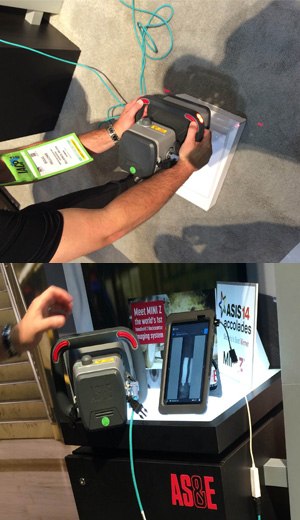 The handheld scanner emits such a low level of radiation that it is safe for constant use by law enforcement.
AS&E CEO Charles Dougherty says it has become a trend for criminals to stash contraband in tires and seats. The company's booth on the show floor at IACP showcased a tire and car seat with synthetic pills to demonstrate the MINI Z's capabilities.
The X-ray image was transmitted instantly to a tablet and displayed a clear, photo-like image. The MINI-Z was held at about 12 inches away from the scanned object and then brought closer to reveal a more detailed image. 
The Backscatter is designed with the source and detector on the same side, whereas X-ray machines in airports, for example, need a detector on either side. This means that no set-up is required for the handheld device, and that there's no need to touch suspicious objects, such as unattended bags, before scanning them.
A start button on both the mobile app and the handheld backscatter must be enabled for the device to screen an object, and the scan ends after 30 seconds of being inactive for safety purposes.
The screening system weighs about nine pounds and requires minimal training and set-up, according to Dougherty.
For more information visit www.as-e.com/miniz.

Request product info from top Corrections Products companies
Thank You!