Tactical, pocket carry and weapon-mounted: A smorgasbord of new lights from Streamlight
Whether working the night shift, or searching a dimly lit building, there's no reason you have to be in the dark
---
Much of the attention at SHOT Show is focused on firearms and ammunition, and rightfully so, since it is the Shooting, Hunting and Outdoor Trades Show. However, if you're only looking for things that go bang on the show floor, you'll miss out on some of the best products at SHOT Show, guaranteed.
Cops certainly need good firearms and good ammunition to fire in them, but these officer safety tools are – thankfully – not used very frequently. One tool that gets a LOT of use though is a flashlight, and Streamlight, one of the most trusted names in public safety illumination products, has several new ones for 2021 that are bound to light up your way.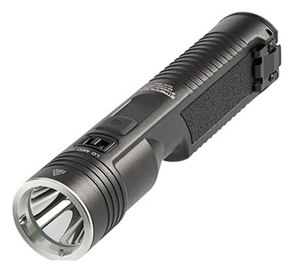 Stinger 2020
Let's start this roundup with the new Stinger 2020, a mid-sized tactical light packed full of features.
Most of you will recognize the Stinger marque because it's one of the most popular lights in public safety. Not quite as big as a duty-sized SL-20, nor as small as the compact Protac 1L, the Stinger fits in that middle ground, serving cops burdened with an ever-increasing load of duty gear to manage. As in the Three Bears tale, the Stinger is the light that's "just right" (at 7.67 inches long, 1.62 inches wide and 12.3 ounces) for a lot of cops on patrol and special duty assignments.
The new Stinger 2020 improves on previous generations of the line with increased power, capability and features. Whereas the Stinger HL featured an 800-lumen high setting, the Stinger 2020 tops out at an impressive 2,000 lumens, throwing a focused beam that reaches out to 315 meters. The Stinger 2020 boasts an impressive two-hour run time at the high setting of 2,000 lumens but also allows an officer to select from a medium setting (850 lumens, 200 meters, 4-hour run time) or a low setting (100 lumens, 70 meters, 24-hour run time) with an exceptionally convenient slide switch, near the head of the light. This slide switch allows the officer to easily select the appropriate intensity without cycling through all the different modes, and it's one of the neatest features of the new light.
The Stinger 2020 features a power switch on both the head and the tail of the light, as on the previous DS versions of the Stinger. Having a switch on both ends of the light is both a huge convenience and a huge advantage, especially when an officer is required to integrate the light with a firearm, using handheld light shooting techniques. For those who desire it, a strobe setting can be accessed with a double click of either switch, in any mode.
The aluminum body of the Stinger 2020 is augmented with rubberized side panels for comfort and increased purchase, and the body incorporates a new, deep finger groove for increased control and retention of the light. The oblong shape of the light's body provides an anti-roll feature that will help to stabilize the light and prevent it from getting away, when an officer still wants the illumination but needs to set the light down, to free up his hands.
The lithium-ion battery in the Stinger 2020 can be charged while inside the light, using the light's charger (as a bonus, the Stinger 2020 will fit and work in existing Stinger chargers), or can be removed from the light and charged in a bank charger. Depending on the power source, a full charge can be obtained in as little as six hours.
The light is shock-resistant, waterproof when submerged up to 1 meter and tougher than heck. Check out the features of this improved Stinger on the Streamlight website.
Wedge
The new Streamlight Wedge is a USB-C rechargeable flashlight with a unique shape that makes it a perfect choice for pocket carry.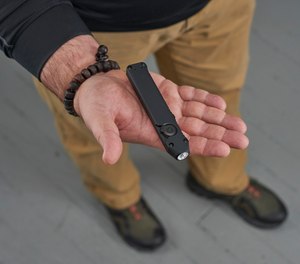 Streamlight describes the Wedge as a "slim, everyday carry flashlight" suitable for "deep pocket carry." It's long and thin (5.46" long, 1.0" wide, and only a mere, 0.60" thick), looking a bit like a folded tactical knife, with its (removable and reversible) integral clip, and it has a streamlined profile that will allow it to slip out of a pocket without getting hung up on anything.
The master control on the Wedge is a rotating thumbwheel, which is easily accessed via a scallop on the side of the light's body. Turning the wheel places the light in a constant-ON mode with a 300 lumen, 1,200 peak candela beam that reaches out to 69 meters, and additional pressure puts the light into a momentary, high-output, "THRO" (Temporarily Heightened Regulated Output) mode, which boosts output to 1,000 lumens and 3,000 peak candela, allowing you to light things up at 110 meters. In the normal mode, the Wedge has a three-hour run time, and the THRO mode is available for 35-second bursts of power.
The Wedge has a battery indicator light that gives you a heads up when it needs to be charged. The Wedge's battery is recharged with the battery installed in the light, and only takes three hours of charging to get back to full capacity.
At only 3.3 ounces, the Wedge won't weigh you down but will give you an extremely capable utility light that can serve double duty as a backup tactical light in the THRO mode. Patrol cops will find the Wedge easy to carry when clipped to a pants pocket, an external vest pocket, or the trauma plate pocket on the front of their soft armor. Detectives and others in soft clothes will find that the Wedge disappears neatly in a pants or jacket pocket, yet remains easy to access.
Check out the specs and see more images of it on the Streamlight website.
TLR-7 sub ultra-compact weapon-mounted light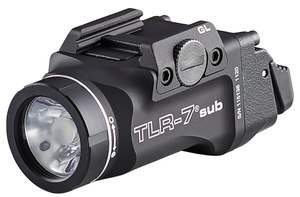 We couldn't leave Streamlight without talking about weapon-mounted lights (WMLs), as there are few companies with as enviable a reputation as Streamlight for making quality units. Its TLR-series is a class leader, and WMLs from this family ride in the holsters (and on the fore-ends) of many police firearms across the nation.
In 2021, Streamlight is introducing the TLR-7 sub, a weapon-mounted light designed for popular compact and subcompact pistols like the Glock 43X/48-series (see P1 columnist Dick Fairburn's latest SHOT 2021 article on the Glock 48, here) and Sig Sauer P365 and P365XL-series pistols, as well as guns from a variety of makers with a short 1913-pattern equipment rail (such as the S&W M&P 2.0 Compact and Subcompact, Beretta PX4 Storm Compact and Subcompact, Springfield Armory XD-E and XD-S and Heckler & Koch HK 45c).
With their small frames and short equipment rails, these smaller guns deserved a smaller light with a big performance, and the TLR-7 sub delivers with a 500 lumen, 5,000 peak candela beam that reaches out to 140 meters and runs for 1.5 hours. The extremely compact TLR-7 sub (at 2.51" long, 1.16" wide, and 1.24" high) features a high-mounted, ambidextrous switch that allows the user to select from constant-ON, momentary, or strobe options.
The TLR-7 sub runs on a single CR-123A battery, and incorporates a "Safe off" rotating bezel feature that locks out the light, and prevents it from turning on and draining the battery – a useful feature when transporting the gun back and forth to the range or to work in your bag. The unit is shockproof and waterproof to 1 meter for 30 minutes.
The TLR-7 sub will give you great performance, but won't look out of place on your subcompact pistol. It's properly sized for these small-platform guns, and at just 2.39 ounces (with battery installed), it won't ruin the handling characteristics of your compact blaster. Check out the specs at the Streamlight site.
Wait, there's more!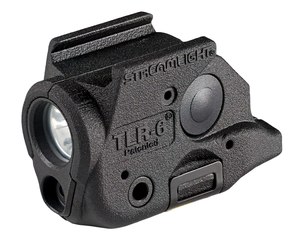 Streamlight has several other new offerings for 2021 that you'll want to check out including the TLR RM 1 (500 lumens) and TLR RM 2 (1,000 lumens) rail-mounted, tactical lighting systems for long guns that feature red lasers to assist with aiming, and the option of a toggle or pressure pad switch.
Additionally, Streamlight is offering the 1,000 lumens, TLR-10 WML for full-frame handguns, which incorporates a red laser and your choice of high or low-mounted, ambi rear switches, and three new versions of the 100 lumens, TLR-6 WML for subcompact guns, which are available with or without red lasers.
You can see these products, as well as a new work light, headlamp, flashlight and spotlight models for 2021 on Streamlight's new products page.
Whether working the night shift or searching a dimly lit building, with a Streamlight product in your hand, there's no reason you have to be in the dark. God bless you all and be safe out there.
Request product info from top Police Flashlights companies
Thank You!