4 sharp things from SHOT Show 2021
While the event is being held virtually this year, I did get my hands on some products – check out these new knife offerings
---
Hello from Virtual SHOT Show 2021. I have been on the range, but it's my local range, rather than the SHOT Show range in Boulder City, Nevada. 
Already, I miss everything about SHOT Show, from shaking everyone's hand to sitting down for steak and sushi after a long day on the exhibit hall floor. I did, however, get a chance to look at some products for 2021, and it is a privilege to share them with you.
The first things I got to test were knives. These new offerings from Benchmade, CRKT and ZT Knives will be available soon.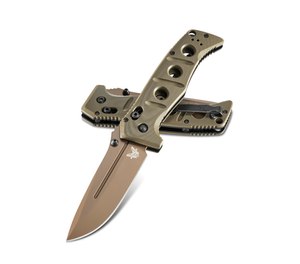 Benchmade 275FE-2 ADAMAS
This year, Benchmade introduced some new designs and some stunning improvements to its already successful model lines. The new design that caught my attention is the 275 Adamas.
The Adamas has a reinforced CPM-CruWear (63-65 HRC) 3.78" blade and Olive Drab G10 scales. The Flat Earth finish on the blade has a bronze-like tint to it. Set against the OD G10, it's pretty much a show stopper.
I am a big fan of texture on places where my hand goes. The Adamas has aggressive jimping in four strategic places. Not only does this knife give the user a varied texture for maximized gripping surface, but it also has an oversized fingerguard area, which is both metal liner and G10. I like a thick blade, and this one is 1.40", which is thicker than the Presidion II, a proven duty knife.
With a 3.78" plain drop point blade, the Benchmade 275 Adamas is big enough for real duty chores. It has all the right features: reversible tip-up carry, lanyard hole and a deep carry clip.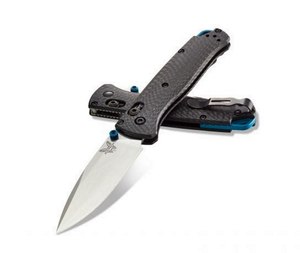 Benchmade 535-3 BUGOUT
I thought I had my pick for Benchmade settled, but I had a look at the latest incarnation of the Bugout.
Released in 2017, this lightweight survival knife is aptly named. The Bugout is a small folder with the same axis lock mechanism as the Adamas, and half the Benchmade knives I own. This is one of the greatest innovations in folding knives in the past 50 years. I could go on and on, but everyone out there knows this lock.
Why do I like this Bugout? It has an anodized metal backspacer that has an integral lanyard hole. Viewed from the side, it forms a Thin Blue Line. I asked about this and was told the color and design just happens to be consistent with their lineup. That works for me: Benchmade designed a Bugout that has a Thin Blue Line.
In 2017, I commented that everyone needed a Bugout in their EDC kit. Now LE officers can get one with a Thin Blue Line.
CRKT Bona Fide
I have met several knifemakers during my more than two decades of attending SHOT Show. Two of them stand out: Ken Onion and Ed Schempp. Both of them are knifemaking geniuses and real characters, in their own right.
In 2008, CRKT released Ken Onion's Homefront. It featured field strip technology that allowed the end-user to quickly field strip and reassemble the knife, without tools. This feature wasn't lost on law enforcement. There were times when I dumped a half bottle of alcohol on my duty knife after a call.  
Ken Onion is the type of person who is always improving his designs. The Field Strip Gen II is easier, and the mechanism is simpler and more intuitive.
CRKT will release several models with Field Strip Gen II mechanisms, but I'd pick the Bona Fide in OD Green every time. It's a small liner lock flipper with a black oxide D2 blade. The blade is spear-shaped, and the handle is aluminum.
The CRKT Bona Fide has a memorable feature: It has a ball bearing pivot, rather than washers.
ZT 308 BLKTS
ZT Knives just released its 0308 BLKTS, a CPM 20CV knife with a tiger stripe black oxide finish. Anyone who knows ZT Knives will know that they do slim textured handles really well, which makes their knives glove (and inclement weather) friendly.
The 0308 has some heft. It is a full 8.9" and weighs 6.9 oz. It has a ball bearing flipper mechanism with a custom nut in the pivot. Get this: users can make a pivot adjustment in the field with a standard ½-inch wrench.
The scales are G10 in the front, and titanium with a diamond-like coating (DLC) in the back, which integrates the frame lock. The pocket clip has a standard hole pattern. Many users like to pick their own aftermarket pocket clips, and this knife will fit them.
The ZT 0308 BLKTS is made in the US, and part of their premium line.

What's next?
I'm sorting through the new ammunition releases right now. I'm looking forward to sharing my thoughts. In the meantime, stay safe.

Request product info from top Police Knives companies
Thank You!