How TOPS knives 'Brakimo' met my needs
You may be able to skimp on a few things in your pack, but never buy a cheap blade.
---
To those in the know, TOPS Knives are synonymous with quality and innovation.  Formed in 1998, the company's mission was to create awesome knives for use in various fields ranging from military, law enforcement, survival, and martial arts. This year at SHOT Show 2016, TOPS introduced the Brakimo, a new blade with an interesting heritage designed for bushcrafting. Intrigued, I contacted TOPS to ask them about the blade. They sent one for testing and I ran it through its paces with several basic, bushcrafting tasks.  I found it to be an impressive tool capable of handling anything I could throw at it.
Designed by Joe Flowers, owner and operator of Bushcraft Global to be a "meets all needs" type tool, the Brakimo (pronounced BRAH-key-moe) name comes from the Matis tribe of Brazil. The Matis were not contacted by man until the 1970's, and survived in a primitive fashion, possibly for thousands of years.  The word Brakimo means "very good" in their unwritten tongue, but is also interchangeable with a positive greeting.
The knife details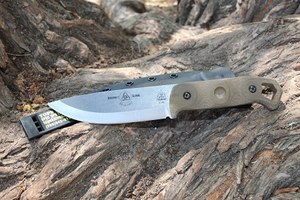 The Brakimo is 10-inch long from tip to hilt, with a 5.25-inch cutting surface.  The blade is composed of 1095 high carbon steel which allows it to be easily maintained in the field.  It is, of course, a full tang blade – 3/16-inch thick.  It is fashioned in a "Scandi" or Scandinavian grind, which means it has a deeply convex edge.  This makes it wonderful for bushcrafting skills.  The blade is also covered in a clear Cerakote for durability.
The handle is created using green canvas Micarta handles and includes red liners.  It has a few interesting features that add to the overall utility of the knife.  There is a divot for a bow drill and oversized lanyard hole capable of straightening arrows.  There are also grooves near the juncture of the handle and blade which allow the user to change up grip for detail work.
The knife comes with a black Kydex sheath with rotatable injection-molded nylon clip.  The sheath is specifically designed for the knife and clicks in positively, locking the blade in place.   The clip is a great feature and designed to slip over a belt without falling off.  The sheath also has a drain hole at the bottom to keep your knife from unnecessary swimming.  As a bonus, the sheath has a small but very effective whistle attached to it for signaling.  
Real world use
TOPS Knives are all about real-world performance and they prepare their products for hard-core use.  My first impression came when I pulled the knife from the box and gently ran it along my arm.  The blade shaved the hair off my arm without much effort.  I liked the sheath and thought Kydex was a good choice considering the 1095 steel.  Leather still serves for great sheaths but can also draw moisture to the blade.  TOPS recommends this knife be kept as dry as possible to prevent rust.  The sheath was efficient, seemed sturdy enough, and I did not worry about losing the knife.  One of the greatest downfalls for most high-end knife makers, they make a quality blade, but a subpar sheath. 
I took the knife out on a few different missions and applied it to tasks I would normally accomplish in a variety of terrains.  Some of the basic bushcrafting skills I used it for were reducing wood sizes (including batoning), notching, and the creation of feather sticks.  The blade did well against anything I fed it.  Moreover, the shape of the Micarta scales was wonderful.  I spent a couple hours fashioning some notches and my hands did not get fatigued.  The thickness of the blade allowed me to use my thumbs along the spine for fine, controlled, work.  The grooves along the blade juncture also assisted with this.  The long, sweeping point allowed me to get into areas and dig them out easily.  This point also lent itself easily to using the tip as a drill, allowing me to dig out fine areas for various uses.
For this review, I created a reduced notch as well as a pot hook notch.  The sharpness of the blade allowed me to "call" or define my work areas by cutting the borders first, then shave in, to reduce the wood until it took the shape I wanted.  Although 10-inch long, I was able to choke up on the blade for smaller, more tedious work.  My end products served well—the pot hook notch or a tent stake.  The reduced notch would serve to anchor a knot you did not want moving up or down your stock.
I was also able to carve some feather sticks with this knife very easily.  This skill takes a steady hand and persistent sharpness.  The blade geometry of the Brakimo, with its deep convex grind, made this task a treat that was not difficult.
The Brakimo, by Joe Flowers and TOPS, is a great knife. It is capable of handling all the basic bushcrafting needs you might want.  It reduced wood, carved notches, formed feather sticks, and after hours of whittling was still able to shave the hair on my arm.  The 1095 steel held its edge well and promised to offer years of outstanding service.  MSRP on the TOPS website lists at $200.00 though I was able to find the blade on other websites for much less.  You may be able to skimp on a few things in your pack, but I cannot in good conscience recommend a cheap blade.  Buy a TOPS and you'll thank me later.

Request product info from top Police Knives companies
Thank You!