Dallas mayor says city will spend money needed to protect officers
Police have implemented emergency security measures after the shooter incident
---
By Naomi Martin
The Dallas Morning News
DALLAS — Dallas officials say it could cost nearly $1,000 per square foot to install bulletproof glass at police headquarters, the scene of a brazen weekend attack by a gunman.
But Mayor Mike Rawlings vowed Monday that money would be no object in providing long-term protection for Dallas officers.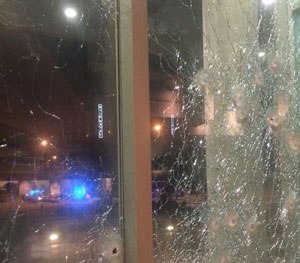 "We've got the money to do what's right," Rawlings said. "We've got to make it safer."
Dallas police have implemented emergency security measures after James Boulware — who was armed with automatic weapons, bombs and an armored van — fired at least 40 bullets at the department's South Lamar Street headquarters shortly after midnight Saturday.
No officers were injured in the chaos. A SWAT sniper later fatally shot Boulware as he sat in the van in the parking lot of a Hutchins fast-food restaurant.
A metal detector was moved to the entrance of headquarters, and every visitor must pass through it. That's a change from before, when only those entering secure areas went through the detector.
Also Monday, officers stood guard outside some police substations where the public normally has free access.
Rawlings' safety promise was lauded by police associations, but some said he and other leaders should have listened to their pleas for help years ago.
The Dallas Police Association and the local Fraternal Order of Police lodge said they had complained about unsecured parking, unlocked interior and exterior doors, and the lack of bulletproof glass at headquarters and the department's seven substations.
Richard Todd, president of the Dallas Fraternal Order of Police, released two letters Monday showing that his association had raised concerns about safety with city leaders since 2013.
"There is no cover from a gunman who walks in and starts shooting," wrote former Fraternal Order of Police president Mike Walton in September 2013.
"It's extremely frustrating," Todd said Monday. "It was almost a premonition of what really happened."
In January 2014, Todd wrote to Rawlings and the City Council, telling them City Manager A.C. Gonzalez had ignored officers' requests for help.
Todd said that in the last few years, officials have spent at least $331,000 on tightening security at City Hall.
On Saturday, Gonzalez denied ignoring the officers.
City spokeswoman Sana Syed said Monday that leaders did listen to the officers' complaints and added bullet-resistant glass to all seven substations in recent years.
"Their frustrations are absolutely understandable," Syed said of the unions. "We are equally frustrated because there are a lot of things we'd like to do, but there's a finite amount of money."
She said the decisions on how to allocate the city's budget aren't up to Gonzalez alone.
"It's not just one person; there's an entire system in place" with the mayor, the City Council, the city manager and the police chief, Syed said. "We all really have to work as a team to make these efforts a reality."
But based on Rawlings' statements Monday, security changes are on the way.
In the coming weeks, Rawlings said, Chief David Brown will provide a report to city officials on what the department needs.
"We've got to take that information from Chief Brown, and when he speaks, I listen," the mayor said.
Rawlings said the call for bulletproof glass at headquarters would be only the start of protective measures.
"Obviously, if I was behind that glass when those bullets came through, I'd say, 'Boy, it would be nice to have bulletproof glass,' " Rawlings said. "So that's the first thing. But I think it needs to go beyond that."
Assistant Chief Randy Blankenbaker said Brown plans to "take a reasoned approach" to figure out what should change.
Brown, who received high marks from police experts for his handling of the incident Saturday, will discuss security with the department's four police associations, as well as his command staff and community groups.
He also will consider what other departments do, Blankenbaker said.
Officials said they must walk a fine line between safety and not closing the police off from the public. Victims and witnesses must feel comfortable, Blankenbaker said.
A similar debate is occurring over how much firepower and armor officers need in the field, he said. Some critics worry that more military-style weapons could undermine officers' efforts to improve community relations.
"You have to weigh officer safety, which is paramount, with being able to go into a community and establish trust and goodwill and not make them feel like they're being occupied," Blankenbaker said.
He added that the department has done a good job of balancing such needs in the past, so officers will draw on that experience "in this new dynamic."
Rawlings said he likes the open style of the headquarters now and wants it to remain approachable. But he also wants officers to be prepared for criminals who are armed with high-powered weapons.
"I don't know how you strike that balance, but you've got to strike it," he said. "We can't go all the way to put our police officers in body gear with masks on throughout the streets."

Copyright 2015 The Dallas Morning News
McClatchy-Tribune News Service