Weapon-mounted lights for patrol
The new generation of quick-on, quick-off WMLs offer extra visibility in a handy holster-fitted form
---
Our collective experience illustrates that two out of every three police action shootings will occur in suboptimal light conditions — criminal activity is at its highest during the evening hours, after all.
Poor light handicaps the police officer's performance in many different ways. Our ability to navigate unfamiliar terrain, locate potential problems, and quickly assess a threat: all are degraded. 
This is compounded by the fact that there is little time for the officer's eyes to become night-adapted when moving from bright light to dark areas.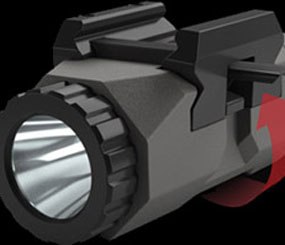 Handheld Versus WML
A progressive firearms training program will devote considerable time to low-light shooting and threat management. This includes shooting with and without a handheld light source. While this is good, it's not a perfect fix. Coordinating a pistol with a handheld flashlight is a somewhat difficult task. 
Unfortunately, training on the square range gives us an inflated idea of our combat potential as we routinely turn in high scores on a static, unobstructed target. Real life is not so forgiving when movement and partially exposed threats are the rule, not the exception.
Improvements in technology have helped us to perform to a higher standard. This is especially true in low-light threat management. Night sights and laser aimers help get us on the threat in the darkest of nights. Small tactical flashlights have greater light output than old school torches and are easier to coordinate with a pistol. Perhaps the biggest advantage is the development of weapon-mounted lights that can be contained in a standard duty holster.
By the late 1990s, all major pistol manufacturers began offering models with an integral accessory rail for affixing a white light or laser. Weapon-mounted lights (WML) for pistols were available prior to that time, but were semi-permanent arrangements and did not fit in standard duty holsters. Because of this, early generation light-bearing pistols were pretty much restricted to SWAT operators. 
Although SWAT officers continue to face extreme challenges and need the best equipment available, patrol officers are involved in far more shootings. The new generation of quick-on, quick-off WML units offer patrol units all sorts of advantages. With a small investment in gear and training, officers who are more likely to face danger can take advantage of life-saving equipment.
WML Options for Patrol
Over the years, I've used WMLs from Insight Technology, Streamlight, and SureFire — all to very good effect. 
Light technology is ever-evolving, and today's tactical illuminators represent a vast improvement over my original Insight Tech M3. Incandescent bulbs have given way to LEDs (light emitting diodes), and the newer units are far tougher and brighter than what has come before.
SureFire continues to turn out some high-quality products, and their family of Handgun WeaponLights is true to the tradition. For the past few years, I have been running a pair of X300 WeaponLights that are truly top shelf. 
The X300 has now morphed into the X300 Ultra, capable of putting out 500 lumens of intense white light. Ambidextrous one-finger switching provides either momentary or constant-on activation. A grip-activated DG Switch is also available for the SureFire "X" series lights.
Other excellent options include the Streamlight TLR-1, TLR-l S and the TLR-1 HL. All utilize C4 LED technology, which is impervious to shock and has a 50,000-hour lifetime. The TLR-1 runs on a pair of CR123A batteries and puts out a maximum of 300 lumens. Its first cousin, the TLR-l S is essentially the same light, but with strobe capability. 
This year, Streamlight introduced the TLR-1HL, which throws an incredible 630 lumens of blinding, white light. An ambidextrous rocker switch provides momentary and constant-on illumination. Remote switches are available as an aftermarket accessory.
Yet another consideration is the Inforce APL. The APL is relatively new to the scene and casts an impressive 200 lumens of light to dominate close and mid-range problems. 
The straightforward ambidextrous paddle switch provides both momentary and constant-on illumination and is both comfortable and easy to manipulate. The WML weighs a scant 2.83 ounces and is powered by a single CR-123A battery. A slide lever which folds flush against the housing makes the APL a snap to quickly affix or remove from the pistol.
Without question, a weapon-mounted light can provide the patrol officer a significant tactical advantage. More than 60 percent of officers killed in the line of duty are lost in low-light conditions. A weapon-mounted light, backed by training, can help even the odds and help officers prevail.

Request product info from top Police Firearm Accessories companies
Thank You!