Why the M1A Scout Squad is the ultimate rural patrol rifle
The rifle has a battle-proven lineage and stopping power
---
I spent 15 years patrolling the mountainous roads of southwestern Colorado.  During that time, I learned the needs of the rural police officer often starkly contrast with their urban counterparts.  I carried a full medical kit, wildland fire-fighting tools, and a box full of horse bridles and lead ropes.  Our armament varied sometimes too.  When you work in an area where many people have scoped elk rifles within arm's reach, it changes your tactics.  In time, I developed some characteristics for the ultimate rural patrol rifle.
I'll never forget the first time I saw an M1A up close.  I did a ride-along with a deputy from a neighboring county.  As I pulled up, he was busy loading out his unit for the tour.  He asked me what I carried on duty.  I told him we were issued the ubiquitous Remington 870 and some full-auto AR-15s from the 1033 program.  He reached in the trunk and pulled out the longest rifle I'd ever seen.  That old M1A — fully 44 inches long of aged wood and steel — harkened to sandy beach assaults, but tickled again the idea of the rifle best-suited for rural settings.
Col. Cooper's Vision
Being a firearms instructor and gun enthusiast, I did research, looking for the weapon that would fit my needs.  I came across the writings of a Marine named Col. Jeff Cooper.  The man was a legend.  He had a love affair with firearms that laid the very foundation for many of the practices we teach today. He had revolutionary ideas—originator of the modern pistol technique (two-handed), and creator of the color codes of readiness.  One of the most intriguing concepts this founder of Gunsite had was the Scout Rifle.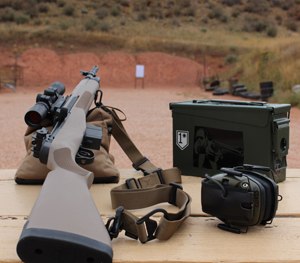 Col. Cooper envisioned a multi-purposed, bolt-action, light-weight rifle, chambered in .30 caliber or better that could be carried with a "Ching-sling."  The weapon would have iron sights but could be fitted with a scope, forward of the receiver.  It is here I took Col. Cooper's founding concept and adapted it to my ideas of the ultimate rural patrol rifle.  What did I need it to do?  I wanted something powerful.  I had an old sergeant that used to say when he shot something; he wanted it to stay shot.  I thought .308 would certainly serve.  Bolt action?  Not for me, not in a setting where I may be under fire.  I also wanted a detachable magazine, 10 rounds is great, 20 rounds is better.  Sling?  Check.  Optic, yes.  Rural deputies face anything from armed encounters with long-range, tactical nightmares to putting down dangerous animals threatening schools or struck by cars.
A Visceral Experience
The M1A Scout Squad appears to be Springfield Armory's answer to Col. Cooper's vision.  However, it seems slanted to more of a combat application (being magazine-fed and semi-auto) than hunting.  The Scout Squad weighs in at 8.8 pounds and is 40.33 inches long with an 18 inch barrel.  The rifle is chambered in .308.  The composite stock came in flat dark earth (FDE) and I matched it with a Magpul sling of similar color.  There are still scout scopes on the market and Burris has a great one for this application with a 2-7x32 power.  The waterproof optic has a ballistic plex available with multiple points for holdover and boasts a 9.2 to 12 inch eye relief, making it perfect for this rifle.  One of the best parts of this setup however, is the scope mount provided by Bobro Engineering.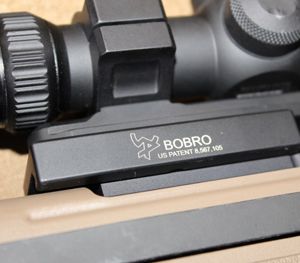 (Sean Curtis Image)
The sights on the Scout Squad are excellent, there is a front National Match .062 post coupled with a standard, rear aperture that is adjustable for windage and elevation.  I would not want to rob myself of iron sights with a fixed scope mount, after all, optics can fail.  The most common problem with removable scope mounts is they do not hold zero once established.  Andrew Bobro and the team at Bobro Engineering have addressed this very real concern with their product.  Designed to lock onto the Picatinny Rail, the Precision Optic Mount provides a "repeat zero scope interface" for the shooter.  This means you can take it off, put it back on, and still shoot with deadly accuracy.  
With everything assembled it was time to take the rifle out to shoot.  With a bit of anticipation I proceeded to the range.  I wanted to sight in the optic on the M1A and also try it out in a shoot and move scenario.  The weight of the weapon was manageable, not disturbing for a battle rifle.  I found myself organically wanting to pull support toward the magazine, seeking that balance point.  The two-stage trigger was grand, I got on, squeezed out the slack, and found resistance.  Once there, I settled my breathing, fixed, and squeezed out the rest.  The trigger snapped!  A crack emitted from the barrel as the muzzle break worked on the recoil, and an audible report echoed down the canyon like thunder.  Shooting the Scout Squad is a visceral experience.  The blast of the .308 alone is rewarding for those used to handguns and the venerable .223 AR/M4 platform.  The recoil was very controllable and I found both optic and iron sights to be very accurate.  
I was also able to move with the weapon.  I transitioned from standing to kneeling, running, taking cover, and firing yet again.  I adapted all the training I've had with the AR and was able to manipulate the weapon well with some practice.  Some things were very different: the magazine exchanges I'm still working on.  They have more in common with an AK-47—the rock-in motion and mag release behind the mag require adapting to.  In addition, the optic is different.  Having the long eye relief, I was able to keep both eyes open and maintain a wide field of vision.  I understood Col. Cooper's thinking in that moment.
The M1A Scout Squad is an awesome rifle.  It has a battle-proven lineage and enough stopping power for most things.  It is my pick for the ultimate rural patrol rife.  Col. Cooper may not have agreed to some of my specifications but I think he would understand.  He was an innovator, and equipped to throw convention out the window if it did not serve.  Get a glimpse of Col. Cooper's mind in his book, The Art of the Rifle.  Also, check out Springfield Armory for more details, and more variants on the M1A.  They offer discounted pricing to the law enforcement community through authorized dealers.

Request product info from top Police Firearm Accessories companies
Thank You!