10 families of great concealed carry firearms
Whether you carry an on-duty backup gun or an off-duty concealed carry firearm, there are hundreds of great choices
---
Police officers must be prepared to defend themselves in violent encounters. Whether you carry an on-duty backup gun or an off-duty concealed carry weapon (CCW), there are hundreds of great choices. Ultimately, you're responsible for making the decision of what you will carry and when, but as always, when you need a gun, you really need one.
Ask 10 officers about the ideal caliber for a CCW and you likely will get an even dozen answers. In general, the minimum effective ammunition you want for self-defense will be .380 ACP for pistols and .38 Special cartridges for revolvers, although if you are carrying multiple backups, a tiny .22 revolver might be the ultimate in bikini concealability.
Going in the other direction, Dirty Harry might be able to rock a .44 magnum under his armpit, but you probably should limit yourself to .45 or .357 unless bears are your most likely target. The "hotter" the cartridge, the harder it will be to control the firearm, especially in smaller handguns designed to be concealed.
And let's not forget ammunition. What size and how many rounds do you need? One reason that 9mm has become popular again is because newer hollow-point technology gives smaller cartridges enough stopping power for most purposes. And while more is better, after a certain point it will affect the weight and concealability of your firearm. But there are some great options for concealing additional revolver rounds or magazines.
If your favorite firearm is available with a ported barrel should you go for it? Porting is a personal preference. When using 9mm ammo in a short-barrel pistol there isn't that much difference in recoil between a ported and non-ported barrel and in low light a ported barrel can increase the flash you see, killing your vision for some period of time. Because of the extra gunk that is directed into the slide from a ported barrel, cleaning takes longer.
RDS (red dot sight) also are hot these days. Should your BUG or CCW have an RDS or laser? If your duty weapon has an RDS, will carrying a CCW with iron sights slow you down? Only substantial practice can keep you sharp switching from RDS to iron.
In addition to personal preference, there is also an issue with how to carry a firearm equipped with an RDS or laser. Lasers have been out much longer than RDS and there are plenty of holsters available for them. But even if a holster is made for your selected firearm they may be in short supply. Also note that the small size of CCW firearms may prevent the use of a thumb-lever holster since the module will be sitting right where the release would be. This could mean the use of a heavily molded kydex or leather holster for proper retention.
So, what's hot these days? Read on to find out.
The SIG P365 family has become so popular that the manufacturer is running months behind on delivery. If you want one, you'll need to pony up some extra gold or get on a waitlist. Officially, the three models are the 10-round P365 and P365 SAS (no snag) and 12-round P365XL.
However, each model uses the same easily removable fire control unit (FCU), which is the serial-numbered "firearm." The FCU can be swapped into either of the two frame sizes which SIG sells separately.
The two frame choices support either 10 round (P365 and P365SAS) or 12 round (P365XL) flush fit magazines and each is available with or without a manual safety. With a base plate change, the 12-round flush fit mag will pop into the 10-round frame as an extended mag. A 15-round extended magazine is available which only works with the XL frame.
Barrel/slide combos range from a 3.1" barrel with a 4.9" sight radius to an optics-ready 3.7" barrel with a 5.6" sight radius. A P365XL with a Romeo ZERO already mounted is available. Of special note is the SAS version with flush anti-snag controls, a ported barrel and a MEPRO FT Bullseye flush-cut into the slide for snag-free operation. And yes, both frames work with the 3 barrel/slide combinations for some mix and match fun.

MSRP: $530 to $897
Magazines: 10 or 12 flush, 15 extended
Length: 5.8 in. / 6.6 in.
Height: 4.3 in. / 4.8 in.
Width: 1 in.
Unloaded weight: 17.8 oz / 20.7 oz.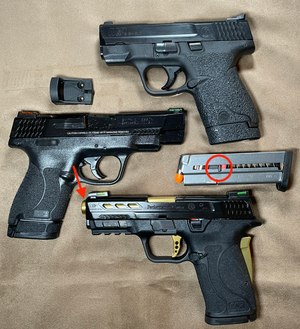 S&W's latest entries are the Shield 2.0 and the Shield EZ.
These tiny workhorses are available in .380, 9mm, .40 and .45 and come in over four dozen variations with options like TruGlo or plain tritium night sights, thumb safety, red or green laser, optics-ready slide (some models come with a Crimson Trace optic in the box), ported barrel and grip safety. All models have much more aggressive stippling than the first-gen, which is important on a smaller firearm. Because the Performance Center Shield 2.0 versions are about ½" longer than stock, you might need to purchase a longer holster.
The "EZ" models use an internal hammer rather than a striker and the change gives them a much easier to rack slide – possibly important if you want smaller members in your family to carry the same CCW that you do. Beginners also may like the 1911-style grip safety.
Flush and extended magazines are available and the EZ magazines have a stud on the follower which can be pulled down with your thumb so that rounds can be dropped in.
MSRP: $399 to $891
Magazines: 6 (.40), 7 (9mm and .380)
Length: 6.1 to 6.7 in.
Height: 4.5 in. flush to 4.85 extended
Width: .99 in. to 1.15 in.
Unloaded weight: 18.3 ounces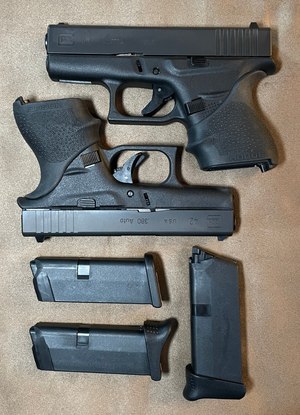 3. Glock 42, 43 and 43X MOS
What can be said about the Glock line that hasn't been said already? The choice of thousands of law enforcement personnel over the world, the Glock family features no major issues in design or performance, is affordable, easy to maintain and reliable. The .380 Glock 42 and 9mm Glock 43 are lightweight, easy to conceal and you may already be proficient with the weapon if you carry one at work. Gen 4 and later offer interchangeable backstraps and the 43X holds 10 rounds and adds an optics-ready slide and an accessory rail.
MSRP: $480 / $580 / $580
Magazine: 6 / 6 / 10
Length: 5.94 in. / 6.26 in. / 6.5 in.
Height: 4.13 in. / 4.25 in. / 5.04 in.
Width: .94 in. / 1.02 in. / 1.1 in.
Unloaded weight: 13.76 oz / 17.99 oz / 18.55 oz.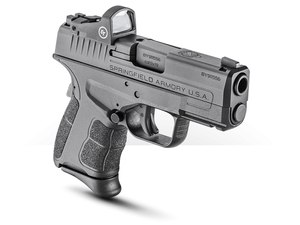 The Springfield XD-S was introduced in 2012 as a slim single-stack, striker-fired pistol with a bladed trigger and durable polymer frame. Its slim profile and reliability have made it one of the most popular options for concealed carry.
The latest incarnation comes with an accessory rail, passive grip safety and a factory milled slide. The slide allows for low-profile, direct mounting of compact optics and an optional pre-mounted Crimson Trace micro red dot is available. The pistol ships with one 7 round flush and one 9 round extended magazine.
While its 21.5-ounce weight may seem heavy compared to other concealed carry options, don't be discouraged – its weight feels nice in the hand and at just one inch in thickness, it's still slim enough for an everyday carry.
MSRP: $425 - $549
Magazine: 7 (flush), 8 (extended) or 9 (extended)
Length: 6.3 in.
Height: 4.4 in. (flush), 5" (extended)
Width: 0.9 in.
Unloaded weight: 21.5 ounces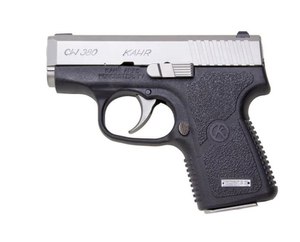 The 11 variations available in the Kahr CW series span .380, 9mm and .40 and are a favorable alternative to the Glock or M&P for users who dislike the trigger safeties included on those models. The Kahr pistols are slightly smaller, and some users may prefer their feel.
MSRP: $433-$553
Magazine: 6 (.380, .40, .45), 7 (9mm),
Length: 4.96-6.32 in.
Height: 3.9- 4.8 in.
Width: .75-1.01 in.
Unloaded weight: 10.2-19.7 ounces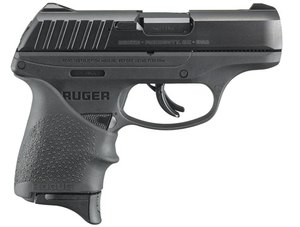 The EC9s is Ruger's replacement for its LC9s and offers a striker-fired system with a manual safety and magazine disconnect. Available in over a dozen frame and slide color combinations, its slim profile makes it easy to conceal in multiple positions. A finger grip extension floorplate is included which can be added to the magazine for comfort and improved grip.
The EC9s is just slightly larger than the popular and incredibly compact LCP and has a short, light, crisp trigger pull.
MSRP: $299 - $329
Magazine: 7
Length: 6.0 in.
Height: 4.5 in.
Width: 0.9 in.
Unloaded weight: 17.2 ounces
7. Bersa Thunder
Manufactured in Argentina by Bersa, the Thunder 380 is a hammer-fired Walther PPK analogue that has been used by the Argentine military since 1958. While it may not have as much name recognition as some firearms produced by larger companies, the Bersa Thunder is accurate, reliable and very affordable.
Starting at $303, the Bersa Thunder 380 comes in nearly two dozen different style and color combinations, all constructed from alloy with a steel slide. While it's not as light as a regular polymer handgun at 20.1 ounces loaded, the Thunder 380 still is slimmed down for concealed handgun use, with low-profile sights and a bobbed hammer for more convenient drawing and single- or double-action shooting. It also has a manual safety and decocker.
The magazine holds seven rounds of .380 ammo. It's certainly not the most powerful round available, but it brings more ammunition than other small revolvers and may be more controllable than other small handguns with large cartridges. The Bersa Thunder 380 CC doesn't have a laundry list of high-tech features, but at an average going rate of approximately $300, anyone on a budget but serious about concealing and carrying a firearm should consider the Bersa Thunder 380.
Price: $303 and up
Magazine: 7 or 8
Length: 6.6 in.
Height: 4.9 in.
Width: 1.3 in.
Unloaded weight: 18.9 - 20.0 ounces
8. Beretta Px4 Storm Compact Carry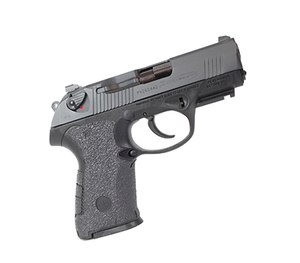 At 12-15 rounds, the double/single action Px4 Storm family has a higher capacity than any other item on this list. It's easy to handle and easy to shoot, thanks to its weight, decent trigger and quality sights. Models are available in 9mm and .40.
Of course, the weight and dimensions of this gun might make it difficult for some to conceal on their person. The Px4 also has a slide-mounted safety that many experienced shooters dislike, but that can be easily modified. Overall, this Beretta is a solid choice for a concealed carry weapon especially if high capacity is an important factor. A subcompact version also is available with a shorter grip.
Price: $899
Magazine: 15 (9mm) / 12 (.40)
Length: 6.8 in.
Width: 1.4 in.
Height: 5.0 in.
Unloaded weight: 27.2 – 27.4 ounces
9. Ruger LCR .38 SPECIAL +P
It's true that revolvers aren't at the top of the list in capacity and loading speed, but their extreme simplicity and well-earned reputation for reliability make them a favorite of novices for concealed carry. Ruger's LCR (Lightweight Carry Revolver) line comes with a nice, even trigger pull.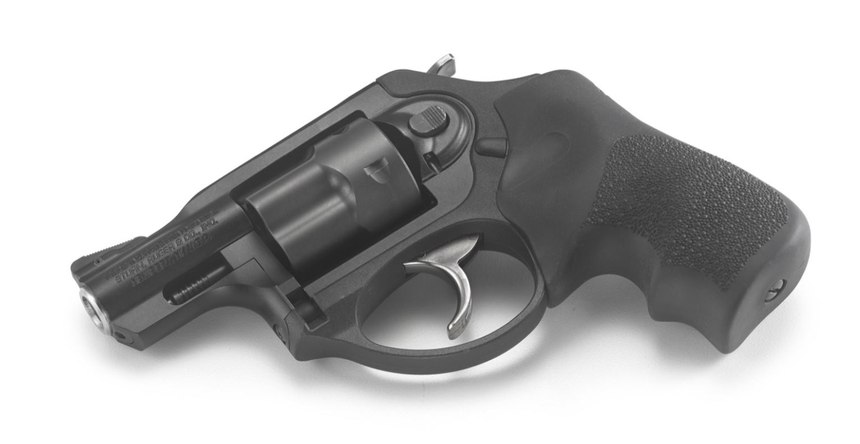 The standard version is double action only, eliminating the opportunity for an exposed hammer to snag on clothing. For those who want an exposed hammer to enable single-action mode, there is the LCRx. There are .22 LR, 9mm, .327 Fed Mag. and .357 Mag. variants available.
Price: $579 - $699
Capacity: 5
Length: 6.5 in.
Height: 4.5 in.
Width: 1.28 in.
Unloaded weight: 13.5 - 17.1 ounces
10. Smith & Wesson Model 638, .38 Special +P
Based on the Model 38 Bodyguard, the 638 is a CCW option that has stood the test of time. It's light, compact, easy to carry, and its continuous +P rating offers excellent power in a small package. It's easy to operate and proven to be a reliable firearm.
With a weight of 14.6 ounces, the S&W ranks as one of the lightest guns in this group and shoots perfectly right out of the box. The snag-free enclosed hammer supports single- and double-action.
The .38 Special +P cylinder will give up some slimness, but it is still easily concealable – some would argue the rounded shape is more comfortable to carry and easier to conceal than boxy, angular firearms. A bonus is the shielded hammer which allows for single-action shooting if a bit of extra accuracy is needed.
Other firearms in this series are the 14.4 oz BG38 rated for .38+P with an integrated Crimson Trace laser and the 11.8 oz 340PD rated for .357 magnum. As you can imagine, a tiny gun with a powerful cartridge generates a substantial kick.

MSRP: $497
Capacity: 5
Length: 6.3 in.
Height: 4.5 in.
Width: 1.3 in. at the cylinder
Unloaded weight: 14.6 ounces
NEXT: What your department's off duty/concealed carry training program should include

Request product info from top Police Firearms companies
Thank You!