Great concealable back-up guns for cops
A current industry trend is to get the smallest, most concealable — and easy to shoot — guns to market and the caliber of choice for many of the newest releases is in the .380 ACP cartridge
---
Back-up guns have been around for over a century. These small and lethal short-range weapons were popularized in movies about the Old West. Oftentimes the crooked card shark would yank a derringer from inside his vest and shoot an unsuspecting cowhand with better cards, or the saloon hussy with a big heart would have one carefully stored in her garter.
Today companies like American Derringer and Bond Arms continue to make these small beauties in a variety of calibers, including .45 auto, 38 special, .357 magnum, or even 410 shot shell. 
However, if a police officer is not inclined to carry a piece of the Old West — and they shouldn't be — a number of more modern backup guns are available.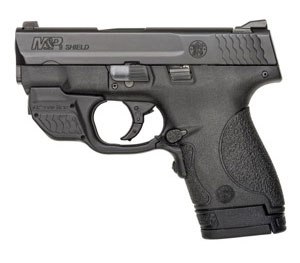 Many Options
For police,the choice of carrying a back-up gun may be limited by departmental policy. Departments may be concerned that officers have enough challenges keeping positive control of one handgun, let alone two. In other instances issues of liability, possibly related to the positive control issue, could limit an officer's discretion to carry a backup gun. 
More forward-thinking departments may outright encourage the practice of carrying a backup firearm. When allowed, the best of these departments will offer training and a qualification course of fire carefully suited to the effective range and tactical use of a back-up gun.
When choosing a back-up handgun, officers may want to consider matching the trigger type of the back-up with that of the duty gun. This will help reduce the need for extensive training on two different trigger styles. Striker-fired gun manufacturers have done a great job in offering the officer a variety of choices. 
Glock is one example where the guns have a similar trigger. The Austrian arms manufacturer makes larger duty guns as well as a number of smaller, more concealable subcompact options. These include the relatively new (since 2014) and easy shooting single-stack Glock 42 in .380. There's also the Glock 33 Gen4 in .357 Sig. No doubt this gun is snappy, but the .357 offers strong ballistics and penetration, and the caliber has been the choice of several federal agencies as well as a number of state patrols around the country. The Glock 26 Gen4 in 9x19 offers an interchangeable back strap to accommodate different hand sizes.
Other major gun manufacturers also offer smaller handguns to complement their larger counterparts. For those who like the Smith & Wesson M&P series, that company has introduced four new Shield in both 9mm and .40 S&W, one with a factory installed Laserguard laser sight from Crimson Trace and all a bit thinner than the Glocks. 
Keep in mind several variants come with a small additional safety on the left side that would take some getting used to — especially for someone with larger hands — which could also be a problem if an officer had to use the gun under pressure and in extremis. The officer could easily carry the gun with the safety disengaged, but department liability issues could discourage doing so. Smith & Wesson also has the Bodyguard series, an even smaller alternative in .380.
However, an officer does not have to stay with his or her striker-fired manufacturer to find a striker-fired backup gun. Kahr makes a variety of striker-fired pistols. In 2009 they offered their CT380 Compact and their P380 in .380 ACP in 10 different versions. They also have the slightly larger CM9 in 9mm. Beretta — whose representatives at this year's SHOT Show said that they are not yet out of the competition for the Army's new combat pistol — builds the striker-fired BU9 Nano that can also come with Crimson Trace laser sights. They also make the Pico in .380, though the bore centerline appears to be slightly higher than similar alternatives. Further, Walther makes the PPS in both 9mm and .40 and Ruger builds the LCP in .380 and the slightly larger LC9 in 9mm and the LC380 versions.  
The point in all the above is that smart gun manufacturers these days have recognized that the customer wants to have the option to choose the cartridge that's right for them — whether that's' the .380,.40, or 9mm — and the abundant choices hitting the market reflect a very good trend. 
Two Common Trends
Speaking of trends, the industry clearly wants to get the smallest, most concealable — and easy to shoot — guns to market and the caliber of choice for many of the newest releases is in the .380 ACP cartridge. The other trend appears to be matching lasers with these small guns in an effort to attract consumers and shooters interested in the advantages (both real and imagined) of the technology. 
Without getting into the ballistics battle, modernization in .380 has improved the round's performance, especially for the close-in situations where a back-up gun, used as a last resort, must be concealable, readily accessible, and work flawlessly. 
Whether the trend towards smaller guns is the result of the surge in interest of non-sworn concealed carry holders or the related increase in the numbers of women shooters (who the industry may mistakenly believe have a desire to carry a smaller handgun in a smaller caliber) is not clear — probably a little of both. Regardless, these market changes mean there are a variety of new options available to law enforcement officers looking to buy a back-up gun.

Request product info from top Police Firearms companies
Thank You!