Inside look: Why the LAPD chose the FN 509 MRD-LE as its new duty weapon
FN's 509 MRD-LE went head-to-head against several competitors in a 20,000 round endurance test
---
The first shipment of FN 509 MRD-LE pistols has been delivered to the Los Angeles Police Department. Read more here.
Reprinted with permission from Pew Pew Tactical
By Jacki Billings
The Los Angeles Police Department recently announced that the FN 509 MRD-LE will now serve as the department's new duty pistol.
FN's 509 MRD-LE went head-to-head against several competitors in a 20,000 round endurance test.
We chatted with the LAPD to find out what their testing entailed and why the 509 MRD LE was chosen as the new duty gun.
LAPD testing procedure: How the FN won
Pew Pew Tactical talked to Sergeant II Salvatore De Bella of the LAPD to better understand the department's 20,000+ round evaluation process.
According to Sgt. De Bella, the LAPD rigorously tests duty pistol contenders on the range while also taking into account features that might help officers in the field.
To begin, LAPD evaluators selected three identical handguns from a handful of manufacturers they fielded. Out of these three guns, evaluators randomly selected two for testing.
Each gun saw a minimum of 3,000 rounds of non-toxic ammo ran through it.
"We found that the non-toxic ammo is pretty harsh on the breech face of the gun. So, we want to see if there's going to be any degradation to the pistol from that," Sgt. De Bella explained.
After that, each pistol received a combination of roughly 5,500 of ball ammo and 1,500 of duty ammo fired through it.
For this specific test, Sgt De Bella said the LAPD used a mix of Speer G2 – its current duty ammo – with Winchester SXT, the previously used duty ammo.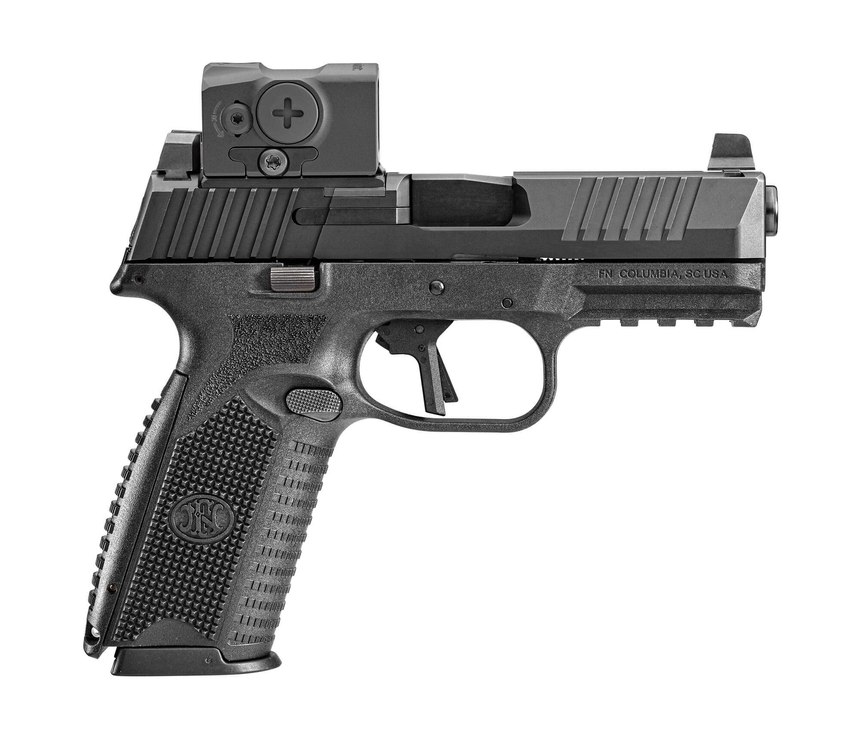 In total, each pistol fired roughly 11,000 to 12,000 rounds. So, multiplied by two, since they tested two guns per manufacturer, essentially each make pushed out a combined 22,000 to 24,000 rounds.
During this portion, the LAPD looked for pistols that performed reliably with few to no malfunctions.
Though Sgt. De Bella could not release the makes and models of the six other guns tested alongside the FN 509, he did offer that the FN experienced zero malfunctions.
To meet accuracy requirements, pistols must also shoot under 3.5-inch MOA at 25-yards. In the case of FN, the 509 shot 2.5-inch MOA.
"The FN performed phenomenally well, exceeding our standards," Sgt. De Bella said.
For the FN 509, Sgt. De Bella explained that easy maintenance protocols coupled with the ability to instantly accept the most popular red dots on the market really made it stand out.
"When it came to closing things out with the FN, [FN] really worked with us to have a specific configuration. They built their FN 509 with suppressor height sights for us as we want a pistol to be ready to go should our officers decide to purchase a pistol mounted optic."
In addition to suppressor height sights, the LAPD's new duty pistol will support a flat trigger breaking at 5.5-pounds, 17-round capacity, and a 4-inch barrel.
[RELATED: 6 considerations for selecting a new duty weapon] 
FN 509 MRD-LE
Based on the FN 509 series, the LE version sports a polymer, striker-fired 9mm design topped with the company's Low-Profile Optics Mounting System.
A result of the U.S. Army's Modular Handgun System trials – which the Sig Sauer P320 eventually won – the optics mounting system opens the door for users to add a red dot to the pistol for greater precision and sighting.
Any mounted optic will also co-witness with the tritium 3-dot iron sights, offering backups should the red dot fail.
"LAPD needed the ability to quickly and securely mount a variety of duty-rated micro red dots to their service pistols to improve the accuracy potential of their handguns and their officers," Charles "Bucky" Mills, Sr. Director of Law Enforcement Sales, said in a press release.
"FN pioneered the MRD mounting technology the LAPD required, enabling precision shot placement and immediate target engagement no matter the environment."
Weighing in at 27-ounces, the FN 509 MRD-LE measures a total length of 7.4-inches with a 4-inch barrel. Mag capacity sits at 17-rounds.
FN said it was pleased with the LAPD selecting the 509 as its duty, though not surprised given the reliability and performance of the platform.
"The Los Angeles Police Department is one of the largest and most elite law enforcement agencies in the country, with roughly 10,000 uniformed officers, and we are proud that they have chosen the FN 509 MRD-LE as their next duty pistol," Mark Cherpes, President and CEO of FN America, said in a press release.
DOWNLOAD: How to buy firearms (eBook)
---
About the author
Jacki Billings delved into the world of guns while working towards her black belt in Yongmudo. Armed with a degree in journalism, she's penned thousands of articles for the gun industry. She's passionate about self-defense and sharing what works (and what doesn't) with readers.

Request product info from top Police Firearms companies
Thank You!