10 great concealed carry firearms
Thinking about purchasing a new gun for concealed carry? There's an option on this list for anyone
---
By Police1 Staff
Police officers must be prepared to defend themselves in violent encounters. Countless organizations have stressed how important it is to carry a firearm off-duty. Ultimately, you're responsible for making the decision of what you will carry and when, but as always, when you need a gun, you really need one.
Choosing the concealed carry gun for you
When choosing the best concealed carry gun for you, there are things more important than the price tag and appearance to consider.
The ideal caliber for a concealed carry weapon can be argued, but in general, the minimum effective ammunition you want for self-defense will be .380 ACP for pistols and .38 Special cartridges for revolvers. On the other hand, anything larger than .45 ACP for pistols and .357 Magnum for revolvers can be difficult to control, especially in smaller handguns designed to be concealed.
Ammo capacity is also important. While more is better, after a certain point it'll affect the weight and concealability of your firearm. There's also the matter of how expensive the ammunition is: no matter what CCW you get, you'll want to practice, and cost shouldn't be one of the things that stops you from doing so.
Ultimately, every user is different, and looking for different things in their concealled carry firearm. You might check with your fellow officers to see what concealed carry weapons they own and use, and you may even try out ask to try it out to see if it's the right choice for you. Otherwise, what follows are just a few solid options to consider for an off-duty carry.
1. Glock 43
What can be said about the Glock line that hasn't been said already? The choice of thousands of law enforcement personnel over the world, the Glock family features no major issues in design or performance, is affordable, easy to maintain, and reliable. It's lightweight, easy to conceal, and you may already be somewhat proficient with the weapon if you carry one at work.
(Photo: WikiMedia Commons)
The Glock 43 has a small frame and a short barrel that were designed for concealed carry. Users enjoy an accurate, pistol that may look a little on the boxy side, but simply feels right to shoot.
These pistols are either imported from Austria or made in the United States from a plant in Smyrna, Georgia.
Price: $300 - $599
Capacity: 6+1
Length: 6.26 in.
Height: 4.25 in.
Width: 1.02 in.
Unloaded weight: 17.95 ounces
2. Smith & Wesson M&P Shield
The Smith & Wesson M&P Shield is one of the most sought-after handguns for concealed carry for the power and accuracy it can deliver for its size.
(Photo: James Case)
Although somewhat large for a pocket carry, the Shield was designed with the CCW market in mind. It works well in belts and holsters, and its polymer frame does not interfere with the ability to draw the firearm quickly and effectively.
The Shield shoots with very manageable recoil and is consistently praised for its ergonomics. Even if you aren't a huge fan of the M&P line of pistols, the Shield is a solid firearm on its own merits as a high-quality single-stack 9mm. Like the best CCWs, the Shield is concealable, reliable, and not too heavy.
Price: $469
Capacity: 6+1 (.40 S&W), 7+1 (9x19mm)
Length: 6.1 in.
Height: 4.6 in.
Width: 0.94 in.
Unloaded weight: 19.0 ounces
3. Springfield XD-S
The Springfield XD-S was introduced in 2012 as a slim single-stack, striker-fired pistol with a bladed trigger and durable polymer frame. Its slim profile and reliability have made it one of the most popular options for concealed carry.
While its 21.5-ounce weight (23 ounces in 9mm) may seem heavy compared to other concealed carry options, don't be discouraged—its weight feels nice in the hand, and at just one inch in thickness, it's still slim enough for an everyday carry.
The trigger pull may feel a little long, and some XD-S owners reported a negative impact on trigger quality after the weapon was recalled a few years ago. Others report that the trigger is fine after breaking it in with a couple hundred rounds. Even so, the XD-S is still a top choice for CCW owners.
Price: $405 - $479
Capacity: 10+1
Length: 6.3 in.
Height: 4.4 in.
Width: 0.9 in.
Unloaded weight: 23 ounces
4. Kahr CW9
The Kahr CW9 is a favorable alternative firearm to the Glock or M&P for users that dislike the trigger safeties included on those models. The Kahr pistols are slightly smaller, and some users may prefer its feel. And since it is a .40 caliber, officers are likely to have the ammo for it.
(Photo: WikiMedia Commons)
Price: $332 - $480
Capacity: 7+1
Length: 5.9 in.
Height: 4.5 in.
Width: 0.9 in.
Unloaded weight: 15.8 ounces
5. Ruger LC9s
The original LC9 was a hammer fired semi-auto 9mm with a polymer frame and alloy steel slide. The LC9s was released in 2014 to offer users the option of using a striker-fired system. At 17.2 ounces, the LC9s isn't a super lightweight, but its slim profile makes it easy to conceal in multiple positions.
Opinions are mixed on the many safety features of the LC9s. The trigger is bladed with a long, seven pound pull that is unlikely to result in accidental discharge. There's also a thumb safety, magazine disconnect safety and a visual chamber indicator port. If you aren't a huge fan of these additional safety features, the LC9s Pro introduced in 2015 removes the thumb and magazine safeties for experienced shooters.
Magazine capacity is 7+1 rounds, which is one more round than many 9mm pocket guns. The LC9s comes with a fingergrip extension for the magazine floor plate that users may prefer for a fuller grip.
Price: $300 - $480
Capacity: 7+1
Length: 6.0 in.
Height: 4.5 in.
Width: 0.9 in.
Unloaded weight: 17.2 ounces
6. Bersa Thunder
Manufactured in Argentina by Bersa, the Thunder 380 is a Walther PPK analogue that has been used by the Argentine military since 1958.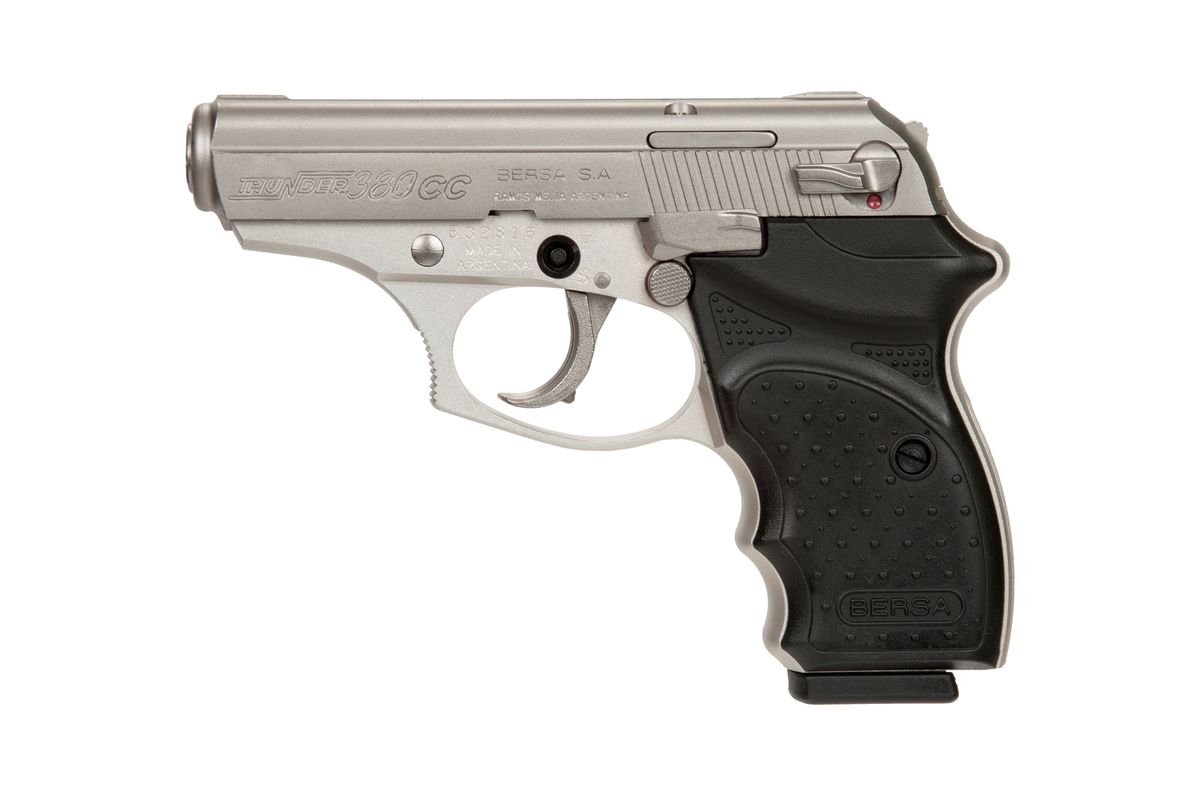 (Photo: bersa.eagleimportsinc.com)
While it may not have as much name recognition as some firearms produced by larger companies, the Bersa Thunder is accurate, reliable, and very affordable.
The Bersa Thunder 380 CC is constructed from alloy with a steel slide. While it's not as light as a regular polymer handgun at 20.1 ounces loaded, the Thunder 380 CC is still slimmed-down for concealed handgun use, with low-profile sights and a bobbed hammer for more convenient drawing.
The magazine holds eight rounds of .380 ammo. It's certainly not the most powerful round available, but it brings more ammunition than other small revolvers and may be more controllable than other small handguns with large cartridges. The Bersa Thunder 380 CC doesn't have a laundry list of high-tech features, but at an average going rate of approximately $300, anyone on a budget but serious about concealing and carrying a firearm should consider the Bersa Thunder 380 CC.
Price: $292 - $360
Capacity: 7+1, 8+1 (.380), 10+1 (.22)
Length: 6.6 in.
Height: 4.5 in.
Width: 1.3 in.
Unloaded weight: 18.9 - 20.0 ounces
7. Sig Sauer P239
(Photo: Wikimedia Commons)
The capacity of the Sig P239 is slightly limited at eight rounds, and it may be too large for some users to conceal the weapon reliably. However, the added weight means that the gun is fairly controllable and reported by many to be quite accurate. It's not a bad looking handgun and is the top choice for many in the CCW market.
Price: $780 - $850
Capacity: 8
Length: 6.6 in.
Height: 5.1 in.
Loaded weight (9mm): 25.2 ounces
8. Beretta Px4 Storm
At 17+1 rounds, the Px4 Storm has a higher capacity than any other item on this list. It's easy to handle and easy to shoot, thanks to its weight, decent trigger, and quality sights.
Of course, the weight and dimensions of this gun might make it difficult for some to conceal on their person. The Px4 also has a slide-mounted safety that many experienced shooters dislike, but that can be easily modified. Overall, this Beretta is a solid choice for a concealed carry weapon especially if high capacity is an important factor.
Price: $490 - $640
Capacity: 17+1 (9mm)
Length: 6.8 in.
Width: 1.4 in.
Height: 5.0 in.
Unloaded weight: 27.3 ounces
9. Ruger LCR .38 Special
It's true that revolvers aren't at the top of the list in capacity and loading speed, but their extreme simplicity and well-earned reputation for reliability make them a favorite of novices for concealed carry. Ruger's LCR (Lightweight Carry Revolver) line comes with a nice, even trigger pull. At a weight of less than 14 ounces, it's light and highly concealable even in shorts and a t-shirt.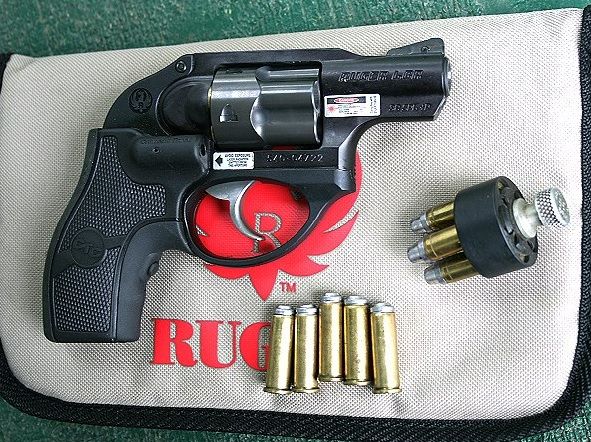 (Photo: Michael E. Cumpston)
The standard version is double action only, eliminating the opportunity for an exposed hammer to snag on clothing. For those who want an exposed hammer to enable single-action mode, there is the LCRx. There are also .22 LR, 9mm, .327 Fed Mag. and .357 Mag variants available.
Price: $355 - $499
Capacity: 5
Length: 6.5 in.
Height: 4.5 in.
Width: 1.28 in.
Unloaded weight: 13.5 - 17.1 ounces
10. Smith & Wesson Model 642, .38 Special
Based on a design that's more than a century old, the 642 line is a CCW option that has stood the test of time. It's light, compact, easy to carry, and offers excellent power considering its size. It's easy to operate and proven to be a reliable firearm.
(Photo: Wikimedia Commons)
With a weight of 15 ounces, the S&W ranks as one of the lightest guns in this group and shoots perfectly right out of the box. The 642 is double-action-only with a concealed hammer, which removes the possibility of an exposed hammer getting caught on clothing. Accidental activation of the trigger is also quite rare with double action revolvers.
The .38 Special's cylinder will give up some slimness, but they're still easily concealable — some would argue the rounded shape is more comfortable to carry and easier to conceal than boxy, angular firearms.
Price: $300 - $400
Capacity: 5
Length: 6.375 in.
Height: 4.5 in.
Width: 1.19 in. at the cylinder
Unloaded weight: 15 ounces
While each entry on our list is a solid choice for concealed carry gun, everyone has their own opinion. Which ones did we miss? What do you carry on a daily basis? Let us know in the comments section below or reach us on our Facebook page!

Request product info from top Police Handguns companies
Thank You!