Wash. bill targets credibility of informants' testimony
Incriminating testimony from incentivized informants factored in 16 percent of 337 convictions overturned by DNA evidence
---
By Gene Johnson
Associated Press
SEATTLE — A Washington state man's conviction in his mother's 2000 murder was based largely on a false confession he gave to police after a long interrogation. But like a lot of other wrongful convictions, his case also featured another troubling aspect: incriminating statements from jailhouse informants who received light sentences or had criminal charges dropped after their testimony.
DNA evidence helped free Donovan Allen from prison last month, 15 years after he was arrested. Several state lawmakers hope his exoneration will bolster their case for changes that could reduce the odds of such testimony helping convict innocent people in the future.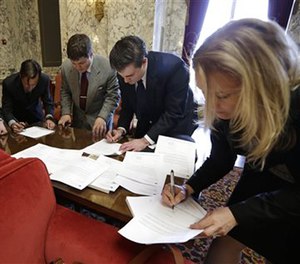 Fifteen Democratic and Republican representatives in Washington state introduced a bill this month that would require judges to weigh the credibility of "incentivized" informants before their testimony can be presented to a jury — a requirement that would be a first in the nation, experts say, and part of a broader examination of how such witnesses are used.
Among the nine factors the judge would consider are the informant's criminal history, whether they've previously been rewarded for testimony in criminal cases and whether independent evidence corroborates the informant's story.
A bill in the state Senate, meanwhile, would authorize such assessments without making them mandatory. Hearings were being held on both measures this week.
"Without question, informant testimony is useful for law enforcement, and maybe sometimes it's the only evidence in a serious case," said Lara Zarowsky, the policy director of the Innocence Project Northwest, which drafted the House bill. "But if the defense tried to incentivize a witness, it would be witness tampering. Wrongful conviction cases are showing us that, yeah, maybe if you're paid for your testimony you're going to lie."
Nationally, incriminating testimony from incentivized informants factored in 16 percent of 337 convictions overturned by DNA evidence — and in about half of death-row exonerations, according to the New York-based Innocence Project. It's played a role in at least seven wrongful convictions in Washington.
States have started taking a harder look at the concerns posed when jailhouse snitches stand to gain by providing information about cellmates or other defendants, though Washington would be the first to require pretrial reliability assessments in any case where such testimony is used. Nevada's Supreme Court has long required such assessments in capital cases, as did Illinois before it abolished the death penalty, said Alexandra Natapoff, a professor at Loyola Law School-Los Angeles.
"This is an era of revelation as the public and legislators learn the extent of the practice and the kinds of risk it carries," Natapoff said. "The reality is that most places haven't regulated the use of informants."
About a dozen states do insist that informant testimony be corroborated by some evidence, she said, and federal courts and many state courts direct juries to weigh testimony from informants with extra scrutiny. The latter is an approached favored by the Washington Association of Prosecuting Attorneys, said Tom McBride, its executive secretary. Juries should absolutely be informed of any deals given to informants, he said, but it should be up to the jurors — not the judge — to weigh that evidence.
Washington requires that juries are told to give extra scrutiny to accomplice testimony, but not to statements from informants.
"I don't think there's any dispute you have to be careful with that kind of testimony," McBride said. "But I don't like the idea of judge determining reliability before the testimony goes before a jury."
In Washington's most recent DNA exoneration case, Allen was convicted after two trials of murdering his mother, Sharon Cox, 49, who was strangled and bludgeoned in 2000. Then 18, he confessed after 14 hours of interrogation. Though he later recanted, he was convicted of aggravated first-degree murder and sentenced to life without parole.
He was freed last month after police said new DNA tests had linked his cousin to the crime.
One witness, a repeat offender who testified at both trials, shared a cell with Allen and said Allen confessed to him. Between the trials, he received an exceptionally lenient sentence for burglary, even though he was facing numerous other charges, including eight counts of forgery. The day after he testified in Allen's second trial, he was released from custody on the forgery charges, which were eventually dismissed, Allen's Innocence Project Northwest lawyers noted in a court filing.
Another witness, who testified that he had heard Allen say he "wished his mom was dead before and now she is," had two felony charges dropped two days after Allen was sentenced.
Washington's House bill would grant new trials to previously convicted defendants if they can demonstrate that an informant lied on the stand and that statement possibly affected the outcome of the trial. The Senate version would not.
A main sponsor of the House bill, Democratic Rep. Tina Orwall of Des Moines, also sponsored Washington's 2013 law to compensate exonerated convicts for the time they spent behind bars.
"How can we prevent more people from being wrongly convicted?" she said. "This legislation is one of those steps."
Copyright 2016 The Associated Press

Request product info from top Investigation companies
Thank You!