Fla. police testing gun-mounted cameras
The St. Petersburg Police Department is testing gun mounted cameras and bodycams and weighing the pros and cons
---
By Andrea Fox, Police1 Contributor
ST. PETERSBURG, Fla. — The St. Petersburg Police Department is testing a gun mounted camera, along with body cameras, for possible officer deployment.
Last year, there were 205 incidents in which St. Petersburg officers drew their weapons, according to the local Fox affiliate. The city and the department is considering cameras in order to build trust, said Chief Anthony Holloway.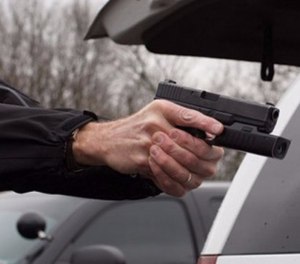 Gun Mounted Camera Pros
Made by Centinel Solutions, the gun-mounted camera sits under under the barrel of the gun. Encrypted video can be stored on local servers or in Amazon's AWS Government Cloud infrastructure.
The camera automatically records as the weapon is drawn, which also alerts police department computers via mobile application.
Holloway said he appreciates the alert feature because back up can be sent right away to the precise location, according to CNBC. Officers appreciate not having to worry about positioning their bodies when officers are looking through their gun sights, he added.
Weighing Video Data Storage Costs & Privacy
Civic leadership and police agencies weigh the costs and privacy of managing law enforcement data before purchasing any cameras.
Only producing video footage when a gun is drawn means that gun mounted cameras would require less video footage the police department and the city of St. Petersburg would have to manage, store and pay for.
Holloway said he does have privacy concerns about the bodycam option. He is part of a panel convened by the American Bar Association to discuss public policy implications.
But when a gun is drawn, "that's what you want to see 'what did I do when I was using deadly force?,'" said Holloway.
Resolving Use of Gun-Mounted Flashlights
One sticking point for St. Petersburg is that the gun-mounted camera uses the same mount as gun mounted flashlights.
The Police Benevolent Association (PBA), which is the bargaining body for St. Pete's police officers, would not be willing to replace the police department's gun-mounted flashlights with the gun-mounted cameras.
In 2011, a St. Pete officer lost his life when he was shot while juggling a flashlight in one hand and his weapon in the other. After that, the department deployed new sidearms with flashlight mounts.
"Now that we've got the increased technology and the better equipment, we're not willing to give that up, just so somebody else can sit back and watch on Youtube what's going on," said George Lofton, the PBA president.
But if the flashlight issue can be resolved, the PGA supports gun mounted cameras for the pros — reduced video storage and the "appropriateness" of police officers recording when guns are drawn.
Next Steps and Dash Cams
So far, St. Petersburg police officers have only tested the gun mounted cameras at the range.
The next step is street testing, which would be followed by budget and process implementation discussions.
Currently St. Petersburg street crimes and driving under the influence units have dashboard mounted cameras, but will soon deploy dash cams in all of patrol vehicles.

Request product info from top Police Cameras companies
Thank You!