PRESS RELEASE
NICE Launches Solution Designed for Public Safety Market
---
Oakland, Calif. - NICE announced the launch of  NICE Inform Version 6, which enables Public Safety Answering Points (PSAPs) to evaluate the quality of service delivered across an entire emergency incident. The solution has been designed to offer unique value to public safety organizations as it supports the evaluation of single calls as well as complete incidents, including the processing of multimedia input, such as GIS, video, and CAD screen.
NICE Inform helps PSAPs and various security operation centers reconstruct events, giving them a 360-degree view of the incident for investigation, debriefing and training purposes. It integrates multimedia data from various capture platforms into one comprehensive incident timeline.
In the latest release of Inform, these capabilities are further improved through the addition of quality assurance tools. These tools are designed to help organizations identify knowledge gaps and training opportunities across entire incidents to help improve future responses.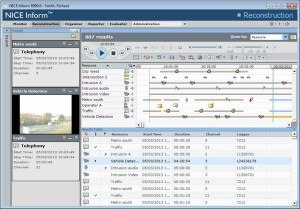 NICE Inform Version 6 also offers tighter integration with NICE Situator and NiceVision. The integrated solution yields a debriefing and reconstruction solution capable of capturing and synchronizing replay of multimedia sources, including step-by-step Situator operator actions and comprehensive incident reconstructions, which can now be incorporated into the debriefing process for investigations, training, planning and prevention.
Capture Technologies proudly carries NICE products, as well as a wide variety of call recording and communicationsproducts.  Ask us how our products can improve your company.  We are dedicated to keeping your communications simple.