PRESS RELEASE
Vigilant Communities Award
---
Sponsored by Vigilant Solutions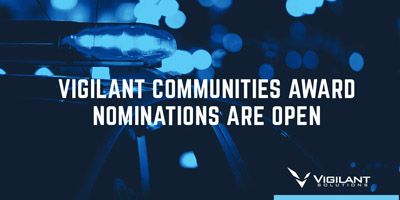 Has your agency (or another agency) demonstrated best practices and innovation in the use of automated license plate reader (ALPR), facial recognition and/or ballistics analysis/firearms mapping to develop leads and solve crimes?
Submit your nomination for the Vigilant Communities Award. The winner will be announced at the annual International Association of Chiefs of Police (IACP) Conference in October. Vigilant Solutions will award $2,000 to up to three winning agencies' fallen officer funds, or another fund of their choice.
1. About the Award
Vigilant Solutions instituted the Vigilant Communities Awards program to recognize the exceptional use of artificial intelligence (AI) technology in preventing and solving crimes.
2. What are we looking for?
When lives are on the line, law enforcement deserves to be equipped with the best tools to develop leads and solve crimes. We are searching for agencies and related law enforcement organizations that promote and/or incorporate the most innovative, pioneering and assertive use of ALPR, facial recognition and/or ballistics analysis/firearms mapping to enhance officer safety, protect communities and solve crimes.
3. Who is eligible?
All U.S. law enforcement agencies, regardless of size, and related law enforcement authorities utilizing ALPR, facial recognition and/or ballistics analysis/firearms mapping to prevent and/or solve crimes. Agencies may self-nominate. Please note: The Vigilant Communities Award is an agency award, not an individual award.
4. What is the Award?
Vigilant Solutions will select up to three winners, and we will be honored to donate $2,000 to each agency or organization's fallen officer fund or the charity of their choice.
5. When are Nominations Due?
Nominations are due September 7, 2018. All nominations will be reviewed by September 14, 2018, with a final selection made by September 21, 2018. The winning agencies will be notified directly with an official presentation of the award scheduled during the annual IACP Conference in Orlando, Florida (October 6-9, 2018).
To nominate an agency for the award, follow this link http://www2.vigilantsolutions.com/VCA2018 and complete the form at the bottom to download the nominations form.
About Vigilant Solutions
Vigilant Solutions' technology helps law enforcement solve crimes faster to keep officers and communities safe. A leader in machine vision and data analytics for the public safety market internationally, Vigilant Solutions provides license plate recognition (LPR), facial recognition and ballistic analysis to deliver intelligence to agencies across the globe. Built for agencies of all sizes, Vigilant Solutions' technology increases investigative efficiency, generates more leads, connects cases, and reduces crimes with advanced analytics, billions of nationwide commercial LPR detections, and a hosted facial recognition gallery. Bring criminals to justice with Vigilant Solutions. Visit www.VigilantSolutions.com.

Request more info from Motorola Solutions
Thank You!