How to buy police AEDs
Four top features to look for in your next AED.
---
This article was updated by PoliceOne Staff on December 12th, 2016 to reflect the most recent data and information on AEDs.
According to the American Heart Association, there are approximately 359,400 Emergency Services (EMS)-assessed cardiac arrests that occur outside of a hospital setting. This accounts for less than 10 percent of all cardiac arrests nationally, but is still a very large number. Immediate cardiopulmonary resuscitation (CPR) combined with early defibrillation using an automated external defibrillator (AED) can more than double survival rates.
Police officers are often the actual first responders. According to one study completed by the University of Miami, in over half of calls requiring EMS, police officers were the first individuals to arrive on the scene. The logical conclusion is that in instances when CPR is necessary, those law enforcement officers with AEDs in their vehicles can dramatically increase patient survival rates.
For those working in law enforcement and considering purchasing mobile AEDs, there are several important factors to consider.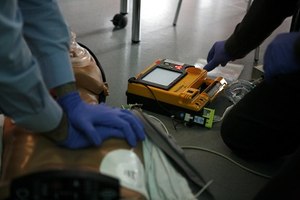 1. Simplicity
Studies have shown that incorporating too many features will confuse and intimidate the rescuer, and result in the AED being utilized less often. While providing aid in a medical emergency is a responsibility of a responding officer, it is not necessarily their duty. In many emergency situations, an officer must tend to multiple duties at once. This makes it essential to have equipment that is easy to use and can quickly be set up. 
There are also other features that should be considered when selecting the proper equipment. The units should have very few gauges or other information and instead only display critical information, such as battery life and the heart rhythm. AEDs should also contain a warning device or alarm to indicate when the patient should not be touched, when it is preparing for the shock cycle and any other information that is necessary for the user. 
2. Durability
As with most emergency medical equipment, there are high standards for durability. An AED should be able to handle being dropped onto concrete, it should be relatively waterproof and it should be operational even in extreme temperatures. This includes a storage temperature of -22° to 140°F and an operating temperature from 32° to 122°F (0° to 50°C). They should also be ready to use anytime. All AEDs come with a non-rechargeable lithium battery that will typically last between 2 and 5 years before needing replacement. The defibrillator pads should be pre-attached and their wires should be able to sustain a four-foot drop.
3. Modernity
As an investment in life-saving equipment, the AED should be upgraded in unison with protocol changes. For instance, The American Heart Association published the "2015 Guidelines for Cardiopulmonary Resuscitation and Emergency Cardiovascular Care (ECC)" last year, which prompted an upgrade of many units. 
4.Price
Find a distributor willing to work with you. They can help identify the AED that fits your business and your budget the best.  Find a distributor who carries every make and model, with staff trained to answer your questions efficiently and offer suggestions based on what is best for you. It is also a good idea to look into units that are upgradable. This prevents having to remove them from service when an upgradable change is necessary.
Have you purchased an AED lately? What did you look for before making the buying decision? Comment below. 

Request product info from top Police AEDs companies
Thank You!