New app puts location of AEDs at your fingertips
When a cardiac emergency strikes, a nearby AED can help save a life – and Physio-Control's new database helps you find one
---
By Police1 Staff
PulsePoint Foundation and Physio-Control recently launched PulsePoint AED, a mobile app designed to build a growing registry of AEDs that can be used during cardiac emergencies. It's designed to complement PulsePoint Respond, a mobile app that connects members of the public — aimed toward those who are CPR-trained with cardiac arrest victims so bystanders can locate the person having a medical emergency, as well as a nearby AED.
Once the location of an AED is entered into the PulsePoint AED app, it must be confirmed by a local agency before it becomes visible in the PulsePoint Respond app.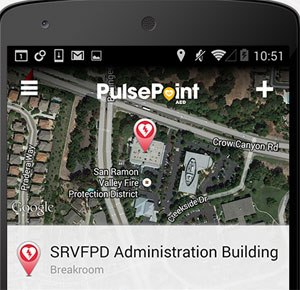 All the information also is provided to the local emergency communication centers and displayed on dispatcher consoles during calls, so they can use the information to direct callers to the device. 
CPR provided immediately after sudden cardiac arrest can double or triple a person's chance of survival, and providing a therapeutic shock from an AED further increases that rate.
The app is free and available on iOS and Android mobile devices.