PRESS RELEASE
Latest software for TruNarc Analyzer expands substance library
---
TEWKSBURY, Mass. - Law enforcement agents, narcotics officers and customs personnel can now identify 37 additional substances the v1.10 software update of the Thermo Scientific TruNarc Handheld Narcotics Analyzer. The new software update adds compounds to help identify newly "emerged threats including the animal tranquilizer xylazine, aka "tranq" and several potent nitazene compounds (illicit, synthetic opioids)," the company says. The update is free to owners of all existing analyzers, and will be automatically included with future orders for the analyzer.
The TruNarc analyzer uses Raman spectroscopy, a "well-established analytical technique, that allows officers to scan a single sample for multiple narcotics in one non-destructive and non-contact test and receive the results within seconds," according to Thermo Fisher Scientific Inc. The analyzer library can now "quickly and accurately identify 531 substances."
The continually growing library helps officers address emerging threats in the face of the growing influence of illegal drugs. The latest update adds: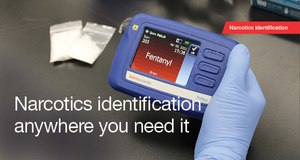 • Xylazine
• 8 nitazenes
• 10 more fentanyl analogs plus 6 more precursors (norfentanyls)
• 3 AP-237s (Bucinnazines)
• 9 additional substances
In addition, this update enables the admin software on the TruNarc analyzer to automatically check for software updates and alert users when future updates are available.
For more information on the Thermo Scientific TruNarc handheld narcotics analyzer, please visit thermofisher.com/trunarc.
About Thermo Fisher Scientific Inc.
Thermo Fisher Scientific Inc. is the world leader in serving science, with annual revenue over $40 billion. Our Mission is to enable our customers to make the world healthier, cleaner and safer. Whether our customers are accelerating life sciences research, solving complex analytical challenges, increasing productivity in their laboratories, improving patient health through diagnostics or the development and manufacture of life-changing therapies, we are here to support them. Our global team delivers an unrivaled combination of innovative technologies, purchasing convenience and pharmaceutical services through our industry-leading brands, including Thermo Scientific, Applied Biosystems, Invitrogen, Fisher Scientific, Unity Lab Services, Patheon and PPD. For more information, please visit www.thermofisher.com.

Request more info from Thermo Fisher Scientific
Thank You!