Calif. bill restricts use of drones
AB1327 would require law enforcement agencies to obtain warrants except in certain emergencies
---
Associated Press
SACRAMENTO, Calif. — California would establish what supporters say are some of the nation's strictest standards for the use of drone aircraft by government entities, under a bill approved Wednesday by the state Assembly.
AB1327 would require law enforcement agencies to obtain warrants except in certain emergencies. It also would require that government agencies notify the public when they intend to use drones and that data collected by unmanned aircraft be destroyed within six months.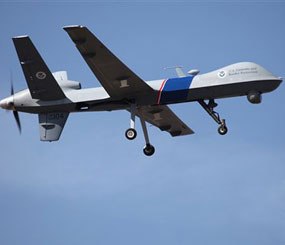 Public agencies would be prohibited from arming their drones.
The measure passed, 59-5, and it now goes to the Senate.
"The future of aviation is unmanned," said Assemblyman Jeff Gorell, R-Camarillo, an intelligence officer in the U.S. Navy Reserve who said he is familiar with drones from a tour in Afghanistan. The Federal Aviation Administration estimates that more than 30,000 drones will be flying over the United States within the next two decades, helping with everything from fighting criminals and wildfires to aiding farmers and perhaps delivering packages.
Law enforcement could use drones, under the bill, if they obtain warrants based on probable cause that a crime is being committed. They could bypass the warrant if there is an imminent threat to life or to help emergency workers deal with traffic accidents, to inspect state parks and wilderness areas for marijuana grows, or to detect wildfires.
Other public agencies could use drones for purposes other than to collect criminal intelligence, but they would be barred from sharing the data they collect with law enforcement agencies without a warrant. When warrants are obtained, the bill requires law enforcement to minimize the collection of images of people, places or things that are not allowed by the warrant.
It also allows local governments to adopt even stricter rules.
"We need to establish clear rules and policies to protect the privacy of Californians," said Assemblyman Steven Bradford, D-Gardena, who co-authored the bipartisan bill with Gorell and Assemblyman Bill Quirk, D-Hayward.
Quirk said the bill would help local governments and law enforcement agencies that are uncertain what is and is not illegal when using drones. For instance, law enforcement could use drones to aid in pursuing a fleeing vehicle, he said, but could not position one overhead to peer into what otherwise would be private areas without getting a warrant.
The bill addresses only the public agencies' use of drones, while a separate pending measure by Sen. Alex Padilla, D-Los Angeles, is intended to protect Californians' privacy from commercial or privately operated drones.
Gorell said it is the product of more than a year of negotiations. However, it is opposed by several of the state's law enforcement organizations, which he said want the same rules as apply currently to manned aircraft.
The American Civil Liberties Union withdrew its objections after the bill was amended, but the California State Sheriffs' Association said there is no need for separate restrictions on the use of drones beyond existing privacy protections under the U.S. Constitution's Fourth Amendment, which outlaw unreasonable searches and seizures.
The sheriffs' association also objected to the requirement that drone data be quickly destroyed, noting that criminal investigations often take considerable time. The bill allows data to be kept indefinitely if its collection was authorized by a warrant or if it is evidence.
"They're not willing to accept the paradigm shift," Gorell said of law-enforcement opponents. "This is a technology that we in California need to embrace. But we are going to have to recognize that there need to be some parameters ... Drones fundamentally change the paradigm."
Copyright 2014 The Associated Press

Request product info from top Police Drones/UAS companies
Thank You!