UAV teams in action: Alameda County Sheriff's Office
This California drone team has become a critical resource that supports search and rescue, law enforcement and fire department operations
---
Alameda County Sheriff's Office (ACSO) is led by Gregory J. Ahern, Sheriff-Coroner, an innovative sheriff who is very supportive of his agency's unmanned aircraft vehicle (UAV) team.
About ACSO
$500M+ annual budget
1,800 positions, 1000 sworn personnel
Five divisions (Detention and Corrections, Law Enforcement Services, Dublin Police Services, Eden Township, Management Services, Countywide Services)
Nationally Accredited (Public Safety Training Academy, County Jail, Emergency Services Dispatch, Bomb Squad, Criminalistics Laboratory) and more.
About ACSO's Team
Started in 2015
Flies multi-discipline missions
30+ remote pilots
50+ aircraft
DJI UAS
Capabilities include zoom, thermal imaging, light, speaker, photogrammetry capture
Missions flown include structure fires, wildfires, SAR, damage assessment, traffic crash reconstruction, disaster response, law enforcement, pre-incident facility planning, correctional-prison operations, civil unrest, barricaded suspects, SWAT, exercise support and flight training
40-49 mission flights per month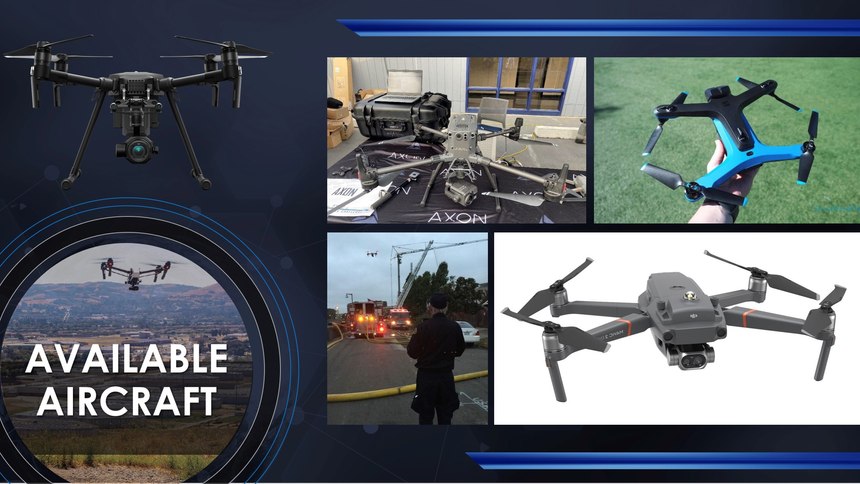 Early UAS adopter
ACSO was an early adopter of public safety unmanned aircraft systems (UAS). The agency's unmanned aircraft vehicle (UAV) team has flown missions from Monterey, California, to the Oregon border. The team has become a critical resource that supports search and rescue, law enforcement and fire department operations.
[RELATED: Considerations when developing a law enforcement drone policy]
When it comes to understanding the department's path to success, Assistant Sheriff Tom Madigan emphasizes how community outreach efforts were and continue to be essential in maintaining transparency and trust. ACSO's outreach was achieved through multiple community meetings and presentations, including a formal presentation to the County Board of Supervisors. Additionally, ACSO worked with the district attorney, the ACLU, the public defender, county counsel and their existing trained pilots to draft policy. Outreach continued with training, demonstrations, press conferences and media interviews.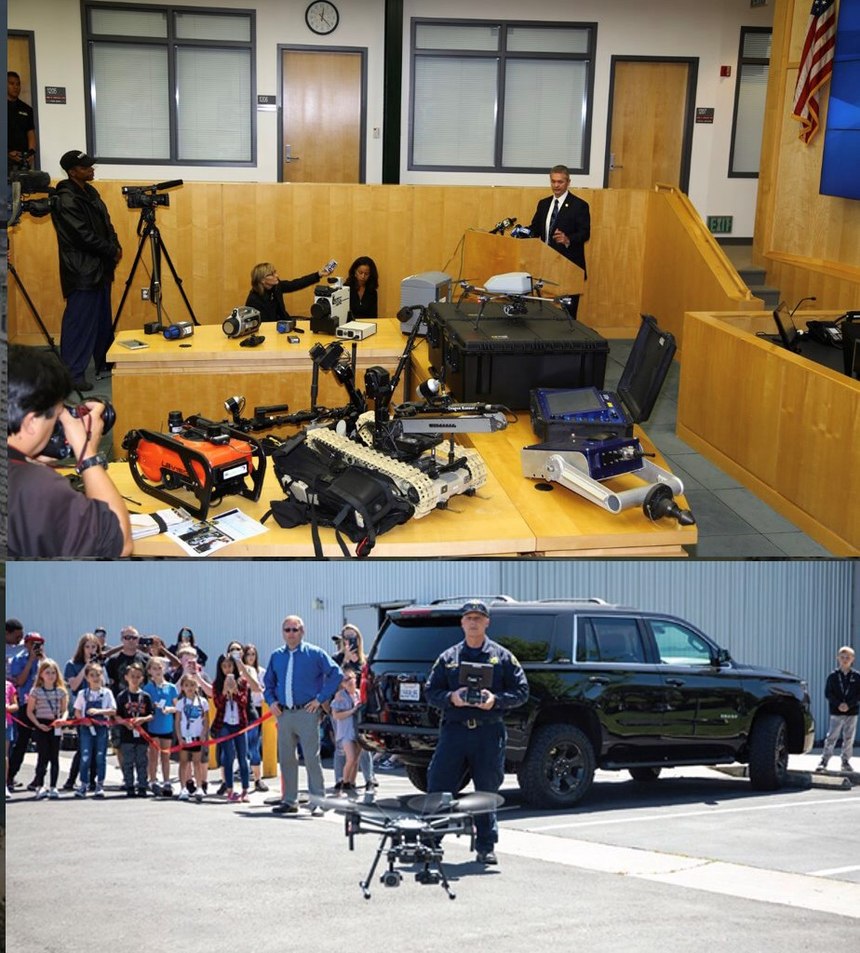 UAS deployment and responses
ACSO's use of UAS includes 3D mapping, aerial support, outside agency support, thermal imaging, hot spot imaging and scene documentation through UAS photography and videography.
Significant incident responses include:
2018 Ghost Ship Warehouse Fire in Oakland, California: 36 lives lost.
2018 Carr Fire in Redding, California: 6 lives lost, 1,600 structures destroyed and 225,000 acres burned (see 2D Before and After Map).
2018 Camp Fire, California: Most destructive wildfire in the past 100 years with 85 lives lost, 249 confirmed missing, 153,000 acres and 14000 homes destroyed, and 18,000 structures damaged.
2020 North Complex Fire, California: 15 lives lost, 2400 structures damaged, 318000 acres.
Dixie Fire, California: 1,300+ structures damaged, 963,309 acres burned.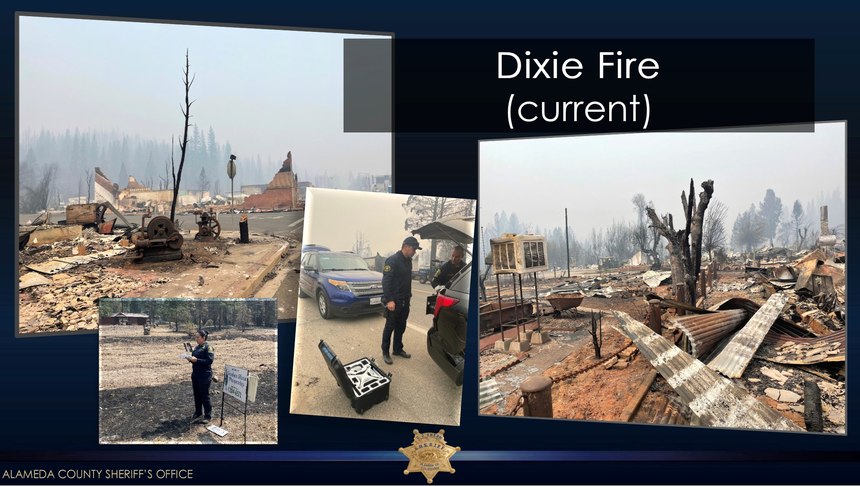 Best practices
1. Make digital imagery publicly available
The ACSO was one of the first agencies to make UAS digital imagery publicly available to citizens to provide information on the condition of their community and their homes. This is done by combining drone imagery with GIS of the affected communities. The combining of these technologies is becoming more important due to the catastrophic nature of disaster where most geographical references have been destroyed. Drone imagery by itself would be meaningless as it is almost impossible to identify the location in the imagery.
2. Effective mission planning process
The next important aspect of success is an effective mission planning process, which consists of:
Verify mission request is allowable.
Determine location (lat/long).
Check weather
Check airspace: Foreflight, TFRs, NOTAMS.
3. FAA authorizations
ACSO is very thorough on its FAA authorizations for flight operations. Their flight authorizations include:
ACSO FAA Jurisdictional Certificate of Authorization (COA)
ACSO Broad Area COA – Flights outside of jurisdiction
ACSO Broad Area COA – Night Flight Operations
ACSO Broad Area COA – Operations over people (OOP)
FAA Part 107 with Night Waivers
Coordination with local air traffic control and FAA Notice to Airmen (NOTAM)
Conclusion
Alameda County Sheriff's UAV team is among the best and most well-known in the nation because of its progressive and innovative approach. ACSO's team members are active leaders at the local, state and national levels and they openly share their policies, procedures and best practices to help other agencies around the world who are starting UAS programs.
ACSO's work to link UAS imagery to GIS layers has had a major impact on how UAS imagery can provide invaluable data to their community and to other communities where they've flown. This has also helped to promote these data enhancements and workflows globally. This overview of ACSO's program demonstrates their leadership, innovation and commitment to excellence.
---

Download this Police1 drones/unmanned aircraft systems buying guide
This Police1 guide provides information on what law enforcement agencies need to consider when determining how to integrate this technology into their equipment cache.
---

Request product info from top Police Drones/UAS companies
Thank You!