Legal, privacy concerns to consider before implementing iris-scanning technology
Looking at some public concerns and legal issues can help law enforcement plan its use of the evolving technology
---
In the 2002 sci-fi movie "Minority Report," Tom Cruise plays the chief of a futuristic police unit. In one scene,  Cruise's character is walking through a mall and as his irises are repeatedly scanned, ads call him by name and target him on 3-D screens.
Today, businesses are targeting ads using facial recognition technology and law enforcement has jumped on the iris scan bandwagon. Police have access to handheld biometric devices that can attach to a cell phone and collect and interface iris scans, facial recognition, fingerprints and identifying information.  
This has largely occurred with little public debate or judicial oversight. Looking at some public concerns and legal issues can help law enforcement plan its use of the evolving technology so as not to lose in the public or legal arenas. This article addresses privacy and transparency concerns. Another article discusses concerns about the technology's reliability.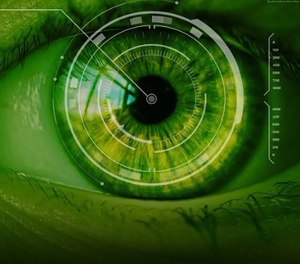 Public debate about iris scanning
A 2016 Government Accountability Office (GAO) report threw a critical spotlight on the FBI's Next Generation Identification program that is amassing multimodal biometric identifiers such as iris scans, palm prints, face-recognition-ready photos and voice data, and making that data available to other agencies at the state and federal levels. Two criticisms were the program's lack of transparency testing and privacy intrusion.
Concerns about biometric data include:
Biometric data collection isn't limited to criminal situations. The FBI's database includes millions of innocent citizens and foreigners.
The advancement of long-range iris-scanning raises the specter of mass surreptitious government surveillance.
A national ID program. India's national biometric ID program using patented iris-scanning technology has already registered 1.1 billion of its citizens. Mexico also has iris-matched IDs to stop fraud and provide poverty assistance. U.S. privacy advocates fear such an ID system could turn our democracy into a checkpoint society.
Law enforcement must bring police officer safety into the public debate. Consider Suffolk County Police Officer Mark Collins. He pulled someone over on the side of the highway, ran the plates and they came back fine. As he approached, the driver pulled a gun, shot Officer Collins and fled. It turns out the driver was a known gang member. Fortunately, Officer Collins survived.
A long-range iris scanner could have alerted Officer Collins to the increased danger and saved him from a possibly fatal injury. Many citizens might consider that a small privacy price to pay to save officers' lives if they understand this potential benefit. This should be part of the debate.
Police also need to educate the public about the usefulness of iris scans to fight human and sex trafficking, child abduction, terrorism and illegal immigration; to aid in registering and identifying sex offenders and; to prevent wrongful incarceration or release from custody.
There are trade-offs between privacy and public safety when it comes to iris scans. For citizens and courts to make informed decisions, law enforcement must balance the concerns about privacy with the advantages for public safety. Even well-known civil Libertarian Alan Dershowitz has argued that such balancing weighs in favor of a national ID with biometric data.  
Legal concerns regarding iris scanning
There's an incentive for police to collect and share as many scans as possible because that enhances their ability to use a database to make a "match" to solve a case or identify a suspect, a person of interest, or a dangerous individual.
The Fourth Amendment protects people from warrantless government searches or seizures where they have a subjective expectation of privacy that is deemed reasonable by public norms. The reasonableness standard is decided on the totality of circumstances.
To date, I could find no court decisions specifically addressing iris scans and the Fourth Amendment. I urge law enforcement not to see this as "anything goes." When we don't restrain ourselves, we end up with courts significantly limiting our discretion.
Legal issues raised by iris scans include:
Does an iris scan constitute a "search" that triggers Fourth Amendment protection?
What is the legal standard police must meet before using the scan?
Does the constitutionality of an iris scan depend on whether it's done with the person's knowledge?
If done with the person's knowledge, what constitutes "consent" to the scan?
Does your state have a law regulating the collection of biometric data?
Do your state courts offer more protection against government intrusion under your state constitution than the Supreme Court does under the U.S. Constitution? (My home state of Alaska does.) 
Consider and plan
Consult your prosecutor about federal and state laws and court cases that implicate police use of iris scanning.
Develop policies that, at a minimum, specify the purposes or situations in which the scanners may be deployed and any guidelines or restrictions on their use and on the search of an iris scan database.
Provide officer training to ensure the most effective use of the scanners. The Institute of Electrical and Electronics Engineers (IEEE) Certified Biometrics Professional (CBP) program offers courses that set a baseline of biometric knowledge for those who plan to use iris scanning. These course standards aren't yet national but some agencies have adopted them as certification standards.
Be transparent with your community about your use of iris-scanning technology.
We would do well to consider the words of Gen. Omar Bradley:
"If we continue to develop our technology without wisdom or prudence, our servant may prove to be our executioner."   
Let us be wise and prudent in using technology to protect our communities while meeting our oaths to uphold the Constitution.
Author's note: Thanks to Yavapai County Sheriff Scott Mascher and his Chief Deputy, David Rhodes. Both gentlemen are a gold standard of transparency and civic concern. With no pre-conditions, they opened their office and jail doors to answer all my questions about their use of iris scanning and to observe it in action. Both expressed a genuine concern about indiscriminate use of iris scanning by police.