5 key considerations when buying laptops for police vehicles
Rugged mobile laptops offer instant access to a department's network, databases and real-time intelligence
---
By Tom Wang
It goes without saying law enforcement can better serve their communities and be more effective when they have access to the latest technology. With the expansion of broadband networks serving law enforcement, and the continued advances of other connectivity solutions such as Wi-Fi and Bluetooth, the in-vehicle laptop is becoming a requirement for police departments and agencies across the country. 
In-vehicle laptops are engineered to improve efficiency in the field with paperless documentation, real-time reporting, applications, communications, mapping and more. Rugged mobile laptops offer instant access to a department's network, databases and real-time intelligence that is needed to keep communities safe.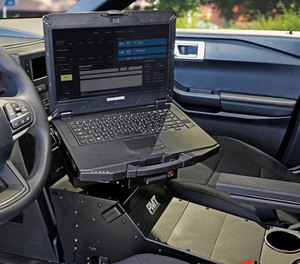 But with tight budgets from the federal level down to small local townships, decision-makers must have the right information in knowing what to look for when purchasing laptops for their officers. The following are five key considerations.
1. Durability 
An in-vehicle laptop for any officer must be rugged. A rugged laptop is built to operate reliably in dusty or wet environments and conditions. These laptops have a thicker and stronger housing compared to a regular laptop. Yet a rugged laptop is able to comply with other important requirements such as high performance and governmental-grade security. Rugged laptops are engineered to be mobile and are vibration, shock, drop, and dust resistant, as well as waterproof.
In the world of laptops, there are generally two classifications of ruggedness: fully rugged and semi-rugged.
Fully rugged computers are engineered to operate in harsh environments, not break when they are dropped, are dustproof and waterproof, and resist shocks and vibrations. A fully rugged device is minimally IP65, MIL-STD-810G or 810H certified and can withstand drops of four to six feet.
Semi-rugged computers are typically upgraded versions of commercial off-the-shelf (COTS) hardware. They use the same internal components, but they have a strong case and additional features. For example, a semi-rugged laptop would have a thicker, stronger case, a spill-resistant keyboard, and a gel-mounted hard disk drive. It might also have a protective case and a rain-resistant body. A semi-rugged device is minimally IP53, MIL-STD-810G, or 810H and can withstand drops of three to four feet.
2. Broadband connectivity
What good is a laptop in an officer's vehicle if they can't connect to the outside world? An officer's in-vehicle laptop should provide broadband connectivity and be capable of connecting multiple devices at one time. 
There are advanced wireless technology and improved connection robustness to aid officers in staying in touch with others and vice versa. In addition, Intel Wi-Fi 6 AX201 and Bluetooth V5.2 4G LTE are ideal for situations that require an instant response. Wi-Fi 6 AX201 provides a maximum speed of up to 2.4Gbps, 1.39x faster than AC 9260, while the bandwidth of Bluetooth V5.2 is 8x greater than v4.2 and can connect multiple devices at once.
Additionally, many laptops today include Intel Thunderbolt 4 technology, which is more powerful than previous versions and makes connecting the modern workspace more flexible and simpler than ever. It delivers 40Gb/s of bandwidth; has one port that supports multiple protocols (USB 4, DisplayPort, PCIe); supports up to 2x 4K displays; is backward compatible with Thunderbolt 3 and USB-C; offers maximum flexibility for use with a docking station; has bi-directional power (power share + power delivery). 
3. Wide-temperature tolerance
An in-vehicle laptop must be able to function in temperatures ranging from teeth-rattling sub-zero to ungodly hot. In areas of the country that experience extreme temperatures during the year, the wider the temperature variance a laptop can handle, the better it will serve an officer's needs.  
4. Vehicle dock
A laptop balanced on one's knees, teetering on a console, or sitting and sliding on a sloping vehicle seat does not fall under the heading of best practices. The computer needs to be securely positioned in a vehicle dock to improve efficiency and provide high reliability and high performance. There are basically two types of vehicle docks: vehicle dock with tri-RF pass-through and vehicle dock without tri-RF pass-through. Most are key lockable for theft prevention and ergonomically designed for safety and ease of use. 
5. Safety
A rugged laptop securely positioned in a vehicle dock should not hinder the officer's visibility. He or she is still able to see what is happening around them. Also, both the laptop and vehicle dock should pass car-crash tests, ensuring there are no sharp edges or shredded components to injure or damage the officer or the vehicle's airbags if the car is involved in an accident.
NEXT: How to buy mobile computers (eBook)
---
About the author
Tom Wang has been instrumental in the development of the rugged computing product line for the Americas. Additionally, he leads the Durabook commercial business unit based in Fremont, CA, as president. Mr. Wang's career has spanned over 20 years, as he previously worked with Getac in product development, product marketing and business development.