Product Review: The RangerX rugged tablet
The RangerX tablet uses a rugged display glass and a plastic encased magnesium frame with corner bumpers
---
I recently tested the Xplore Technologies RangerX, a rugged, dual-core ARM 9 Android 4.2 (Jelly Bean) tablet — it is one of the coolest products I've tested. 
The RangerX tablet uses a rugged display glass and a plastic encased magnesium frame with corner bumpers. It has more connectivity than any other tablet device I have tested and excelled in things like antenna range and intuitive use. I generally don't use Android devices, so this is a plus for this device. 
The RangerX is dockable and has port covers with rubber seals. It speaks USB and HDMI, both full sized and mini. It is fluent in micro SD. I had the model with optional (gulp!) LAN RJ-45. Why? If this unit was used in a stealth or highly secured environment, the RangerX would be right at home.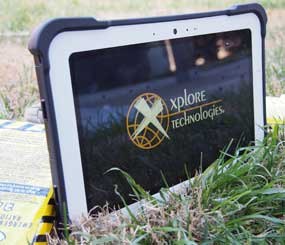 Withstood the Bertomen Treatment
The Rangerx has a simple "home" button and relies on a touch screen keyboard for text input. I typed several long messages on the product using the voice input. This type of technology has come a long way and could reasonably serve as an input if it is used as a report-writing device.
The Rangerx has a 10.1 TFT WVGA color LCD display that is slightly recessed in the case. The brightness is 500 nits, enough to make it daylight readable without breaking the battery bank. It is capacitive touch, which makes it typing friendly. For those who like to play with these things in extreme environments, capacitive touch means that one can't type underwater. 
Yes, I submerged this product and tested its durability underwater. My test was similar to the 512.5 Immersion standard, which is generally higher than the water ingress tests. 
The RangerX fulfills one of the basic tenets of agency purchases: If the agency is buying a rugged laptop, it should be scalable and upgradeable. If they are purchasing a tablet, it's best to get all the bells and whistles up front, as they are seldom upgradeable. 
The RangerX one has the bells and whistles. 
A Pretty Fast Tablet
The RangerX has 2GB of DDR2 RAM with up to 1.5GHz processor speed. As tablets go, this is reasonably fast. More importantly, this set up is stable and, coupled with a Powerful Imagination Power SX544 graphics processor, squeezes several hours of real time use out of the 9600mAh cell. 
I short-charged the unit, ran it dry, and did some graphics intensive tasks. Then I watched a good Steven Seagal classic on YouTube. The battery and processor just yawned, maintaining a stable temperature. 
Every time someone said "That's a cool tablet…" I threw the RangerX at them. I did the usual lab drop tests, but I like to watch people dive for short passes. I wouldn't exactly give the glass a direct hit, but it is sufficiently tempered for the hard landings it sustained. Yes, I simulated the "I-left-it-on-my-patrol-car-and-I've-already-had-two-memos-this-month" scenario. 
If I could be critical of anything, the glass is highly reflective. The display is quite readable, but it's like a mirror in sunlight. 
Multiple LE Applications
How would LE agencies use this device? First, at 2.2 pounds and less than a foot wide, it is definitely within the scale of using as a docked ticket-writing device. Transition between connected and unconnected — about the distance between the patrol car and the officer that's standing at the window of the violator — using Bluetooth is seamless. The citation could be printed as the officer is walking back to the car.
As an investigative tool, it could be used anywhere. Its 5.5 MP camera can do crime scene "walk-throughs."
It has a great advantage over many devices that would have to be tethered to WiFi.  
I have some friends who could have used the RangerX investigating remote grow operations. I found the GPS and internal compass extremely sensitive. Indoor satellite acquisition was superior to two other devices that I use for navigation.
Finally, the RangerX can be used for routine patrol operations: Report writing, booking and intake, and those administrators meetings where no one looks up from their screen except to locate their coffee. 
I've tested plenty of mobile computing devices, but the RangerX has set the standard here.