How a tablet computer can improve officer efficiency
When designing the Toughpad FZ-M1, Panasonic System Communications Company looked carefully at what law enforcement officers needed in a computing product
---
My police agencies use a separate device for ticket writing, in-car computing, and report writing.  The truth is, having multiple computing devices in one agency is inefficient and expensive. 
The first step toward improvement is a fast, durable tablet that can be used for citations, evidence documentation, report writing and mobile data. It must be pocketable, but the display has to be clear and large enough for officers to view it quickly. 
There is only one product that can meet all of these specs: The Panasonic Toughpad FZ-M1. This is a powerful tablet designed for commercial use.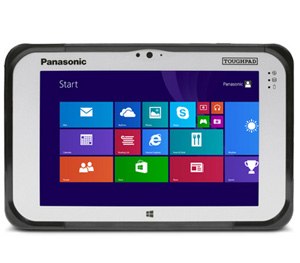 Stands Up to Abuse
The Toughpad FZ-M1 is slightly less than 8x5.2" and weighs 1.2 pounds. The screen is slightly recessed and the grabbing area has a light texture. The peripheral ports have locking covers with seals, which are flush with the edge bumper. There is a slight protrusion in the back which houses some components but serves as a permanent stand for table viewing. It is MIL-Spec 810G and IP65 rated. I abused it and it did fine. This tablet has reached master level in form factor. 
Every piece of equipment an agency uses requires infrastructure. When something is introduced — even if it is a simple safety device — the agency must spend on in-service training, asset management, maintenance and updates. The first step to saving money is to have a tool that can do several jobs well.
The Toughpad FZ-M1uses a 4th generation i5 processor, which can burst up to 2.3 GHz. It has a 128 (or optional 256GB) solid state drive. It can out clock many commercial desktops. 
The ability the Toughbook FZ-M1 to communicate through several modes (Wi-fi, 4G, LTE, Serial or Ethernet ports, GPS) make this platform the most flexible in the industry. It also has several near field communications that go far beyond Bluetooth. It has a MicroSDXC slot and a full sized USB 3.0 port.
The docking and Bluetooth capabilities give this product plenty of keyboard options. Its easily mounted in the patrol car using Velcro. I found it very readable in sunlight and the display can be dimmed to almost nothing for stealth. 
Sensitive Screen, Solid Battery
I noticed that the matte finish screen took on my skin oils a bit more readily than other products. It was easily remedied by rinsing it off. The screen is multi touch capable, which is a bow to Panasonic's commitment to officer safety. For LE folks who know how valuable this is, it can be rigged to summon help, even out of the patrol car. If I had to be critical about anything, I can hover my finger over the keyboard and it will click. That's pretty sensitive.
I found the battery did well, both in the charge and discharge cycle. It took under three hours for a full charge and I ran the unit over the course of two days in both use and standby cycles. The Toughpad FZ-M1 is designed for a full eight-hour work period. I interrupted the charge cycle (I'm sure this never happens in real life) and left it plugged in for a day. I'm told the new model release will have hot swap battery capability. 
Dominick Passanante — Senior Director of Public Sector Sales for Panasonic System Communications Company of North America — told me that portable technology that gets a powerful computer is the next step. At the moment, only a tablet can do this. Panasonic recognized this right away and concentrated their development on the end user. They looked at what law enforcement officers needed in a computing product.
Initially, I did not care for the 64 bit Windows Pro 8.1. However, it has massive compatibility, which allows for seamless and instantaneous crime mapping and forms submission. I tried a form app I found online and the native keyboard input worked very well.  
Since this tablet is so fast, I used the built in features to dictate emails and documents. It rocks. 
The Toughpad FZ-M1 is one of the most interesting computing products this year. I anticipate we will see it sworn in all around the world.

Request product info from top Police Mobile Computers companies
Thank You!