Former cop creates phone app that could save lives
Turn your cell phone into your own safety and personal tracking device
---
By Police1 Staff
A former police officer who worked as a detective and crime prevention officer created TrackerAssist, a multi-functional safety app that acts as an emergency alert device, personal location tracker and incident reporting tool.
Steven van Aperen, who worked as an officer in Victoria, Australia, designed TrackerAssist to be used as an electronic medic alert for the elderly and those with illnesses so that both family and emergency services can be contacted and notified of the person's location instantly.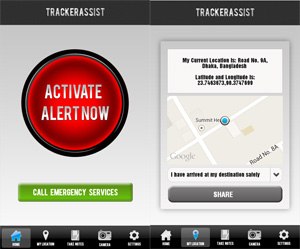 An emergency alert and a map of the user's current location can be sent to first responders and loved ones using e-mail, SMS text message, or both.
The user can call emergency services from their home screen at the press of a button to contact police, fire, and EMS without having to scroll through a list of contacts.
The app also features a "My Location" button that instantly sends a notification of where you are — a tool useful both in emergencies and for children to let their parents know they've safely arrived at their destination.
The app is ideal for first responders, the elderly, the ill, parents, hikers, and field workers — and is a great resource for emergencies like being stranded after your car has broken down.
According to the Herald Sun, the app has been used to locate a lost hiker and save a woman suffering a medical illness, and was downloaded over 600 times in June.
Van Aperen said he thought of the idea for the app after seeing what an effect technology had on police work. He made clear that the app is not meant to be a substitute for contacting authorities in an emergency situation. 
Other features of the app include sending your location to a friend, making a report of a crime, identifying your location when lost, taking pictures, and sharing your location using e-mail, Facebook, Twitter, or SMS text messaging.
The app costs $2.93 for Android and $2.99 for iPhone. It's optimized to work with the iPhone 5 but is also compatible with iOS 4.3 or later, iPad, and iPod touch.